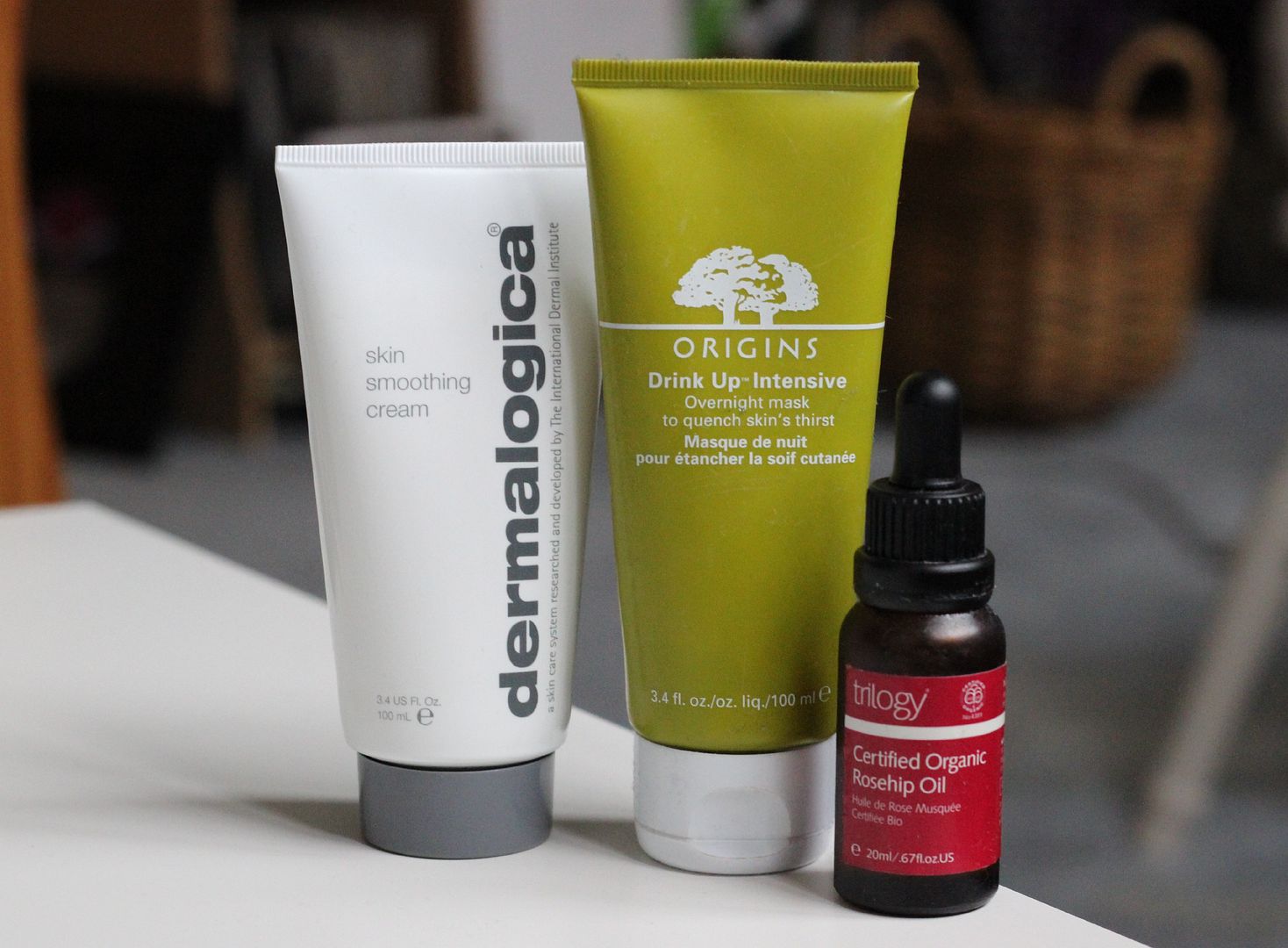 With dry skin comes great responsibility. If, like me, your skin gets that dry and itchy feeling as soon as you step put of the shower - I feel you. The colder weather basically means that I take a 'the more the merrier' approach to my skincare. I am all about the layering - oils, serums and heavy duty moisturisers. I'm on it.
At the moment I have 5 standout products that are all excellent at banishing dryness, and stopping my foundation from doing that unsightly patchy thing.
In the morning, after using a gentle cleanser (something like Origins pure cream or the Oskia renaisance cleansing gel), and toning with the La Roche Posay Serozinc, I put 3-4 drops of the Trilogy rosehip oil all over my face. I let it soak in a bit when I am running around doing morning stuff like having a cup of tea or ironing a top, and then apply a healthy (obscene) amount of the Lacura restorative soy serum. It's from Aldi, and is amazing. It smells all clean and soapy, a bit like the Clarins beauty flash balm, and on its own feels very soothing. It acts as a further cushion of moisture, and I really enjoy using it. Moisture-wise, I am switching between two. The Dermalogica skin smoothing cream - amazing. It applies really nicely, as it smoothes, softens and hydrates. It also feels nicely cooling and just generally lovely on my ever-sensitive skin. If I want something a bit richer, I use the Origins Make a difference + ultra-rich moisturiser. I've raved about this before, and if you have really dry skin you need this.
At night, I more often than not stick with my Origins drink it up intensive mask. I've never used a product that makes such a difference to my dry skin - I wake up in the morning and my skin is less red than usual and all plump and soft. Ugh, Origins you are too sneaky with your skincare.
How is your skin coping with the colder weather?