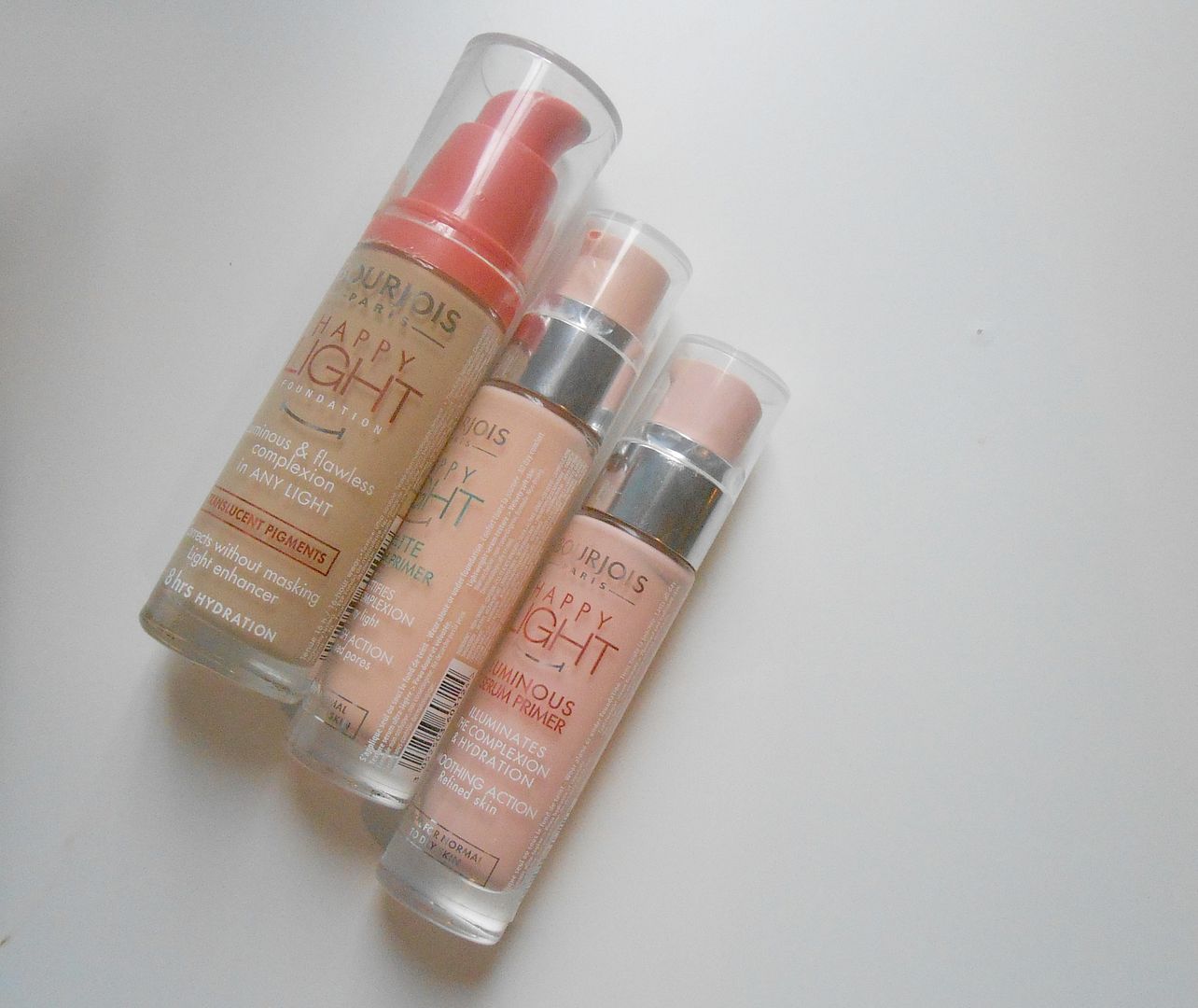 Bourjois Healthy light foundation, matte primer & luminous primer
Bourjois, in my opinion, offer some of the best drugstore foundations and the healthy mix is one of my favourites. When I was innocently perusing the aisles of Superdrug a few weeks ago (I was killing time before the dentist!) I saw all 3 of these, and had to check them out…
The new
Happy light foundation
claims to give you a 'luminous and flawless complexion in any light', to correct 'without masking', and to give 8 hours hydration. The packaging is nice, it's not amazing but I like it. It's not glittery like Rimmel wake me up, which is good. I think that this foundation offers more of a glow than healthy mix, with a teeny bit less coverage. The shades are also much darker than other Bourjois foundations in this range, I have 50/Porcelain and it is just about ok, but really a bit dark. I think Porcelain is about NW/NC20. I am impressed with the glow it gives, it definitely makes you look healthy and not oily. The lasting power is average to good, nothing amazing but fine for everyday.
Link!
The stand-outs for me are the new primers – a mattifying one and a luminous one. I have been using the mattifying one all over my t-zone and the luminous one on my cheeks. The
mattifiying primer
feels like a gel, but doesn't feel silliconey, huzzah! It feels really cooling when you first apply, it smoothes everything and helps to control oil. I love this! It doesn't seem to cover up pores particularly well though, if that's a problem area for you.
Link!
The
luminous primer
is a peachy pink colour that disappears when applied to the skin, but helps to add some moisture and make skin look a bit fresher. I thought this would maybe be a drugstore dupe for my Laura Mercier Radiance primer, but it's much subtler. What's good about it is that is isn't shimmery or glittery. If you want to add a little bit to help make you look healthier, this is perfect. It also helps foundation sit better on drier skin, like mine 🙂
Link!
Have you seen the new offerings? What do you think? If you like them, all 3 are on offer at the moment with an introductory price 🙂