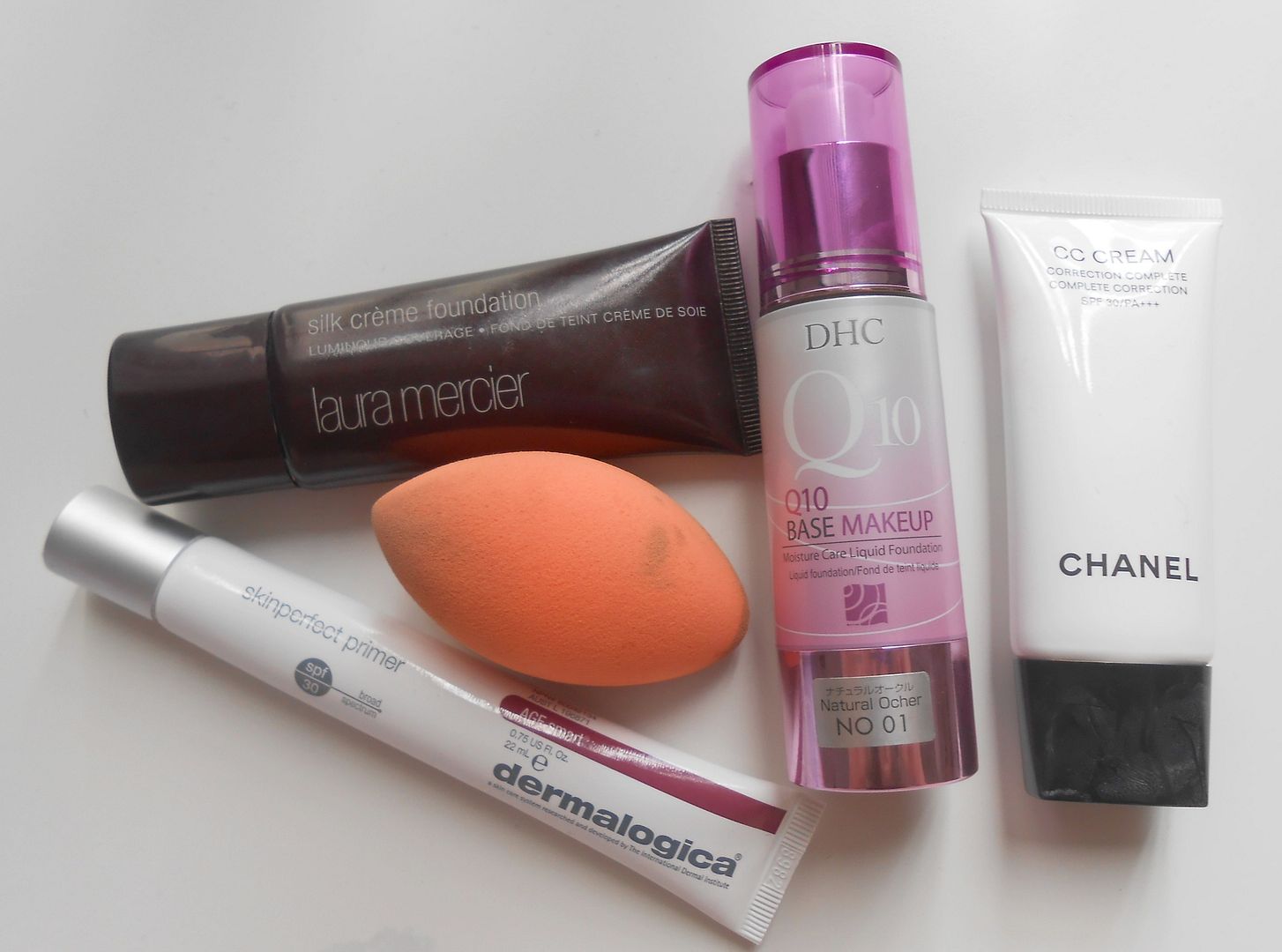 I am a self-confessed foundation addict – holding my hands up right here. BB, CC, tinted moisturiser, foundations… you name it I love it! Anything on the quest for perfect skin. At the moment I am loving three bases, 1 primer and 1 tool! 🙂
First up is the new Real Techniques complexion sponge. I have a 'Gotta catch them all' approach with anything RealTechniques… I know I'm not alone 😉 This sponge is different to other beauty blender sponges, it's longer, more oval-shaped and has a flat section. I love beauty blenders for applying base products, they give a nice flawless finish. You can use it like a regular sponge, use the flatter side to pack things on and the pointed tip to use round the eyes. I like it a lot! The sponge seems to absorb the colour more than my other beauty sponges though, which makes it look grubbier quickly.
My primer at the moment is the Dermalogica skinperfect primer*. This primer reminds me of Benefit Porefessional, but with more of a tint. It's silicone-y, so it smooths over skin nicely and helps makeup look better. The thing I like most about it is the glow it gives – not orange and oily but luminous. I take a pea size amount and smear all over my chin and nose.
Base wise I have three I'm currently switching between. My trusty ol' Silk creme for when I want my base to stay the same until I take it off. This has good coverage but doesn't feel heavy on my skin and gives such a pretty finish. The Chanel CC cream for when I'm having a lazy makeup day and want my skin to look natural but glowy. This stuff delivers that! I've had people tell me I look healthy when wearing this, must be good! 🙂 Lastly is the DHC Q10 Moisture care foundation*. This is some serious full-coverage stuff, but it feels so much nicer on the skin than Doublewear. It colour corrects everything, but ultimately doesn't make your face look like a scary mask! 🙂
What are you favourite base products?