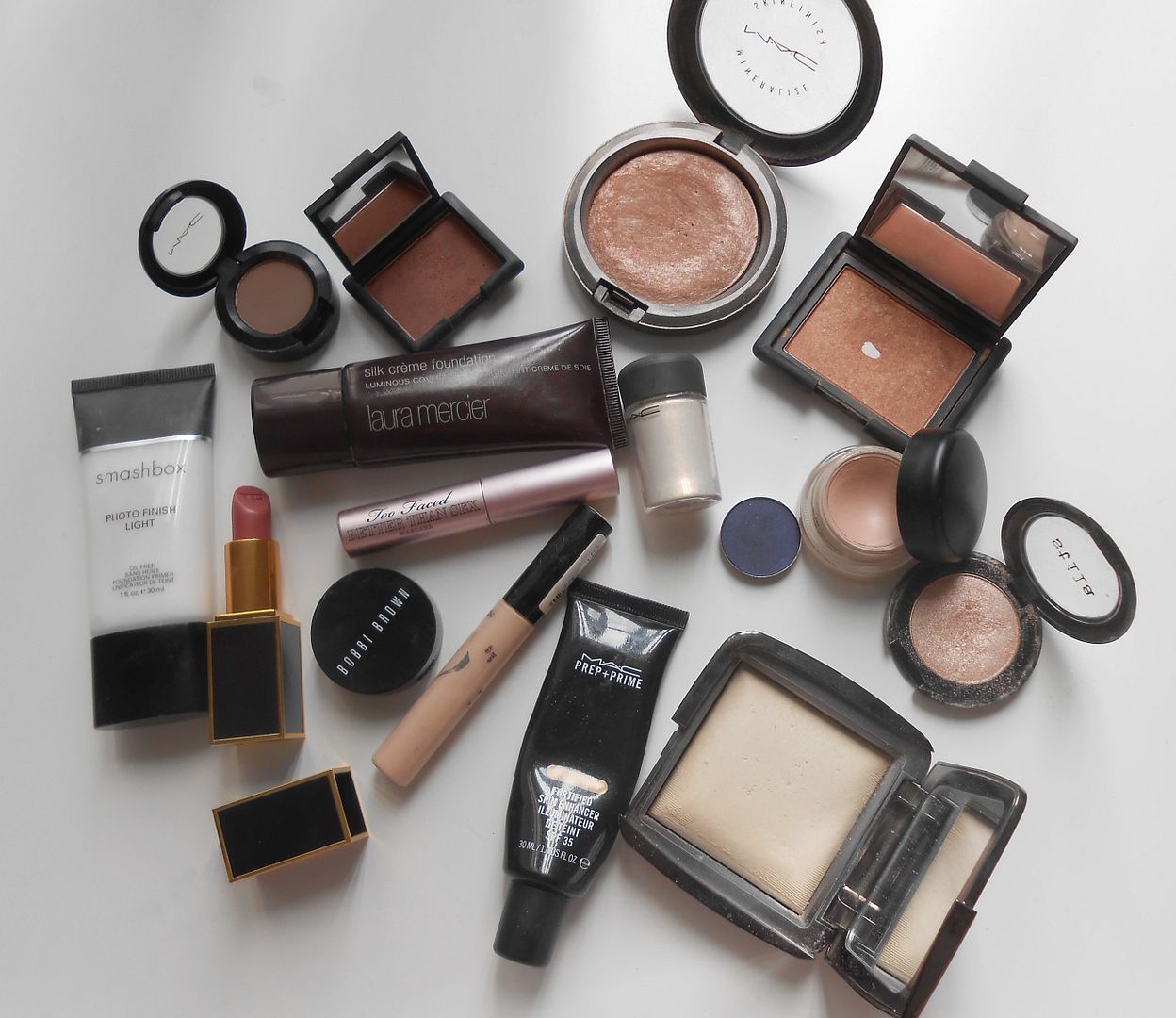 The Saturday face is back… I seem to be able to do one a month! This one is a look using current favourite products 🙂 I am a creature of habit and stick to certain products for weeks at a time. Base wise I used my trusty MAC fortified skin enhancer to get rid of any redness, and the smashbox photo finish light primer all over my t-zone. I am obsessed with Laura Mercier silk creme at the moment, it was all I wore in New York, it's so perfect. It gives me the finish I want – glowy, not shiny – and lasts all day on my skin. I just blend it in with my fingers and I'm done. Under my eyes I used the Bobbi Brown corrector, and the Collection lasting perfection concealer on top.
For eyes I smeared MAC Painterly paint pot all over the lid, and then using a MAC 217, dusted NARS Lola Lola all over the lid and smudged it under my lash line. I am obsessed with this shade at the moment, it's a red-toned browny shade that flatters my eye colour. In the crease, I used a teeny bit of MAC Contrast, which is a navy and looks a bit intimidating but is really flattering on the eye – navy brightens the whites in your eyes! I used some of the Too Faced Better than sex mascara… it's pretty good! I used my usual Stila Kitten in the inner corner, and MAC Vanilla pigment under my brow bone. For my eyebrows I used MAC Charcoal brown.
On the rest of my face I dusted some of the Hourglass ambient lighting powder in Diffused all over my face, and then used NARS Luster. I'd forgotten how gorgeous this is – I love it so much! MAC Soft & Gentle finished the look… I have to highlight!
On my lips I used Tom Ford Indian Rose!
What's your go-to look at the moment? 🙂