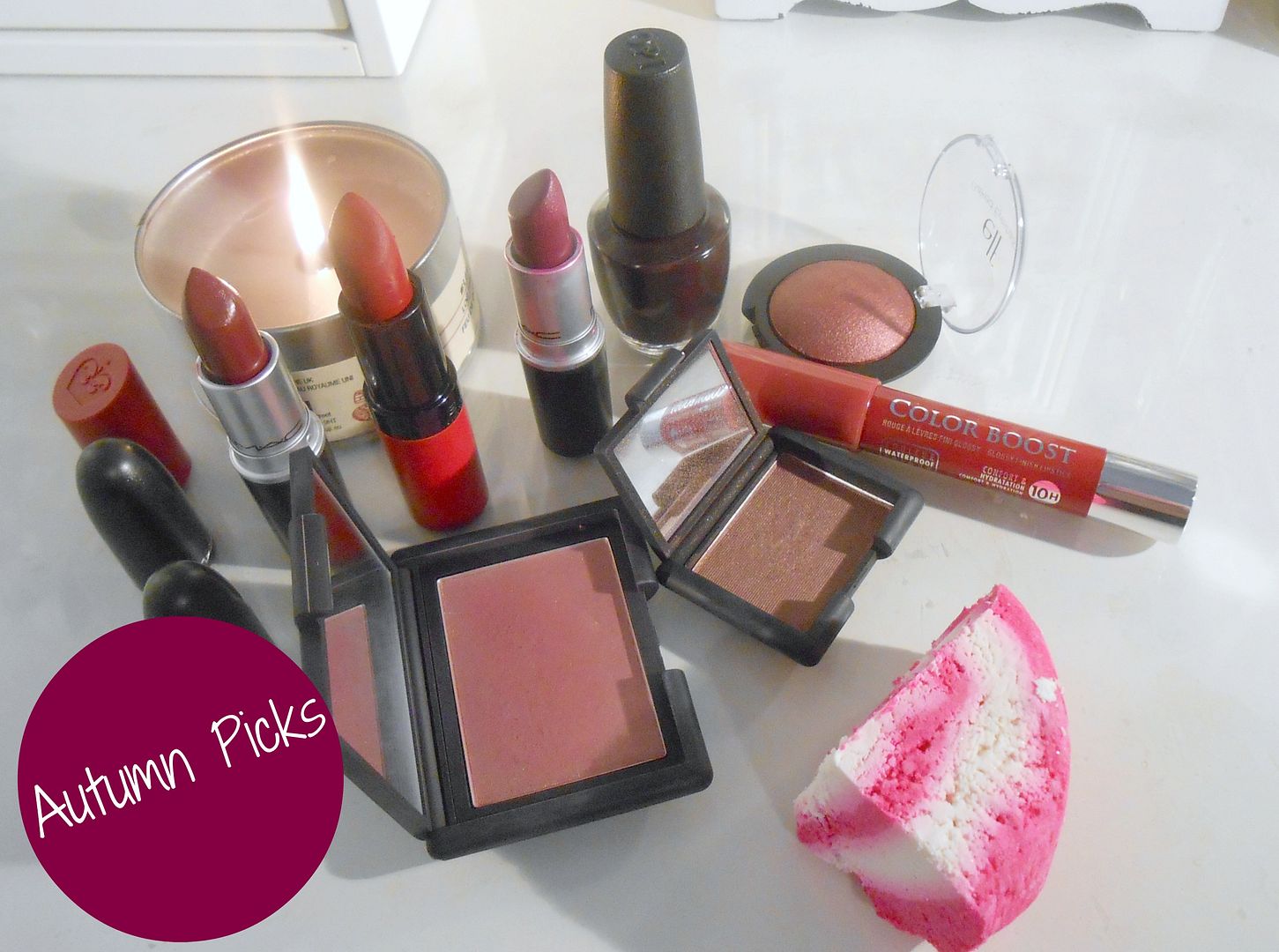 Pinch Punch, first of the month! 🙂
Autumn and plummy tones are just inescapable. For me at least, I really love the darker colours during the colder months.
Hands down my favourite blush for the cooler months is NARS Sin. It looks intimidating in the pan & more like an eyeshadow than a blush but on the cheeks it adds a lovely berry glow that seems to look natural. I use a light hand with this though, it's very pigmented! I really recommend this (although check out my dupe post here!). Also from NARS – Ondine eyeshadow. A cool-toned purple // brown // taupe colour, this is a complex shade but one that looks so good on. It looks a bit blah in the pan, but on the lids it's a really interesting multi-toned colour that I think looks awesome with black liner and mascara. NARS shadows are definitely some of my favourites. Another eyeshadow I love is the ELF baked shadow in Baked plum. I picked this up in New York, and I'm impressed with the quality. Dry it lacks pigmentation, but if you wet the brush a little the colour gets a lot more vibrant and interesting. I also love MAC Cranberry, but I dedicated a whole post to that here!
Lipstick wise, there are some obvious choices. All of them are a darker plum, basically. There's MAC Dark side (see it here), MAC Rebel (see it here), Kate Moss for Rimmel in 107 (see it here) and the Bourjois colour boost lip crayon in Plum Russian. There are loads others I love, but those are my picks for right now. I basically love lipstick.
The extra ad-ons are… OPI Lincoln park after dark nail polish, which is the perfect blackened ruby red. Mmm, it reminds me of CHANEL Rouge noir, but nicer and with a better formula. I have loads of polishes I love for Autumn but this is my favourite. I love baths in general during the chillier months, but LUSH Comforter bubble bar is one I particularly enjoy as it's just so… cosy. It makes so many pink bubbles and basically smells like hot ribena – my favourite Autumn drink (cold – disgusting, hot – delicious). Lastly the MUJI Log fire candle is burning a lot and making my flat smell so good. So good!
Do you have any favourites for Autumn?