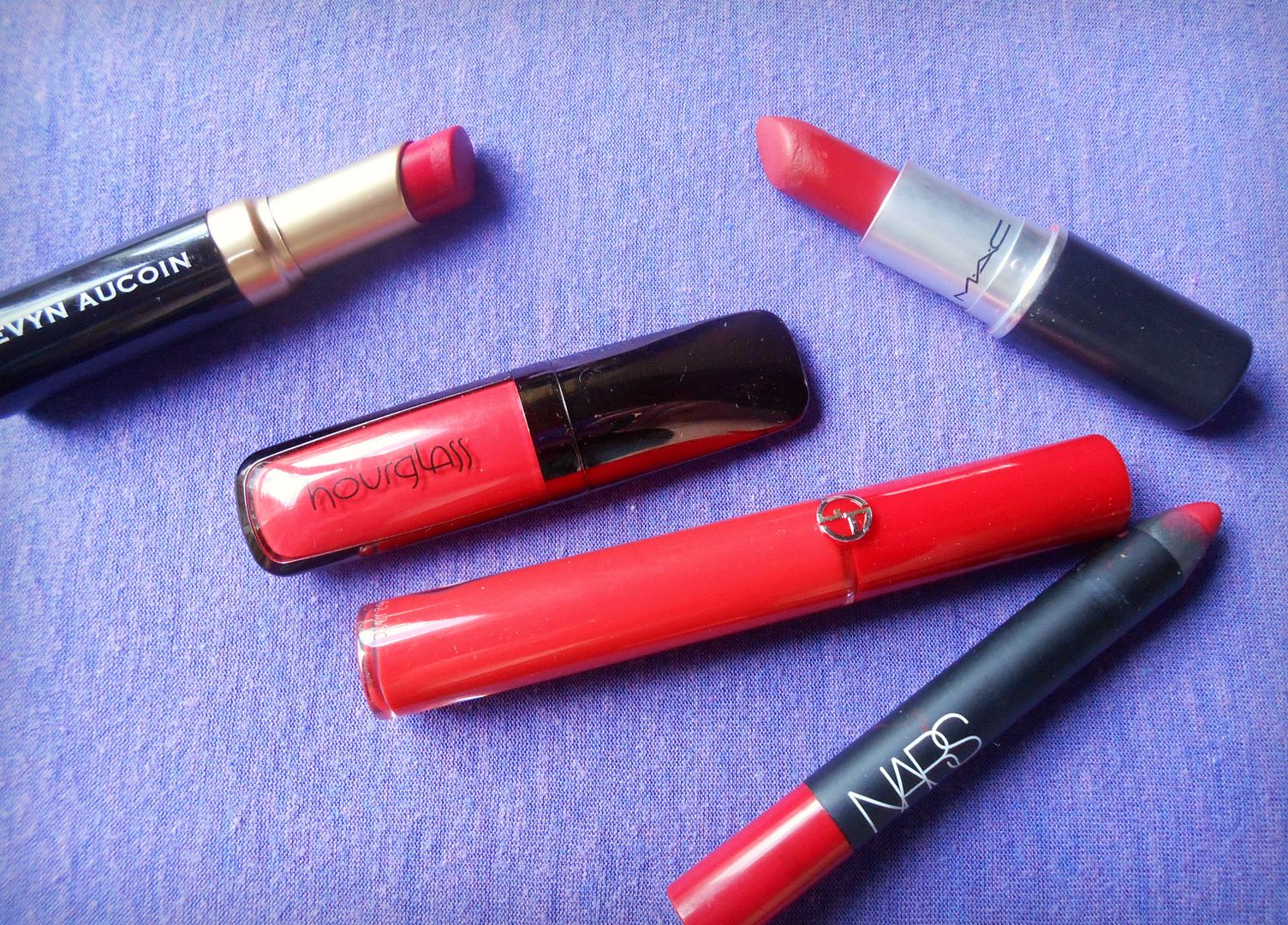 Christmas and red lips go together like… ice and baileys… turkey and gravy… Christmas afternoon and naps. Essentially they were made for each other. The perfect red lip can be a huge minefield though, but I have 5 contenders who are all jostling for the spotlight on the big day.
The stay-all-day – If you want some serious longevity (because, really, who has time to reapply in between courses…) then this is for you. If you haven't tried the NARS matte lip pencils already, then you have been missing out. They are like giant crayons, and make drawing in your lips ridiculously easy. The shade here is Dragon girl, a nice slightly pinky red that will stay on until you take it off.
The smudge-proof red – A little bit glossy, a little bit matte… the Hourglass opaque rouge in Raven is a good mix of the two formulas, and lasts nicely. The applicator can be a little tricky and fiddly at first, but once it's on you're good to go. Raven is an orange-toned red, which is kind of my standard go-to. I like them, ok….
The glossy red – This one was a Christmas present from last year, so it feels a bit festive anyway. The Giorgio Armani lip maestro in 401 is a really bright and creamy orange-toned red. It's different to the others because of the gloss, but it still lasts around for a good amount of time. Good for those who don't like the matte lip or those with drier lips.
The pinky red – Kevyn Aucoin's Eternal is the option for those who are a bit scared of a bright red, and this one instead offers softer pinker tones which are a bit gentler to those unseasoned bright lip wearers. Matte finish is pretty dreamy as well, this will last pretty well.
The classic red – You can't go wrong with MAC Ruby woo – the perfect red…? It's matte, lasts for ages and gives the snow-white red lips effect. Mmm I love. I wear this a lot, and it brightens up my face, so it seems like a pretty serious contender! The blue tones help my teeth look whiter as well, although the only glimpses of teeth will be as I shovel turkey into my mouth…
Will you be rocking a red lip tomorrow?