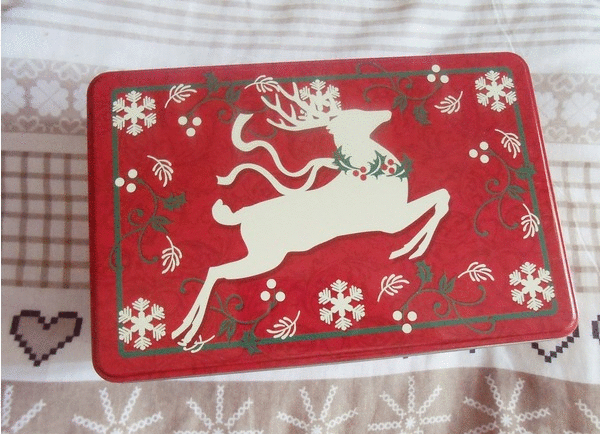 Feast your eyes on the GIF I made – I just wanted to showcase my biscuits. Mmm. I wanted a cheaper gift idea for some friends/family, and decided to make some biscuits. I used a recipe my Mum gave me, and it's so easy. You just make the simple dough, and leave it in the fridge overnight. Roll, cut, bake, eat! I found these really cute tins in Pound… world/land/shop – one of those!
You need:
250g soft butter
3 eggs
225g sugar
1 pinch of salt
Zest of 2 lemons & 1 lime
500g plain flour
1 egg yolk, diluted
Mix together the butter, sugar, eggs & salt. I used a wisk and then got bored and used my hand blender. Mixing is hard!
Add in the lemon and lime zest.
Sieve in the the flour, and mix. Sieving makes it fluffier!
Smush the dough into a ball, wrap in cling film, and pop in the fridge overnight.
On a floured surface top, roll the dough out to 1cm thickness. I didn't have a rolling pin (domestic failure!) but I used a glass
Cut small shapes out. I got some Christmas shapes from the £1 shop as well, to make it a bit more festive!
Lay them out on a lined tray, & chill for 10 minutes. Preheat the oven to 200°C
Brush with the diluted egg yolk, and cook for about 10 mins, until golden.
Take them out, and let them cool 🙂
That'll make enough to fill a tin and have leftovers… you've obviously earned them, with all that baking.
I then lined the tins with some kitchen roll and that's it really… A really cute little gift. I'm planning on putting some bows on the lid of the tin and it's a ready-wrapped gift. This is so good if you're on a budget or just for adding a nice personal touch for a friend 🙂
Let me know if you make any!