In the first monthly favourites of 2014, I thought I'd mix it up a bit. I used to do weekly favourites, but this year I'm going to do my monthly favourites on the last day of the month… There will obviously be beauty, but also my favourite book, album, film and event from the month, to make it a little more personal. I like other things than makeup… sometimes 🙂 Let me know if you like!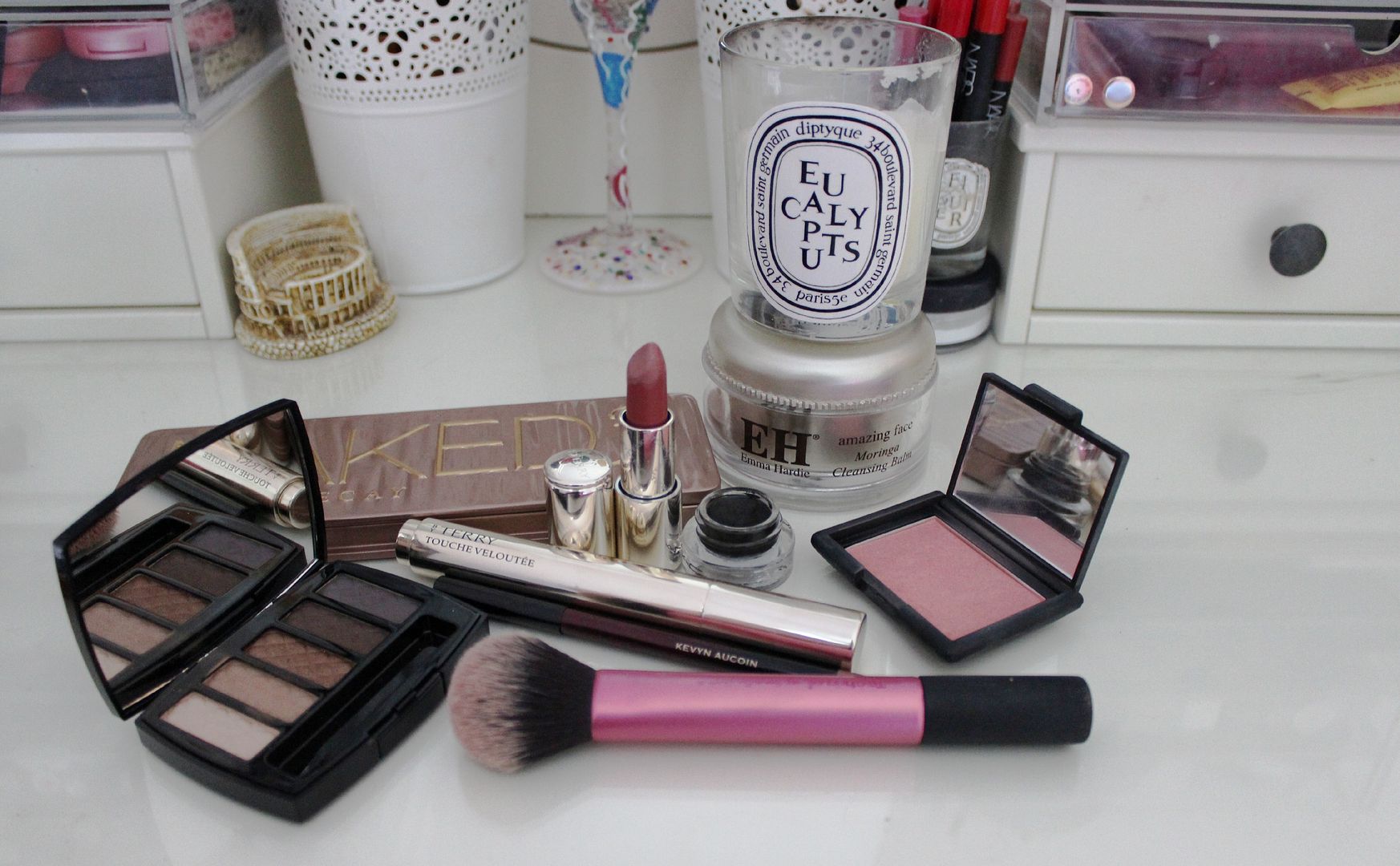 Riiiight, I'm sure everyone has the Naked 3 palette in their January favourites. Mmm it's so pretty. I love pinky tones on my blue eyes, so this has been really fun to use. Buzz and Nooner are favourites, the the whole palette is so gorgeous. I love anything rose goldy, and I loooove this.
The other palette I've been loving is the Chanel Charming palette. My mum kindly got me this for Christmas & I've been loving it. In particular the bronze shade in the middle with the purpler shade in the crease. Mmm it's so dreamy to use, and the Chanel palette is just so ritzy in general.
My blusher of choice this month has been NARS deep throat, (can't help but lol at the name) as I want to hit pan on it! It was my first ever blusher, and I just need to use it more. It's a nice peachy pink, so it's not exactly a chore using it up 😉 To apply I've been using the Real techniques multi-task brush, which is such a good brush for blusher. It applies it smoothly and blends it out really evenly.
I've been loving MAC Blacktrack gel eyeliner this month, and I've been trying to perfect dat flick. Not quite there but I'm getting better, honest guvnor!
Mmm, my precioussssss Diptyque Eucalyptus candle has been my go-to this month. The smell relaxes me and wakes me up at the same time, so I've been finding it perfect for burning during the days when I've been studying. Ahhh it smells so gooood!
I was reunited (!) with the Emma Hardie cleansing balm this month & my skin has been loving it. I'm sure you all know the deets, but it's an oily balm that melts off makeup and leaves my skin feeling so clean but not squeaky. I love the smell as well, I guess because I always use it as night the smell tells my brain that sleep is imminent. Hmm? Bad times though, the packaging has already kind of fallen apart.
I got this lip pencil because Charlotte Tilbury said how great how it was in
this article
, and the
Kevyn Aucoin lip pencil
in
'Medium'
is definitely one of those effortless, supermodel of the 90s lip product. I love it! I did a full post on brown lips here, check that for swatches 🙂
I have two favourites from By terry this month, ooh la la … The By terry lipstick in flirty rosy is a gorgeous kind of nudey brownish pink colour and I love it. I've been using it over the Kevyn Aucoin lip pencil, and it's such an easy & flattering look. I can do photos if anyone wants?
The other By terry product is the touche veloutee, which is basically a souped up version of the YSL highlighting pen. Terry invented the highlighting pen don'tcha know, & her own version has much more coverage and is just… better. I use it in conjunction with the Bobbi Brown (haha I just typed boobi brown) corrector if I look really tired, but otherwise just use this on its own. So easy to fake alertness and awakeness!

My favourite book of the month has to be the Hobbit… I re-read it after watching part 2 of the film and wanting to see how accurate the film was. I read the book ages ago, like 10 years ago (I'm old!) and couldn't remember all the specifics. I also like pointing out inaccuracies in film adaptations. That's just the kind of person I am… I love Tolkien's style, it's just so fun to read, with loads of songs and obviously the mythological-ness.
At the gym I have been listening to the Frozen soundtrack over and over again. It's just so good! Frozen was amazing, I've seen it thrice now and loved it more every time. I also loved the Arrested development references… any AD fans?
I love watching movies, but the one that I particularly enjoyed this month was Some guy who kills people, it was really, really good. A little bit quirky with a kind of black comedy vibe, I thought it was really nicely done. It had a cartoon-book vibe, a bit like Kick ass but better. It's on Netflix if anyone wants to see it 🙂 I also looooved Wolf of Wall street, I thought it was excellent. Jonah Hill was amazing, really funny albeit with scary teeth & Leo was glorious. Mmm.
My boyfriend and I got into Sherlock as well, and we have two episodes to go… The pilot was my favourite by far, but I really like the Martin-Benedict dynamic. Late to the train I know, but better late then never!
Event-wise I had so much fun at my boyfriend's birthday soiree. We went out for dinner to Ruby Tuesday's with our friends (pretzel cheeseburger! oh my), and then out on the town. I don't drink that much, if ever, but the drinks were a-flowing and much fun was had.
What have you loved this month? Tell me, and make sure to link your favourites if you've posted them 🙂 p.s. If you've gotten this far, well done! It got very rambly but I enjoyed writing it..