Not only have I been in hospital for a week in December having surgery, but something truly terrible happened… we had no internet. I know. Fingers crossed the internet is back for good, because I have missed blogging, reading all the things (anyone else a late night googler?), youtube, netflix…. ahh, I am a 21st century girl through and through. A bit pathetic how dependent I am on the internet… ANYWAY TOM FORD LIPS AND BOYS.
50 LIPSTICKS.
LIMITED EDITION MINIATURE LIPSTICKS.
TOM FORD.
*breathe*
When I heard about the Lips and Boys concept, I was excited. This is a new idea, and something really refreshing amidst a sea of girly lipstick names (although I have yet to have a Laura lipstick… NARS? You listening?).
The collection launches on the 26th of December I believe, although they were available on 'Cyber Monday' (bloody American culture seeping everywhere), so I obviously had to try.
Sarah
and I were having a frantic texting session at work and trying to work out which shades were the best because there were NO online swatches when they were up. Luckily, both shades are pretty damn fabulous.
At first I was a bit thrown by the size, but I think that's mostly due to the massiveness of the regular TF lipsticks – still $$$ for the price though. But, we did all know that didn't we? Tom Ford is walking around, big ballin' makeup. You know I'm right.
Quick note on the formula – standard Tom Ford. I'd say comparable to MAC Amplified, nice and creamy and opaque. Lushness.
There are also 10 dupes from the regular line – which
Stacey
awesomely listed. She has also made me really want Giacomo. Teehee, see how much fun you can have when lipsticks have boy names? You've smudged George all over your face… You've got some James on your teeth… I'm having a lipstick threesome… Endless possibilities.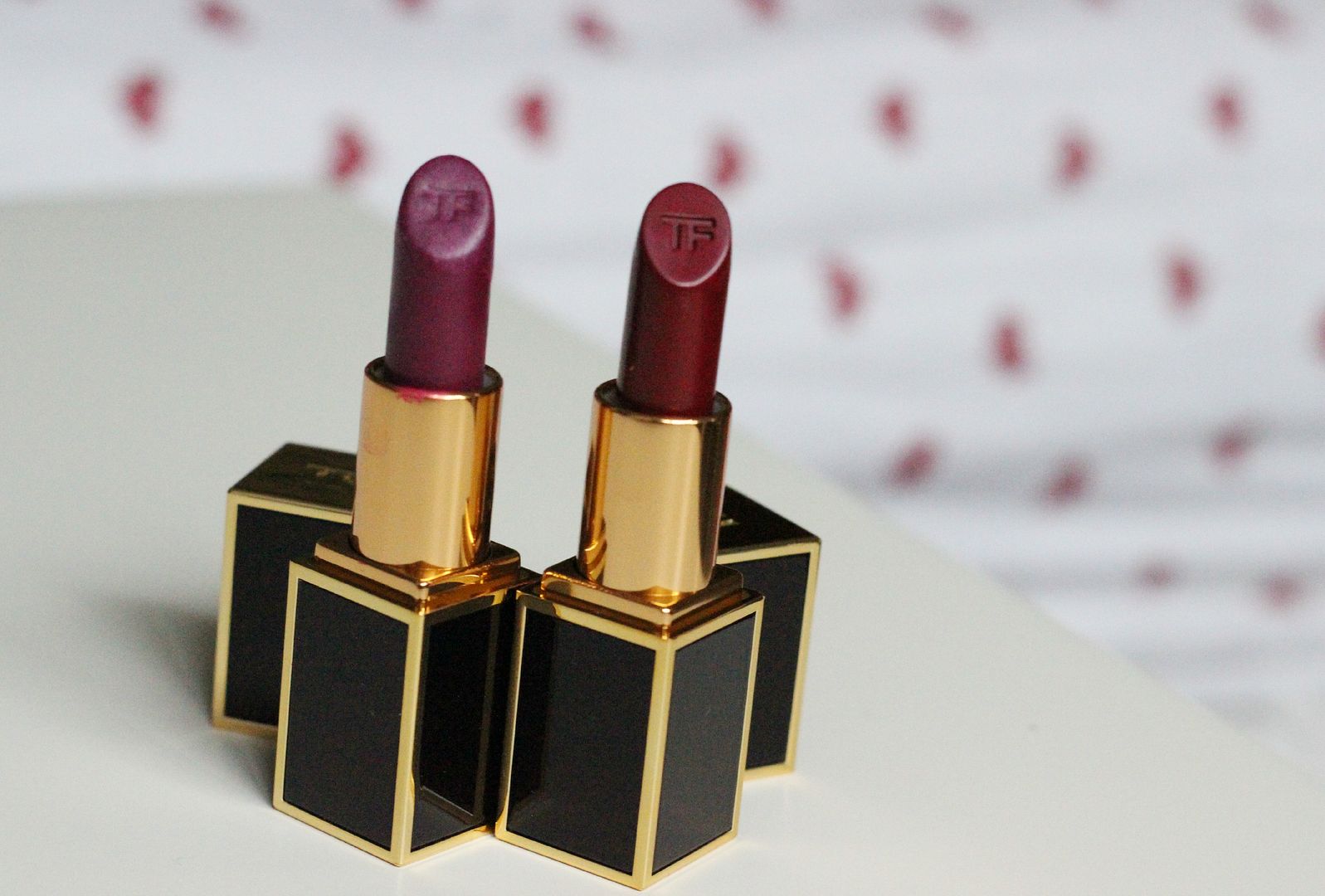 Tom Ford Xavier & Leonardo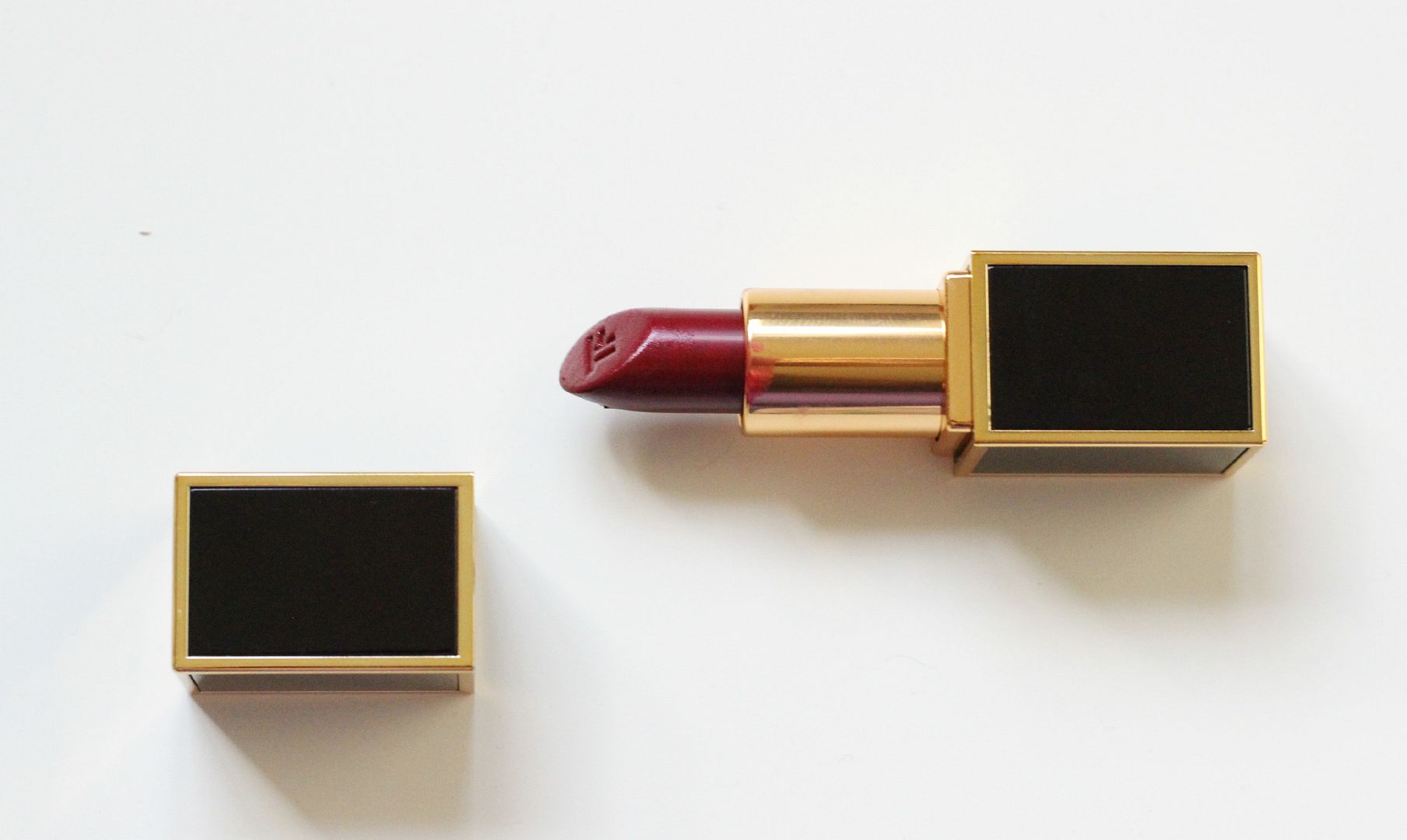 Tom Ford Leonardo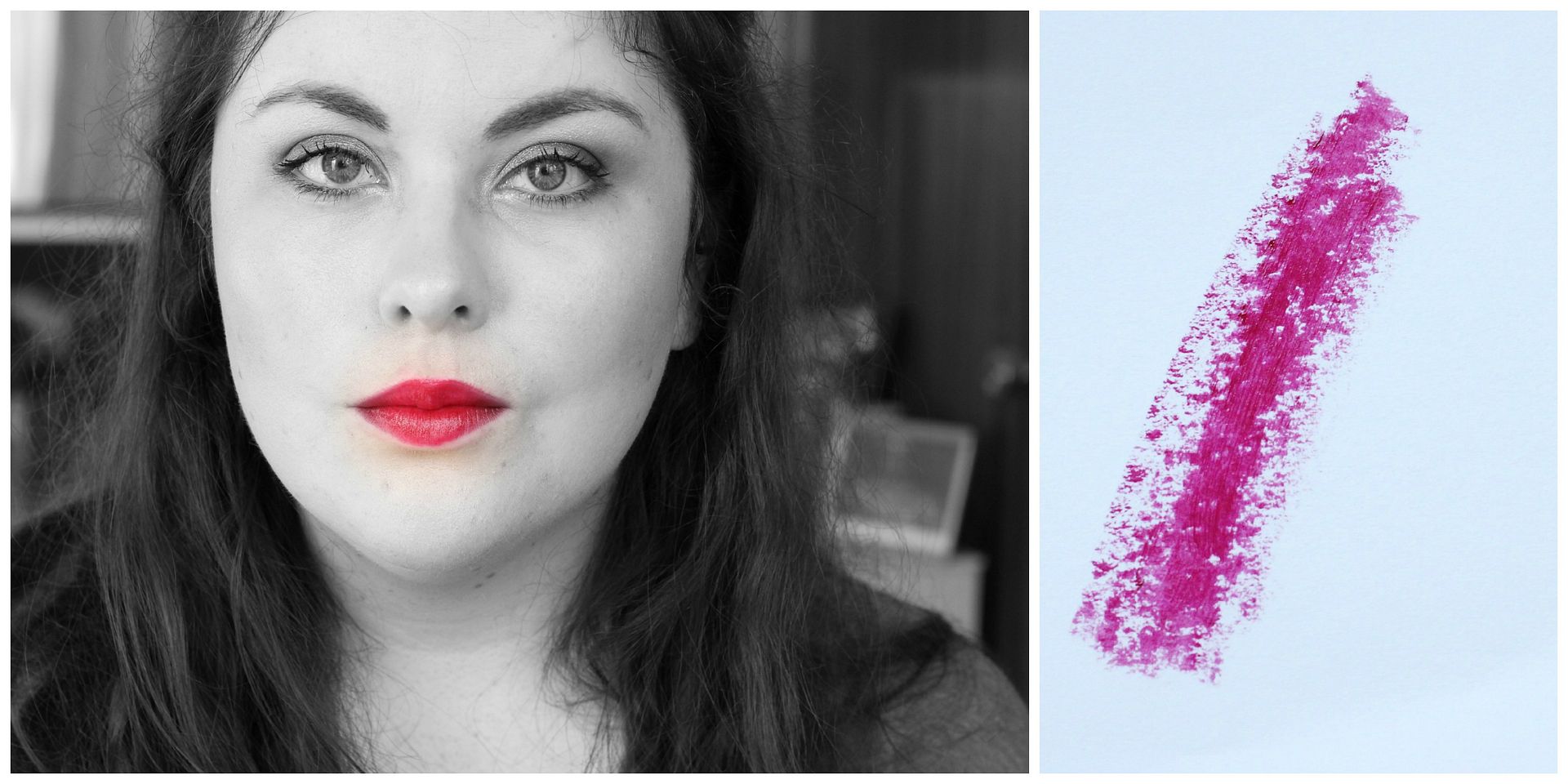 Tom Ford Leonardo – lip swatch and paper swatch
Leonardo:
A rich, pink toned cool red. It has a slight golden sheen that it isn't massively obvious on the lips, but is making me think it is perfect for the holiday season. All reds pull massively pink on me, but this one could be more neutral, depending on your undertone.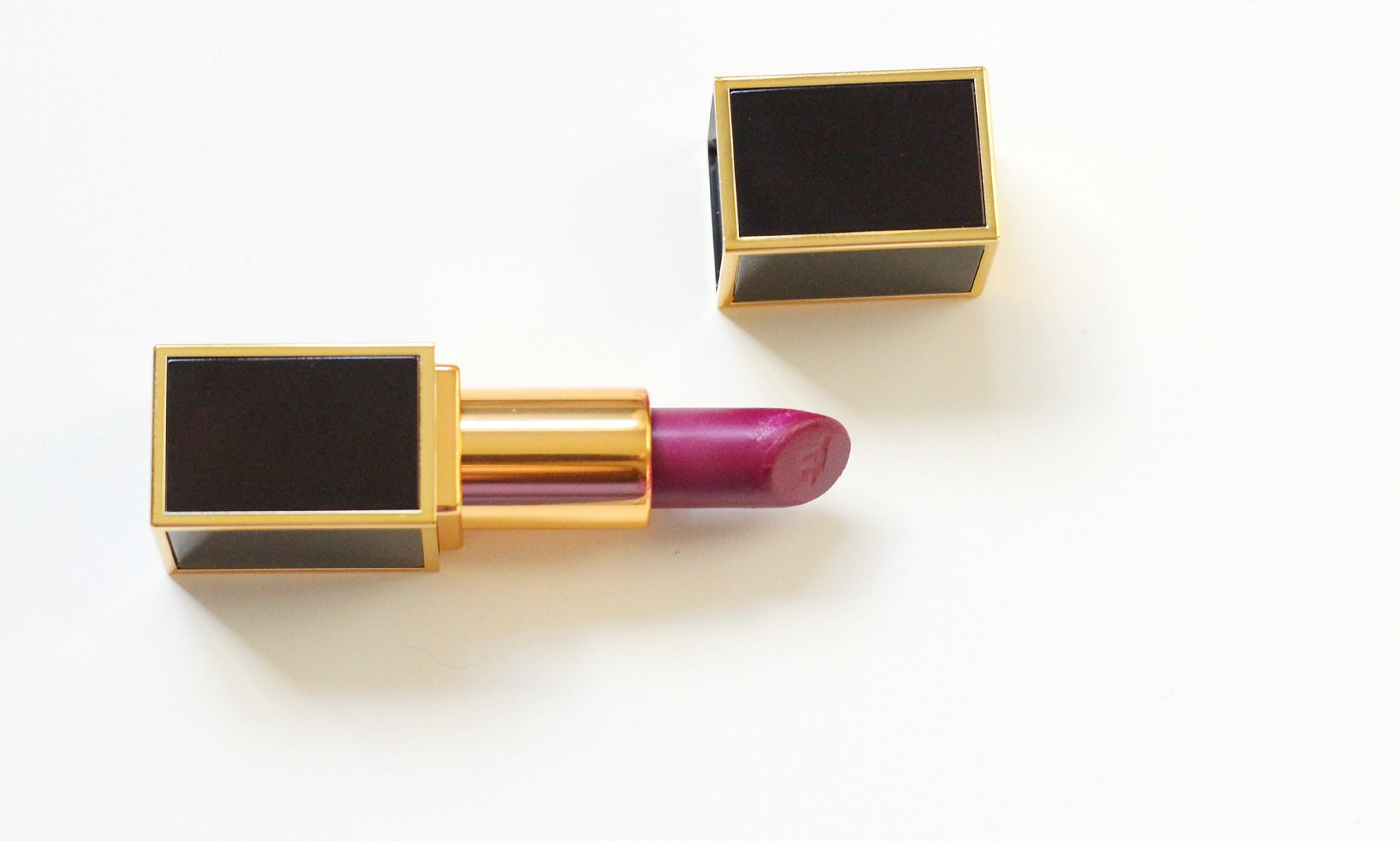 Tom Ford Xavier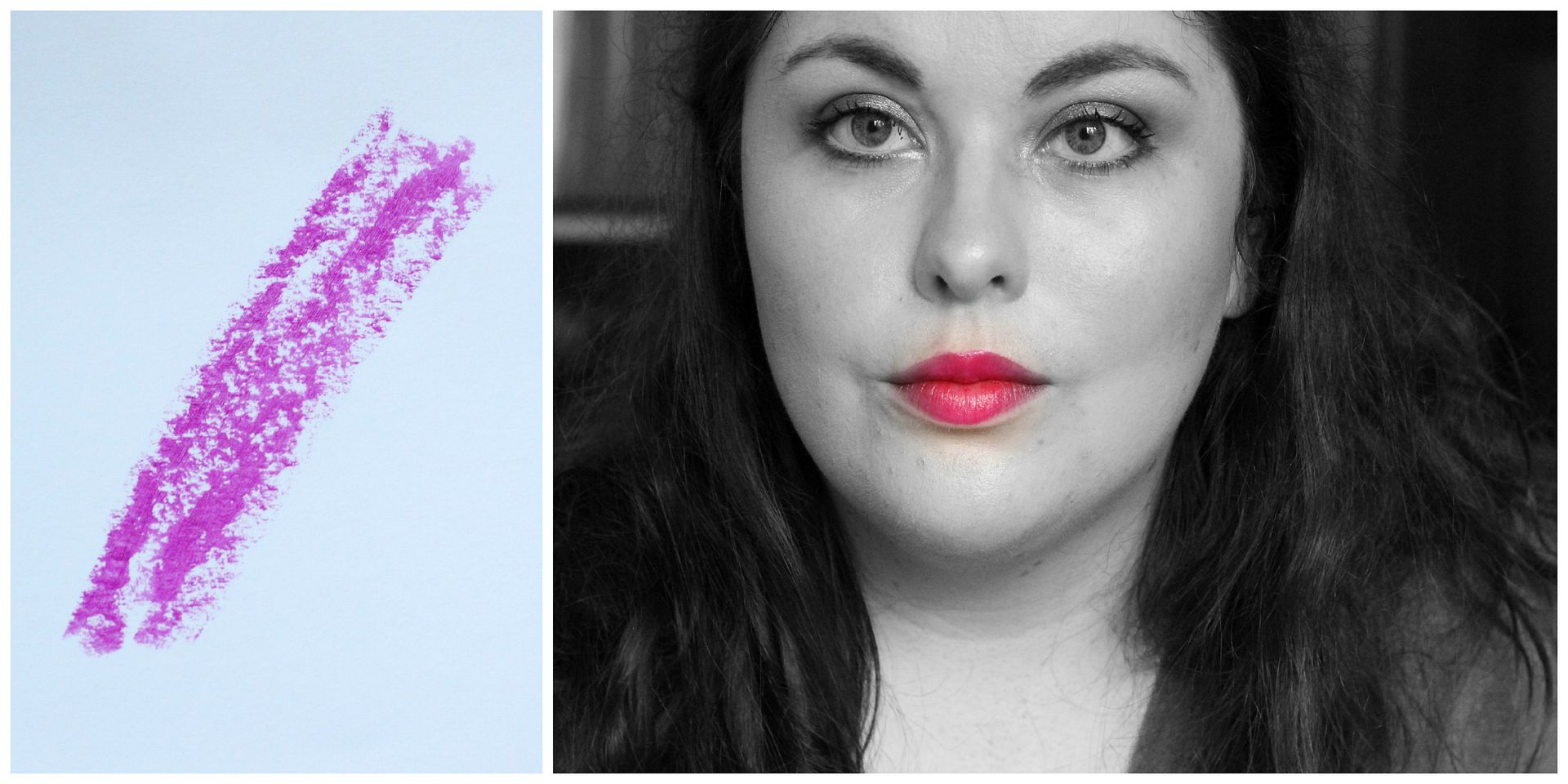 Tom Ford Xavier – Paper swatch and Lip swatch

Xavier:

Xavier is the same as Violet fatale, from the permanent line… which I already own. Oh dear. It is one of my favourites though, so I like having a dinky one floating around in my bag… because my bag was desperately missing another lipstick to add to its army. It's a pinky plum that manages to brighten the face nicely. It doesn't look very purple on me, and would be an excellent choice if you want to dabble in plum lips.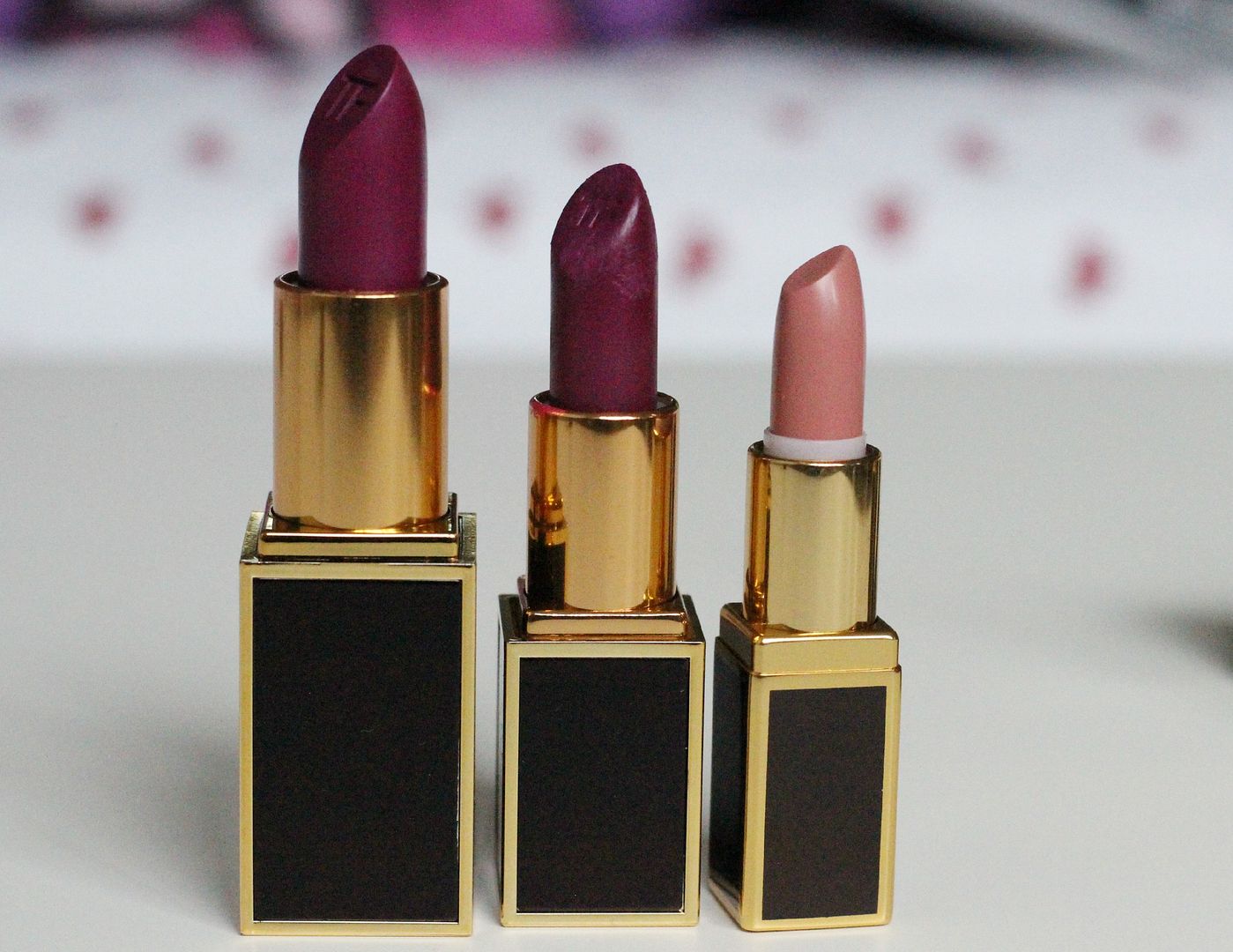 Tom Ford family – full size, lips and boys size & mini deluxe size
& just for size comparison… on the left we have the regular full size Tom Ford, in the middle we have the lips and boys and on the right we have the mini baby lipsticks.