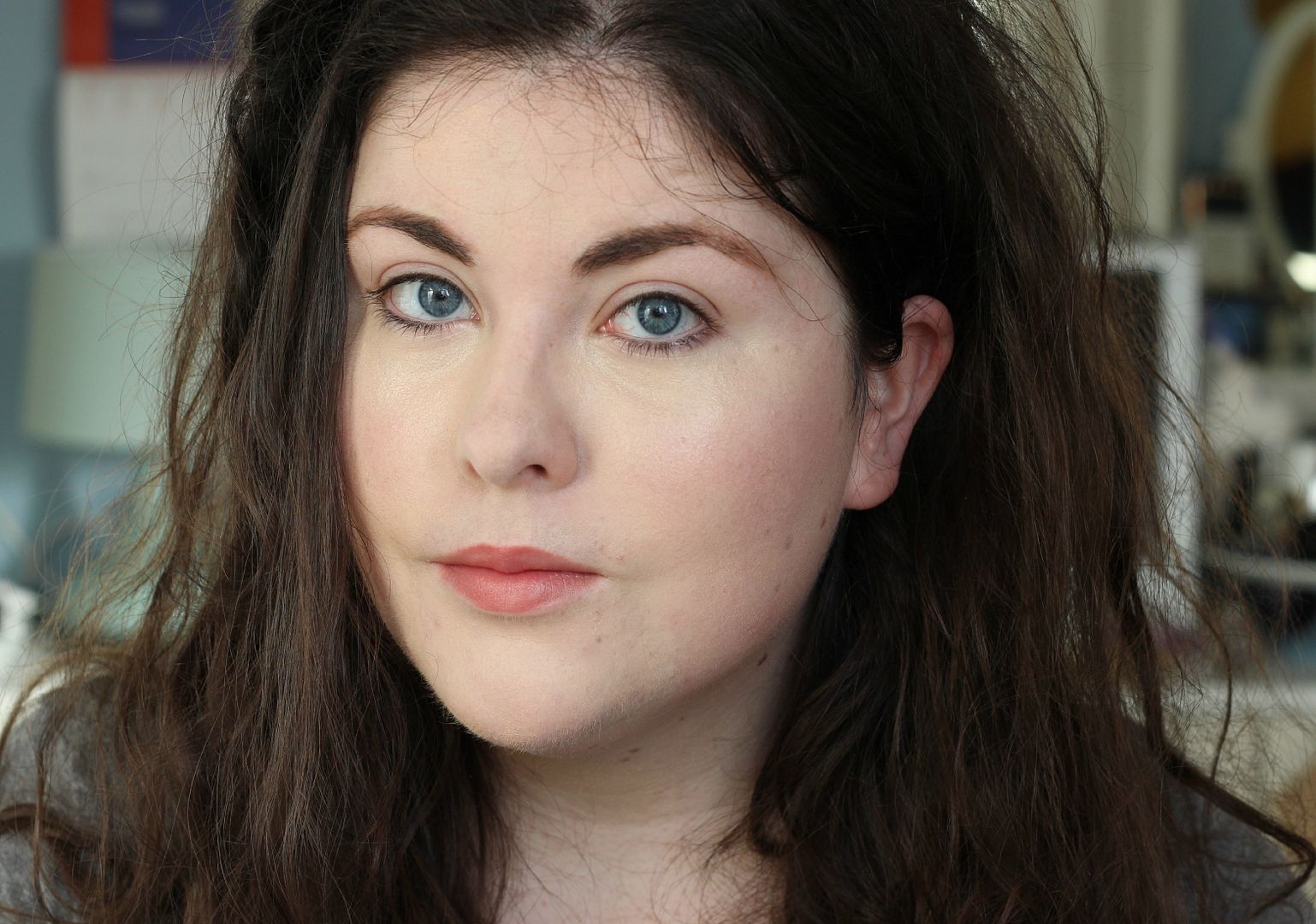 Wearing just smooth finish flawless fluide with under eye concealer
So… the foundation. It's an oil-free formula, which means it's water-based, which means you have shake it like a maraca before you apply it. It's a very fluid formula, but if you shake it (like a polaroid picture) it thickens up a bit. It's my first foundation that is so water-based, as I normally go for ones which are creamier and thicker. The texture of this is… so different. It applies really lightly, and doesn't feel heavy or clawing. As long as you go quickly, it's so easy to blend in, and you don't get any brush marks/obvious signs that it's there at all. The packaging (a nozzle) combined with the watery formula means that I open it upside down, otherwise I think it might leak everywhere. Speaking of brushes, I use the RT buffing brush with this, or a beauty blender. Brush gives slightly more coverage, but the sponge does make it look beautiful.
The coverage, for something so lightweight, is really good. Not as high as silk creme from Laura Mericer, but good. Depending on how I feel in the morning, I do like a medium coverage. My main issue is evening out skin tone, not covering anything. In terms of coverage, I'd say it is not miles apart from NARS sheer glow, but with a completely different texture/finish.
It dries to a sort of satin finish, which basically looks like skin. Not glowy or luminous, but pretty natural. I have dry skin, but don't find that this is too matte or drying on the skin – it doesn't leave any dry patches either. The wear of it – it lasts for a decent amount of time. With primer underneath – because primer is for always – it lasts pretty much all day on me. It fades around my nose (what doesn't), and also tends to fade off where I rest my face on my hands mid-afternoon. Bad habit.
Ramble, ramble, ramble. The main points are:
This foundation is good for feeling light weight, but giving decent coverage
Dries to a natural satin sort of finish but isn't massively drying – Those with VERY dry skin will want to skip, I think
Sometimes messy packaging – very fluid formula as well, which is not my favourite
All the shades seem yellow-based (which I love, but worth noting)
Lasts a nice amount of time, and basically is good
And because this gif is so appropriate for a foundation post 🙂
Got to love a bit of Robin.