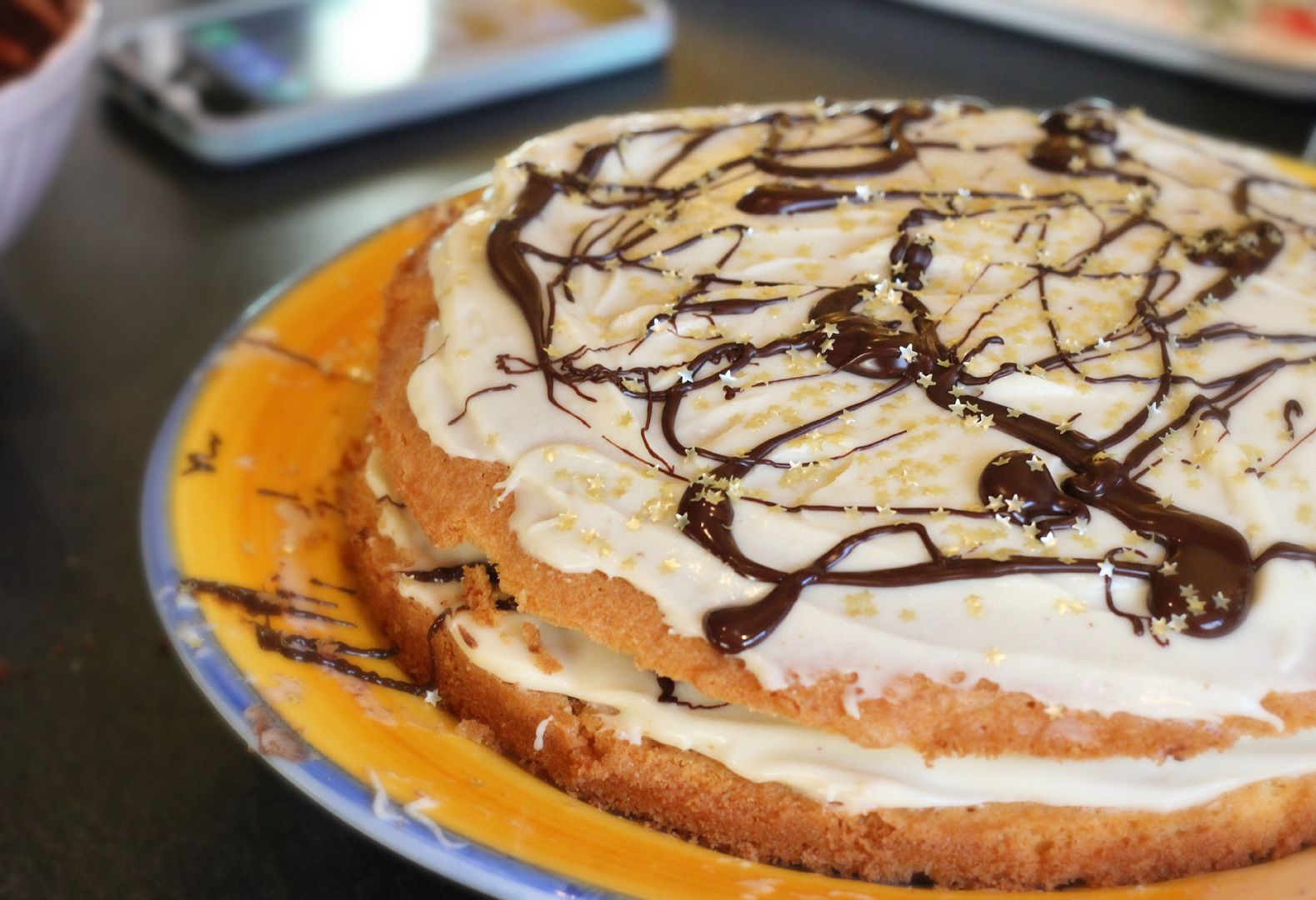 Yeah, I'm on a bit of a baking binge. I have been trying out loads of different recipes – red velvet fudge anyone? – and getting lots of use out of the Hummingbird Bakery cookbook I got for Christmas. I made a red velvet (yah, love red velvet) roulade, a malteser cake… and this cake. I made too much icing and just sort of made this. It was AMAZING. Had to share. I used leftover icing taken from the Hummingbird bakery book, and a sponge recipe adapted from Delia and then improvised.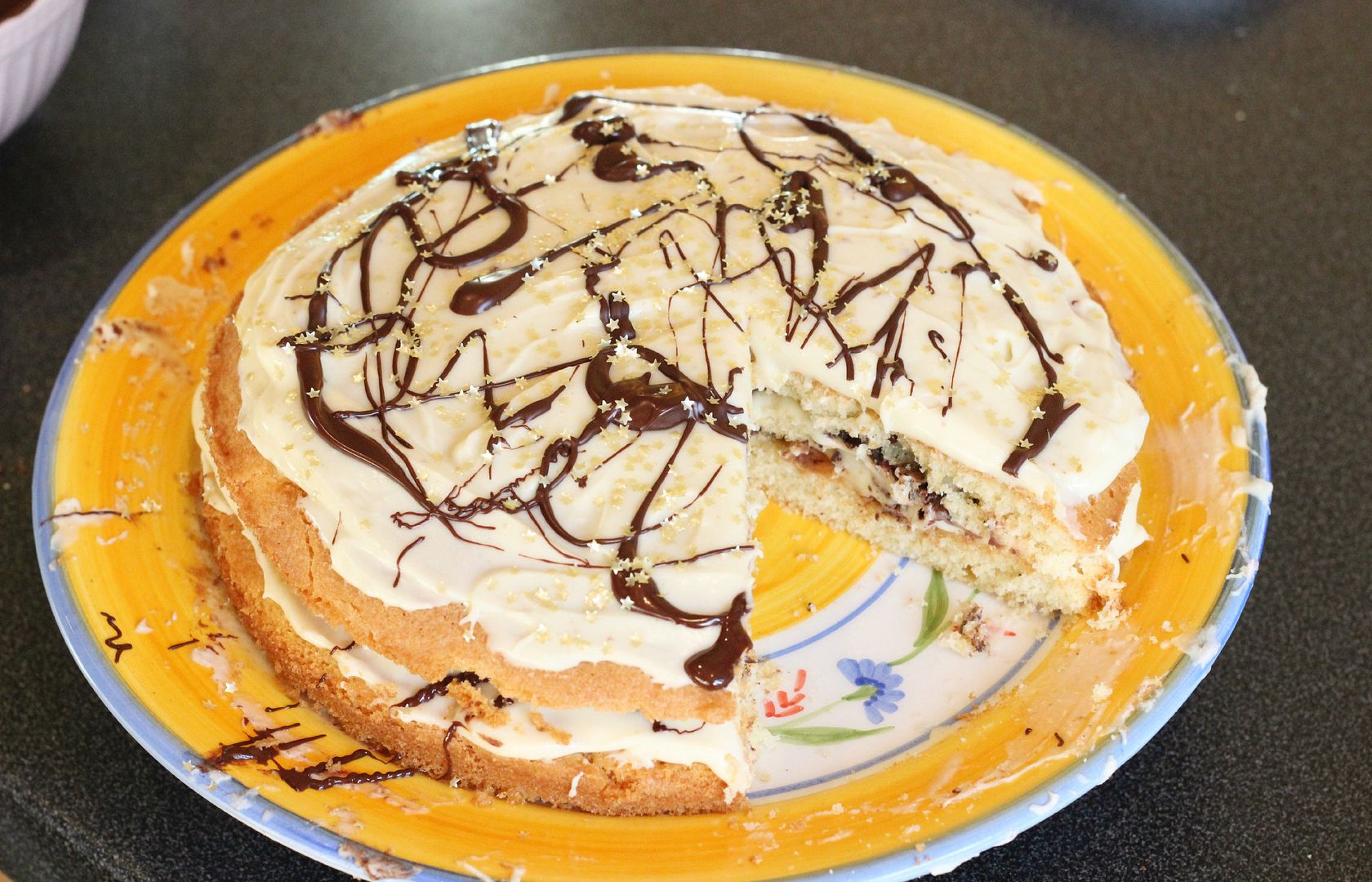 Look at it. All spongy and chocolate-y and delicious.
You need:
For the frosting
225g of icing sugar
50g of unsalted butter
100g of cream cheese
80ml of double cream
40g of malt powder (I used Horlicks)
350g of dark chocolate
Generous pinch of salt
For the sponge
115g of self-raising flour
1 big teaspoon of baking powder
115g of spreadable butter (I just used regular butter and softened it lots)
115g of golden caster sugar
3 large eggs
3 teaspoons of vanilla extract
2 baking tins – about 20cm. I lined the bottom with baking paper and buttered the sides
For the sponge:
Mix together the sieved flour and baking powder, and then add everything else. Simples. When it's all smooth and creamy you just pour it into the baking tins. Cook four around 25 minutes – my oven is quite powerful, so I cooked mine for around 20. Basically poke the sponges and if it's springy it's done. Flip them out and leave them to cool.
For the frosting:
Cream together the icing sugar and the butter until it looks all sandy. Add a spoon of the cream cheese to make it softer, and then mix in the rest of the cream cheese slowly. Mix it until it's all really smooth and fluffy. In a different bowl, mix the cream and malt together by hand. When it goes all whippy, add that into the main frosting. Done. Easy.
As an extra I added some melted chocolate and drizzled it everywhere. I added some salt while it was melting (just in a bowl over a saucepan) to make it salted chocolate because why not. You just want a little bowl of melted chocolate ready when you assemble the cakes – don't melt it too soon or it will solidify too much.
With the sponges I layered a generous layer of the frosting and then some vaguely arty chocolate swirls, and then made the cake tower. On the top I used a palette knife to make the frosting look a bit smoother, and then swirled chocolate all over. It was just random, but I was pleased with how it turned out – it looked all swirly and interesting. I then threw some gold stars on because I found some in the cupboard – not essential. You could use anything really, while the frosting is setting it will be quite 'wet', so any details should stick.
Let me know if you make it! It was absolutely so easy, and looked like I put a lot more effort in 🙂