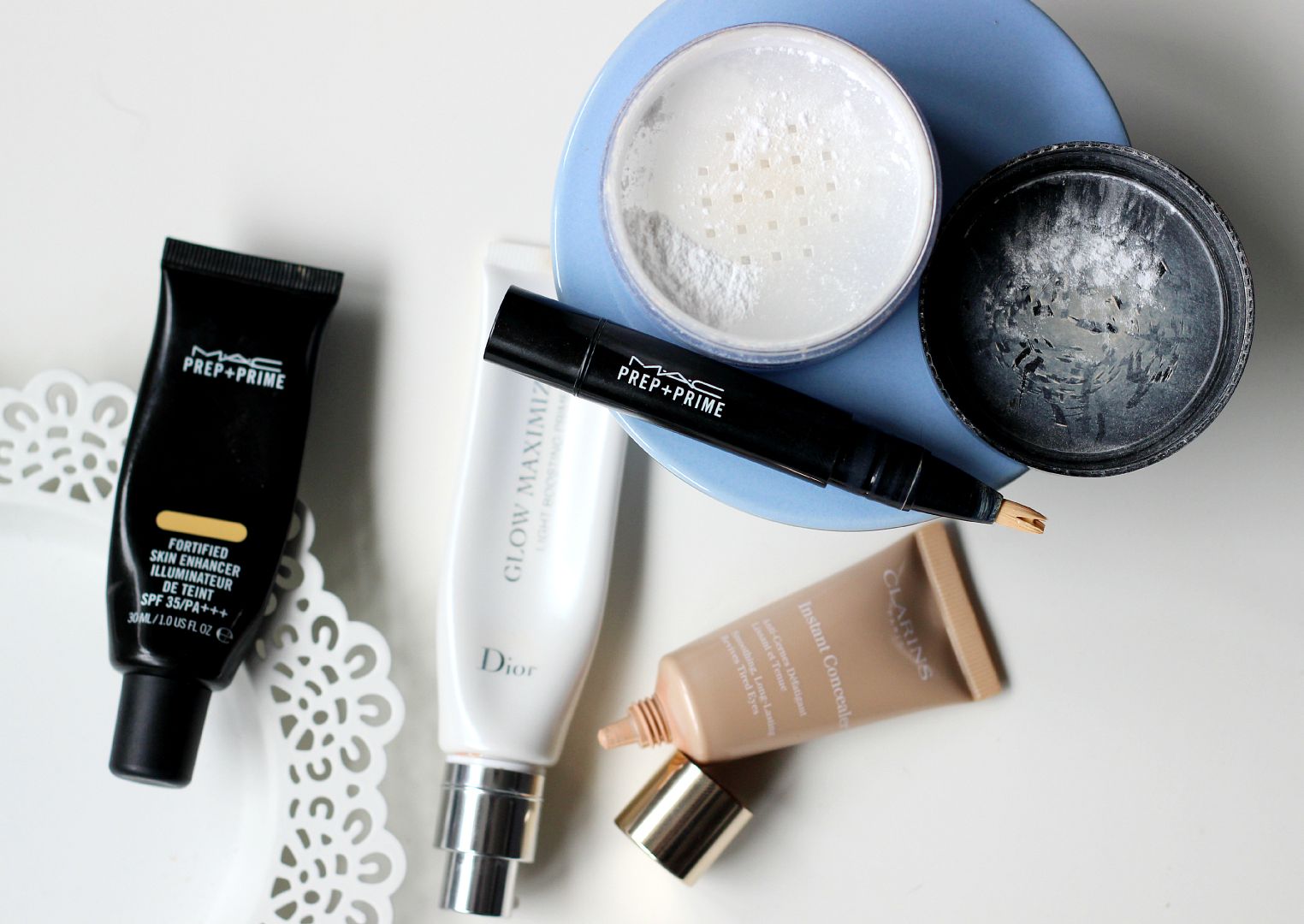 I reckon I've got this base thing down. I mix up my foundation a lot more, but there are 5 products that seem to get used daily. Without even noticing really, and on those mornings where you do your makeup on autopilot… these come in handy.
For priming, I obviously need options. I like to use something on my tzone that mattifies but I am fickle in that sense. The
Dior Glow Maximiser primer
is something I happily over apply all over my cheeks. It adds such a gorgeous glow, and manages to let the foundation apply so much more smoothly on top of the skin. You can see the glow through any base that you wear – this is seriously amazing for adding some sheen to the skin. If you have dry or dull skin, you need this. Then an optional step – for those who have permanently rouged cheeks like myself, the MAC fortified skin enhancer (discontinued -why?!) is the best I've found. It's basically like a yellow cream that cancels any redness. They've replaced it with a CC cream, which I will try when my hoarded 3 tubes all run out. I really like it, OK? Then, foundation. At the moment I am loving Dior Star, or the NARS Tinted moisturiser. For concealer, the
Clarins Instant concealer
is one of the best I have ever tried, without a doubt, and it lasts so long. There are only 3 shades I believe, and none of them are very pale or very deep, so that needs to be fixed Clarins. This is the one if you have dry under eyes. Doesn't crease and doesn't go dry or patchy. Then for highlighting, the
MAC prep + prime in light boost
applied in kitten whiskers on my face is something I started doing and not noticing a difference but then once I stopped realised how much of a soft focus it gives to the skin. It's a pale yellow and just helps to make skin look brighter and smoother. I clicked my last click yesterday, so will be replaced! Lastly, a generous sweep of the Vi
chy Dermablend setting powder
through the centre of my face, and a little bit under my eyes. It's such a good setting powder, and keeps my face non-oily until about 4/5pm, which I think is good. It's a really fine white powder. I like to pat it in to the skin rather than swirling, to help lock my base in place.
Five products sounds a lot, but when you're applying them and they all melt together to make your skin look like your own but like you've smeared vaseline over your own lens (eyes?), then I think that's good.
What are your go to products to make your base look flawless?