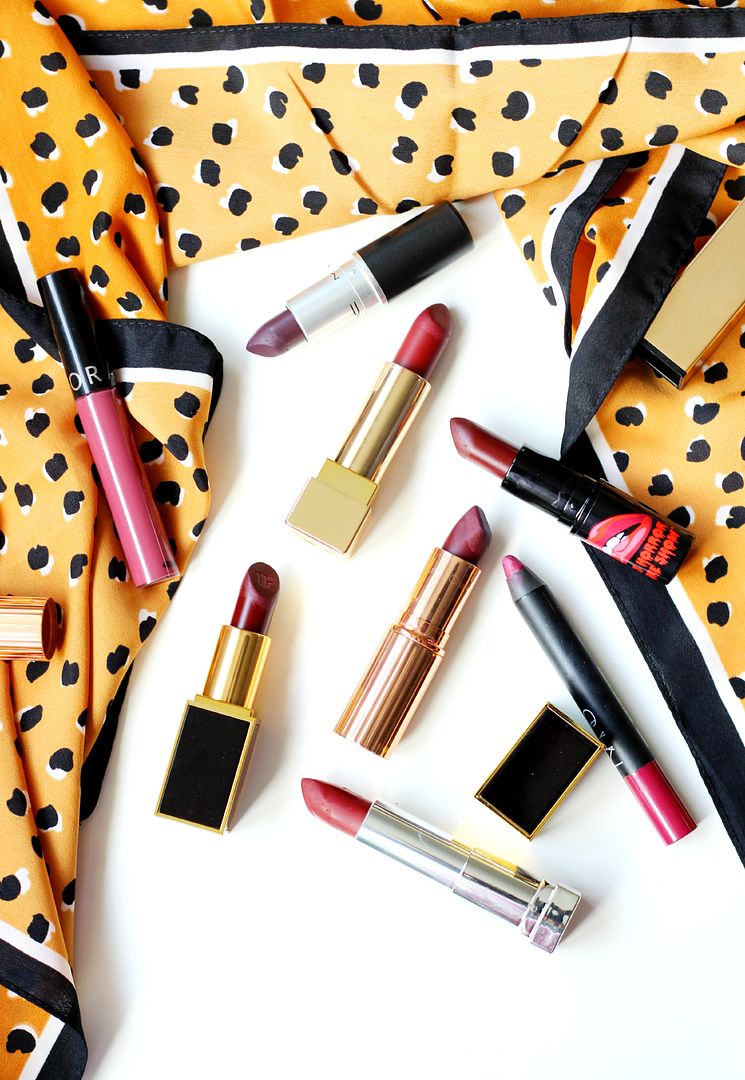 Is there anything quite as beautiful as an autumn lip lineup?
I don't think so, either. You're so right.
Look at all those deep jewel tones – divine. I know everyone seems to be having a major crush on Autumn at the moment, and I would count myself firmly in said camp. Pumpkin spiced lattes aside (so awful), one thing that gets all beauty lovers everywhere hot under the colour is a vampy lip come Autumn. Basic, yes. Amazing, yes.
I did a beautiful little round up of some of the very best options for everyone – delicious budget options and wallet-weeping options. I know.
Don't ask me to pick a favourite – I love them all. The creamiest is the
maybelline divine wine
(see my
full post here
), which dries down but is incredibly comfortable to wear.
Charlotte Tilbury Glastonberry
is another one of those new generation mattes that is
matte
, but in a creamy way which makes it far less drying on the lips. Also included in the creamy matte formula is the
NARS velvet pencil in Damned
. Perhaps the easiest to use because of the pencil shape which allows you to scribble all over the lips without really trying.
Two from MAC, obviously. Smoked purple and Sin. Both essential.
If you want something with a more hardcore matte finish, I got you. I got you. The Sephora lip cream in Blackberry sorbet is a nice and pigmented plum. Tom Ford Black Dahlia has my favourite matte formula – there is just something so so special about Tom Ford lipsticks. Everyone needs one. Lastly, perhaps my favourite of all the autumn lipsticks! The YSL rouge pur couture mat lipstick in 206 is just the perfect burgundy shade that makes your teeth look whiter and it's not too vampy but it's a lovely deep red. It's so so gorgeous.
Do tell me about your favourite berry lips – I'm ready to be enabled.