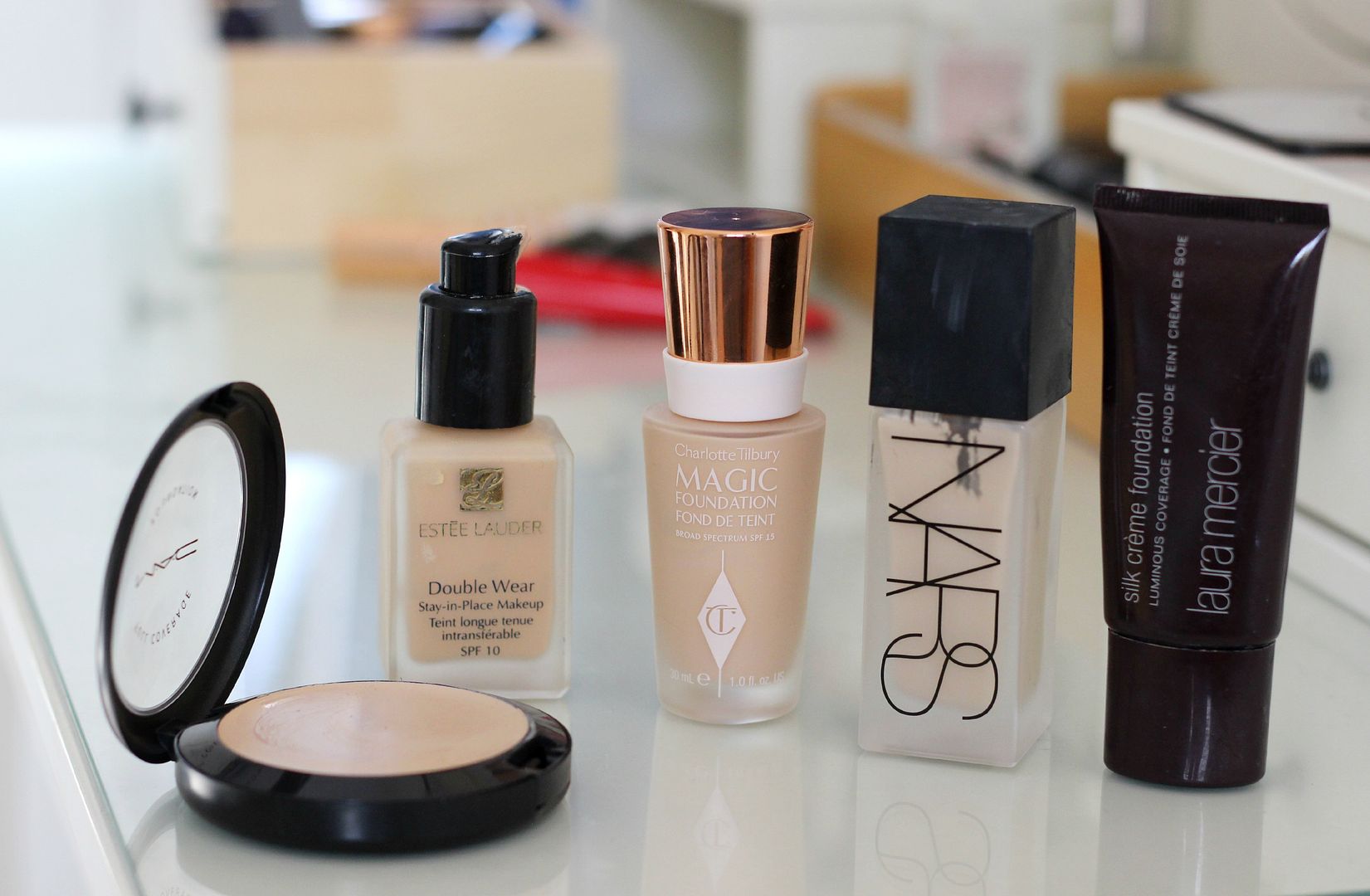 Sometimes you just need a full coverage foundation. Go hard or go home, right?
If by sometimes, you mean always. I just like my skin to look like a doll, and I have to fake it until I make it.
MAC full coverage (NC15)
is a little cream pot of magic that feels pretty solid in the pan. You need to warm it up a bit with your fingers, and then I find it works best when applied with a damp beauty blender. I promise I'm not sponsored by beauty blender, I just think it's the best way to apply foundation flawlessly to the skin and make sure it looks smooth and even. The MAC full coverage is a traditional cream, and a little goes a long way. I think this one is perfect for normal-combination-dehydrated skin – it can feel a little heavy on the skin, and you definitely know you're wearing it but the finish is beautiful. Also amazing for touch ups.
Estee Lauder double wear
(ivory nude)
is the old classic. I read somewhere – can't remember where – that Estee Lauder sells enough bottles of it for it to support a brand in its entirety. Not too shabby. This one would work best for oily skin – it can go cakey on my drier skin, but I normally mix it with something illuminating. I get so many questions about this – the pump is from MAC. It fits perfectly, and I know not having a pump is a complete nightmare! So messy. I have no time for foundation fingerprints all over my white dressing table.
NARS all day luminous weightless foundation (fiji)
is like smooth skin in a bottle. This stuff is insane – you can see my full review here. You shake it up, and then (using a beauty blender) apply it all over and your skin suddenly looks like it's been smeared with vaseline. As in, blurred. Love this. I maybe even prefer it to sheer glow? Blasphemy.
Laura Mercier silk creme is the one that got away, because it has been replaced by some sad version that is nowhere near as good. Nooooooo, I am not OK. This one was simply the best at covering redness and it didn't budge, but I won't linger.
Do you prefer a full coverage foundation? Have you tried any of these, or have any recommendations?