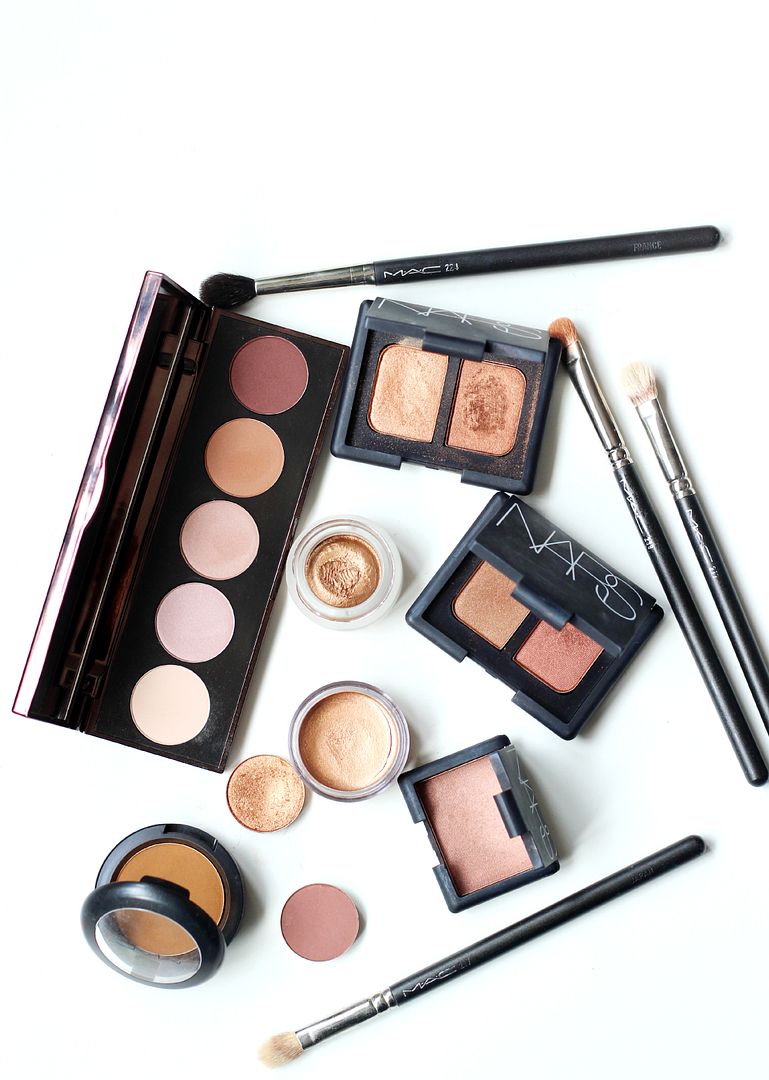 I stick to what I know. Pretty unadventurous but I knows what I like.
What I like are warm toned shadows. The warmer the better. When I wear cool toned shadows I tend to look a little ill, and um yeah I don't want that.
Two NARS duos that I go back to over and over ago are Isolde and Surabaya. You definitely don't need both of these, and if I had to pick one it would be Isolde. I mention this all the time, but it has the softest formula and the nicest shades that manage to make my eyes look bluer. It's a basic colour wheel thing, but orange toned shadows just work on blue eyes. Surabaya is the darker and more dramatic sister. Lola Lola is a beautiful little single shadow that is basically the perfect bronze shadow.
A MAC staple that you knew would be here… Amber lights. Also woodwinked needs a mention but… I forgot to include it in this photo. Amber lights has to be one of my favourite shades of all time because the formula is divine. A good matte one is the pro long wear shadow in Uninterrupted which has an almost yellow undertone to it and gives a nice grungy vibe.
Me being me, I need some cream shadows in the mix. The Charlotte Tilbury eyes to mesmerise in Bette is like a little golden mousse. That is the best way to describe it. It feels quite wet on the lids and is so rich and sheeny. Something that acts as the perfect base for any warm toned shadow is the Makeup Forever cream shadow in golden copper.
New in is the Becca ombre rouge palette which has five matte shades that have been designed to sculpt the eyes. The second shade on the left is the perfect base, and say hello to the shade on the far right because it's literally the perfect matte shade for the crease when you wear something like woodwinked.
What are your shadow favourites?