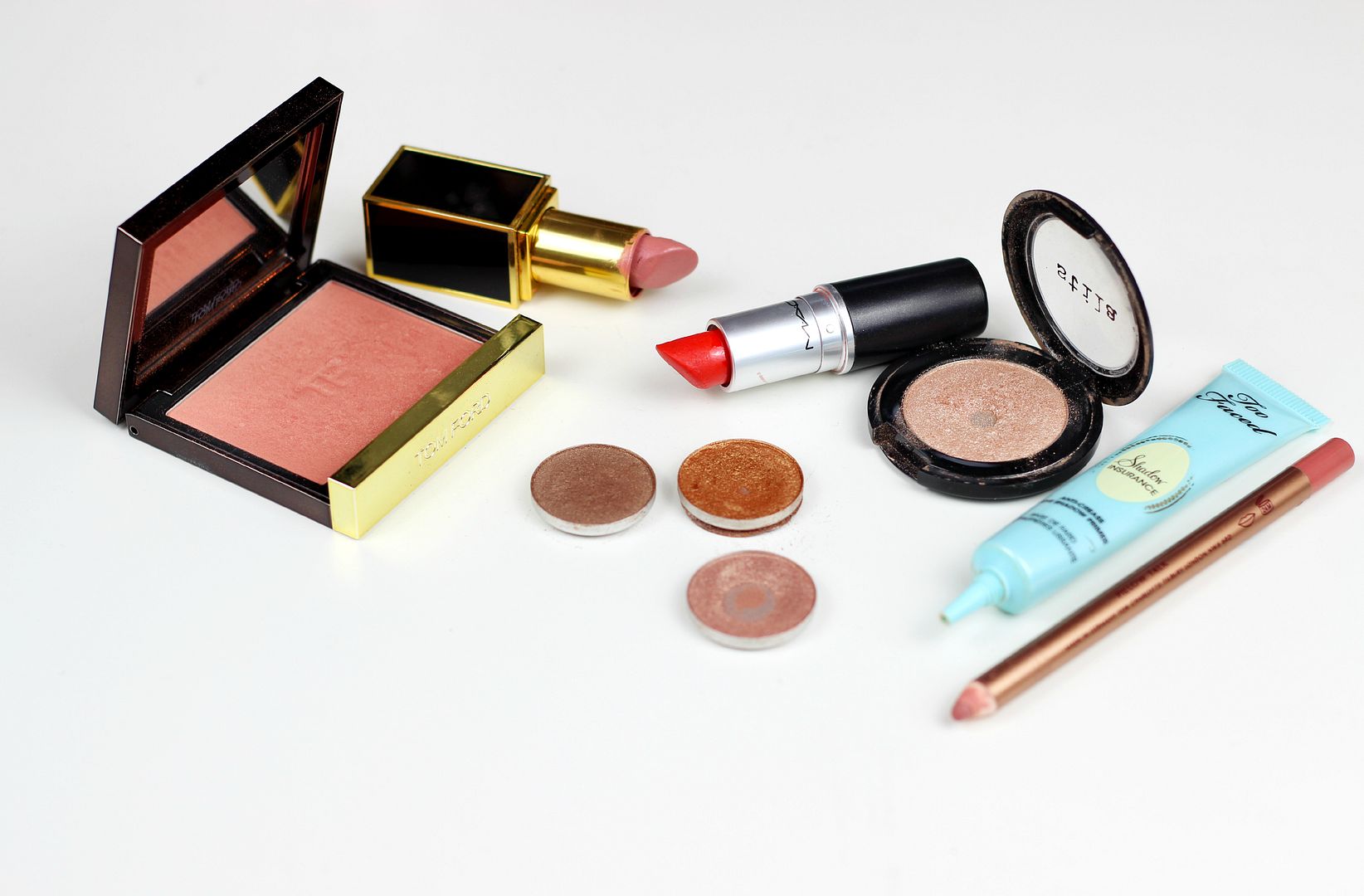 I'm always awash in a sea of products – a vast ocean of lipsticks. Not that that is bad in any way, but there are a lot of new products that come my way. I am fickle, and welcome them all with open arms but I am also very loyal to a few select products… I almost feel protective. Because makeup can be like your child, right?
MAC's eyeshadows are some of the best, it's true. I love that the formula, on me, is creamy and pigmented but without a lot of fall out. I have three favourite shades, that I have repeat repurchased…
Amber Lights
,
Woodwinked
and
All That Glitters
. All gorgeous, and essential items if you like warm shadows. Uh, so nice. ATG is a rose gold champagne that looks incredible swept all over the lid with loads of mascara – it's a real eye opener. Woodwinked is a coppery bronze that I always reach for if I'm in a rush or undecided with eyeshadow, because I know it looks good quickly. Amber Lights is an intensely orange copper bronze shade… I love this shade so much on blue or green eyes. It reminds me of the NARS Isolde duo. A non MAC essential eyeshadow is
Stila Kitten
– inner corner highlight champion. On top of all those shadows, my favourite primer is the
Too Faced shadow insurance
, because it's so simple to use but really effective.
For lips, I have options. Obviously. My heart will always belong to
MAC Lady Danger
. Nothing is
quite
as magical as that shade, although many come close. If you want an orange red, this is the one I would recommend over absolutely any other. What you see is all I have left – a little nub. Love this so much. For a nude option, the
Charlotte Tilbury lip liner in pillow talk
is my favourite for using every day because it's basically the colour of my lips which makes it so easy to slightly exaggerate them and fill them in as a base under any lipstick. It does work especially well with
Tom Ford pink dusk
, which is my favourite nude lipstick. My one is so battered, because I've used it so much, but I love this little pink lipstick.
For blush, another Tom Ford.
Love Lust
is basically everything I want blush to be – it's soft and shimmery and manages to make my skin look healthy while adding a bit of definition without making my cheeks look too rouged.
I'd love to know – what are your all time favourite products?