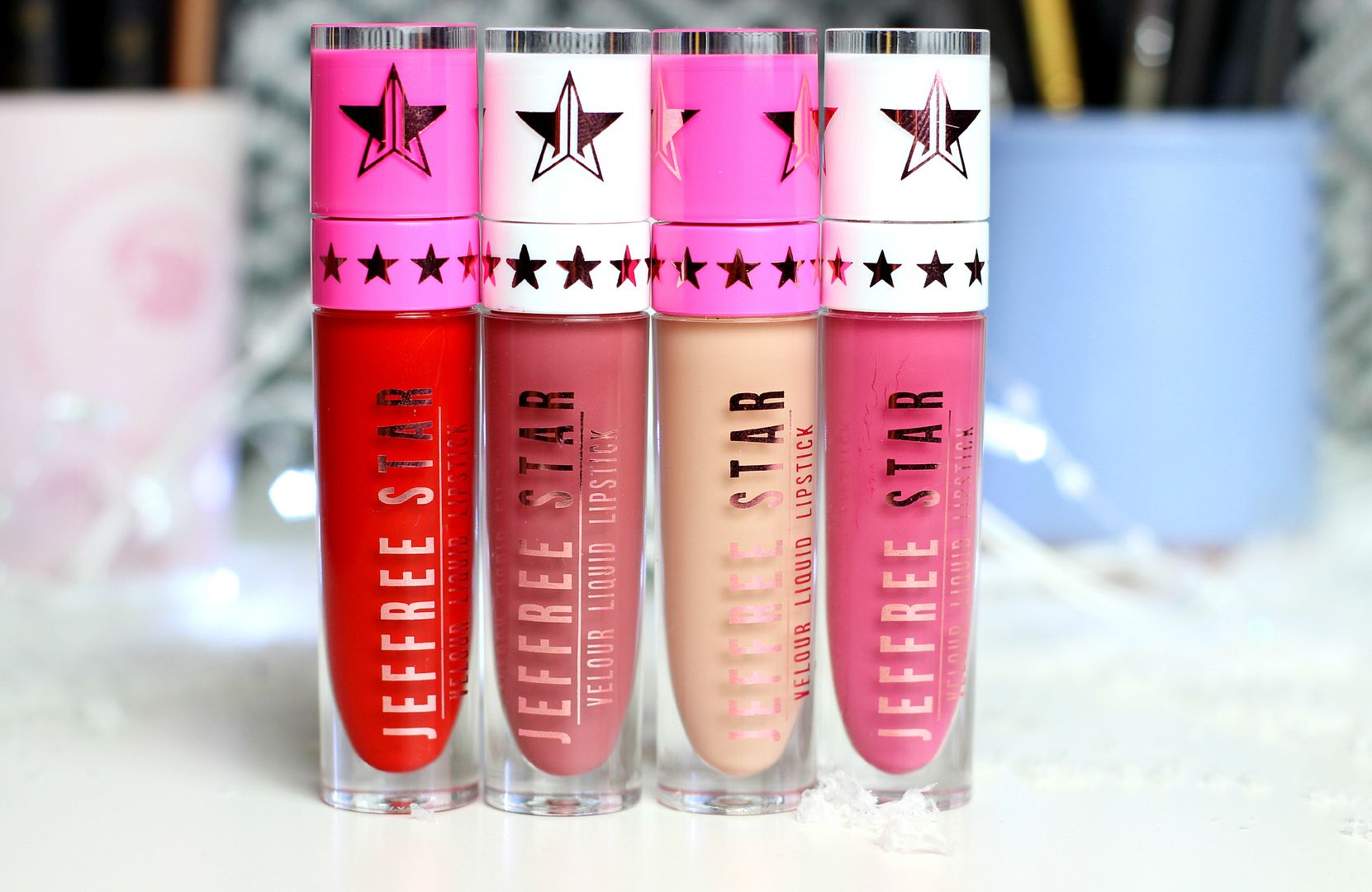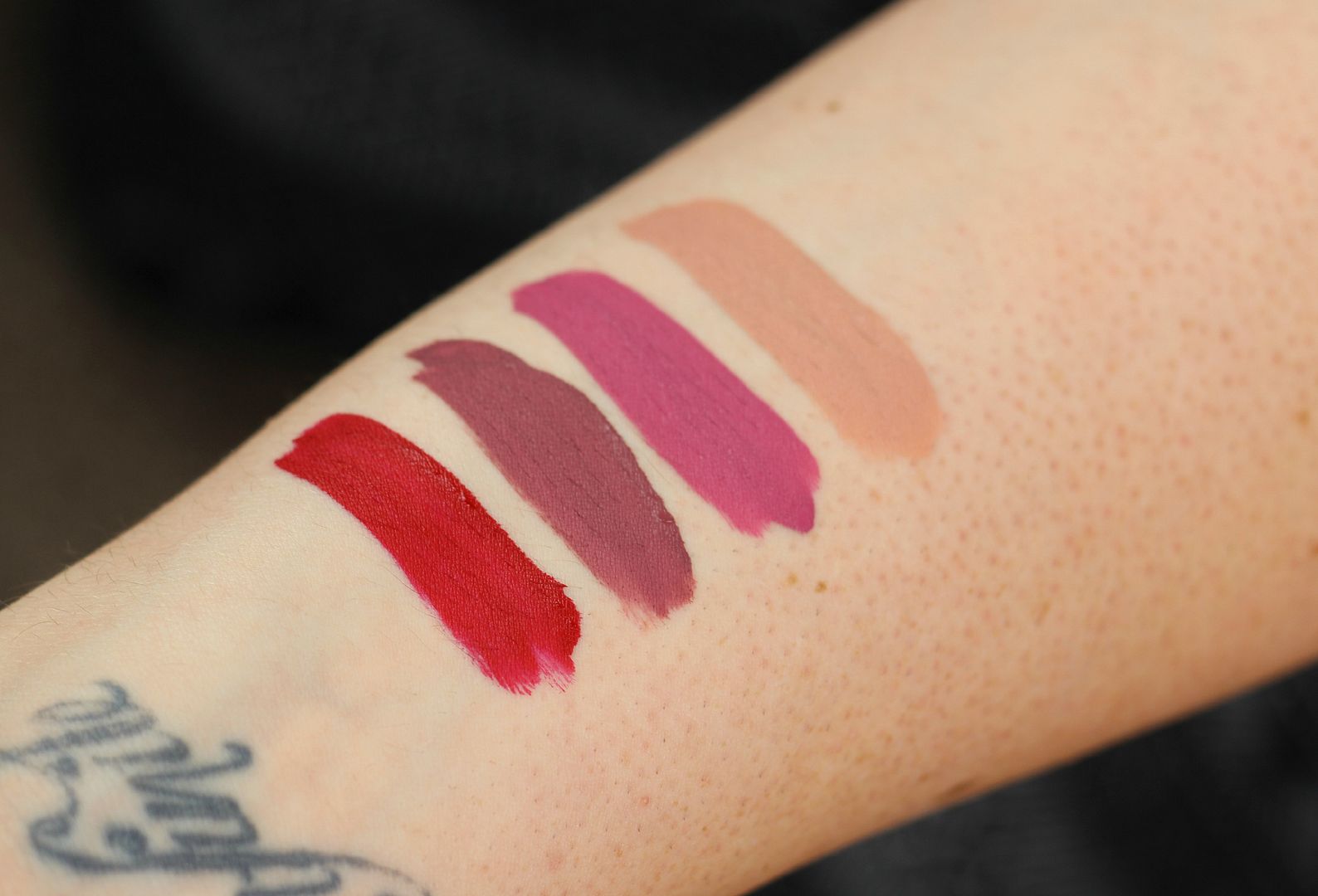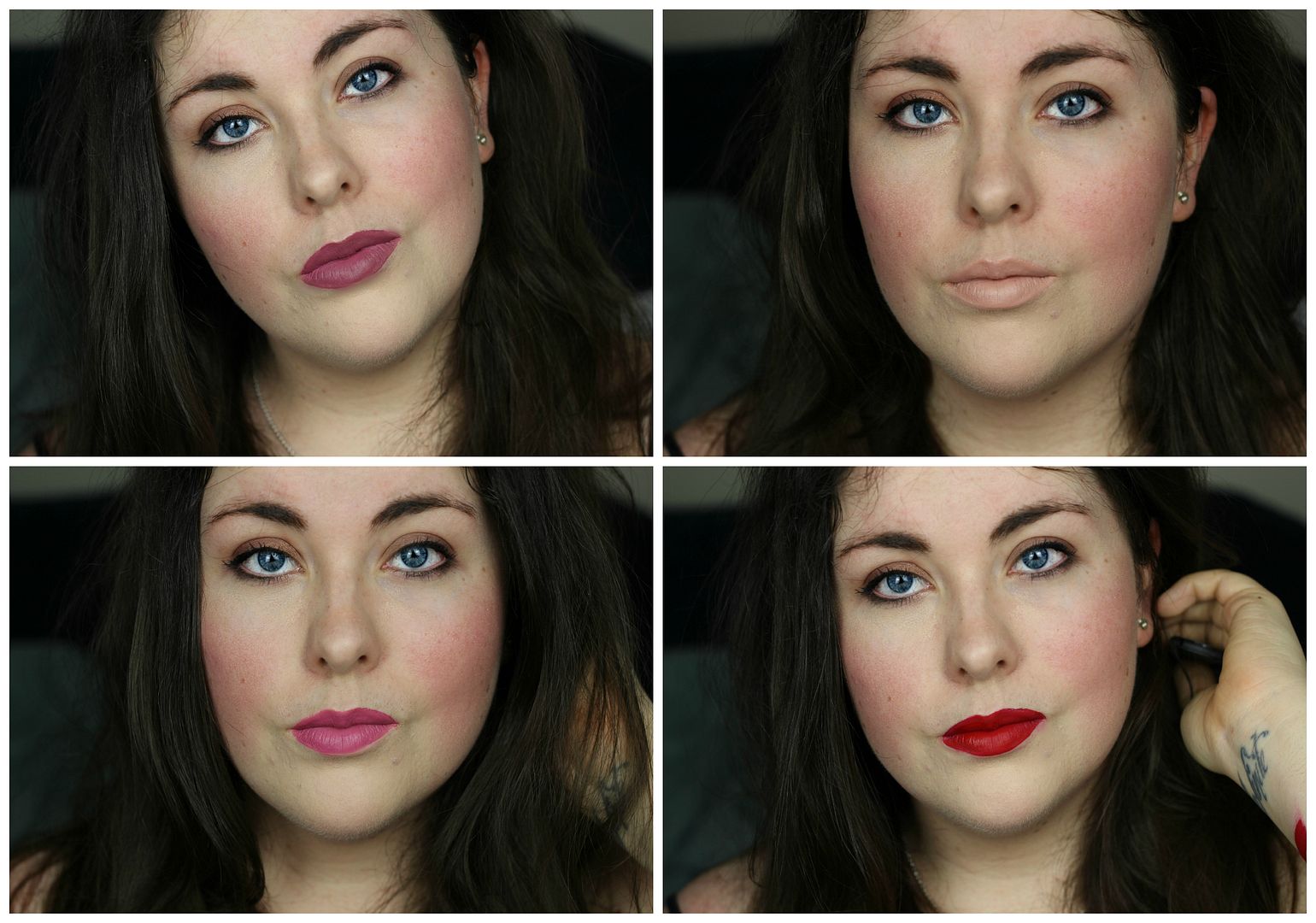 Clockwise from top left – Androgyny, I'm Nude, Redrum & Doll Parts
Where have these been all my life?
Jeffree Star liquid lipsticks managed to stay off my radar for a while and then BAM I needed them all, right now. Jeffree is one of those Myspace babes who has now turned to his hand to making some incredible lipsticks. They're quite popular – constantly going in and out of stock on
Cocktail Cosmetics
(UK stockist). A word on the shades – they seem to sell out fast. At the time of writing, they still have Doll Parts in stock, but it is limited edition.
OK, these are intense. These are matte. As in, if you're not sure about matte lips leave these alone. If you love matte lips though, then these might just be your new boo. They apply like a gloss with a big bendy doe foot applicator, and then it about 30-45 seconds, it dries down to some sort of delicious powdery finish that is so matte and my obsession right now. These will make your lips feel dry – they will. That's why they're so long lasting, because they suck the moisture out of your lips. Do not wear these all day without some sort of chapstick in your bag – you have been warned. They lasts hours and hours and hours, and stay the same.
First up, two from the new holiday collection… Androgyny has become massively popular, and has been so in demand that Jeffree Star has just made it permanent so it's returning in February 2016. This is a perfect mauve with a 90s vibe, on me. It looks different on everyone I've seen it on. It's a bit grungy but surprisingly wearable and it's so perfect for right now.
Doll Parts is like the perfect everyday pink colour that adds some colour to your face and perks you up. It's a juiced up MAC pink plaid, which is something I wear a lot in the day.
Redrum is like the perfect red. Not too blue or too orange or too anything, and the powdery finish is giving me life. This is such a Snow White colour. Also, the Shining is my favourite movie of all time so I have a lot of love for the name.
I'm Nude is so so so nude. Ahhh. I think it makes me look like a porn star. This one will forever be used to mix with darker colours to lighten them up. If you're going for an intensely smokey eye, this one would look good though. I wore it to work last week like this to test it and every time I looked in the mirror it made me laugh.
Do you guys prefer lip swatches or arm swatches? I find both helpful – arm one show the colour in an unadulterated way, but lip swatches are more useful for really seeing the colour. If that makes sense. Either way, my lips were sore after wearing all of these in ten minutes.
What do you think? Do these sound up your street?