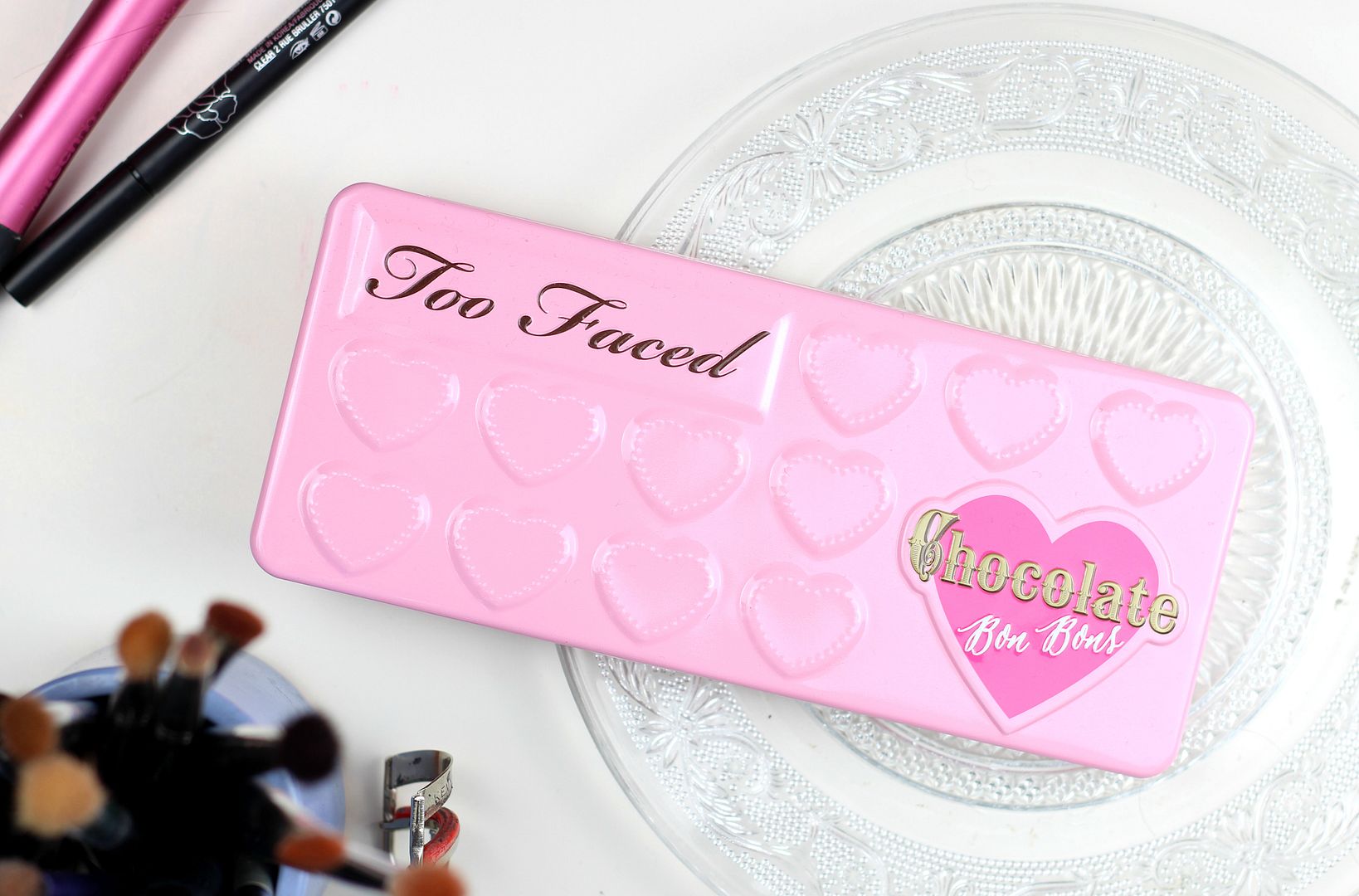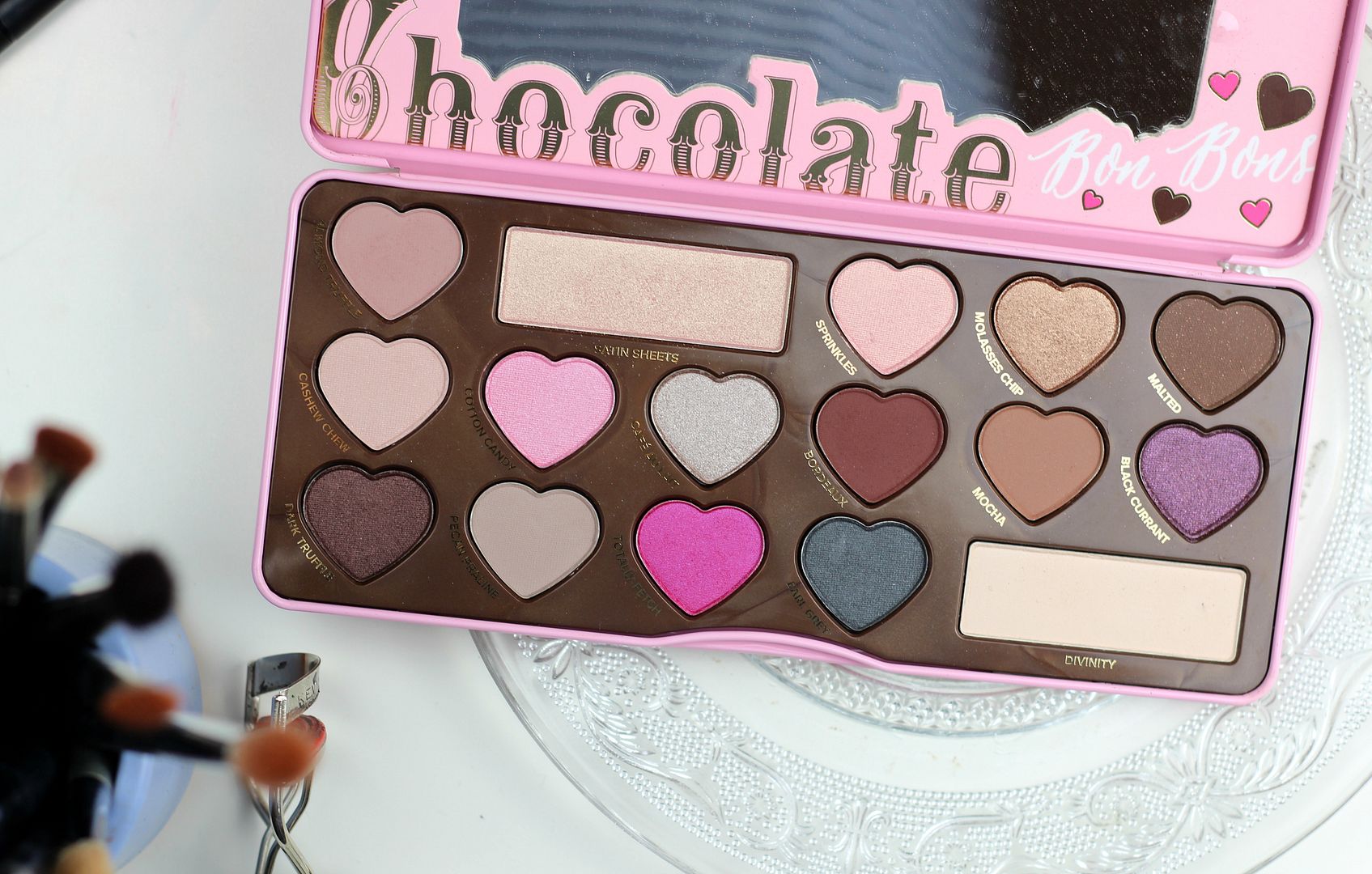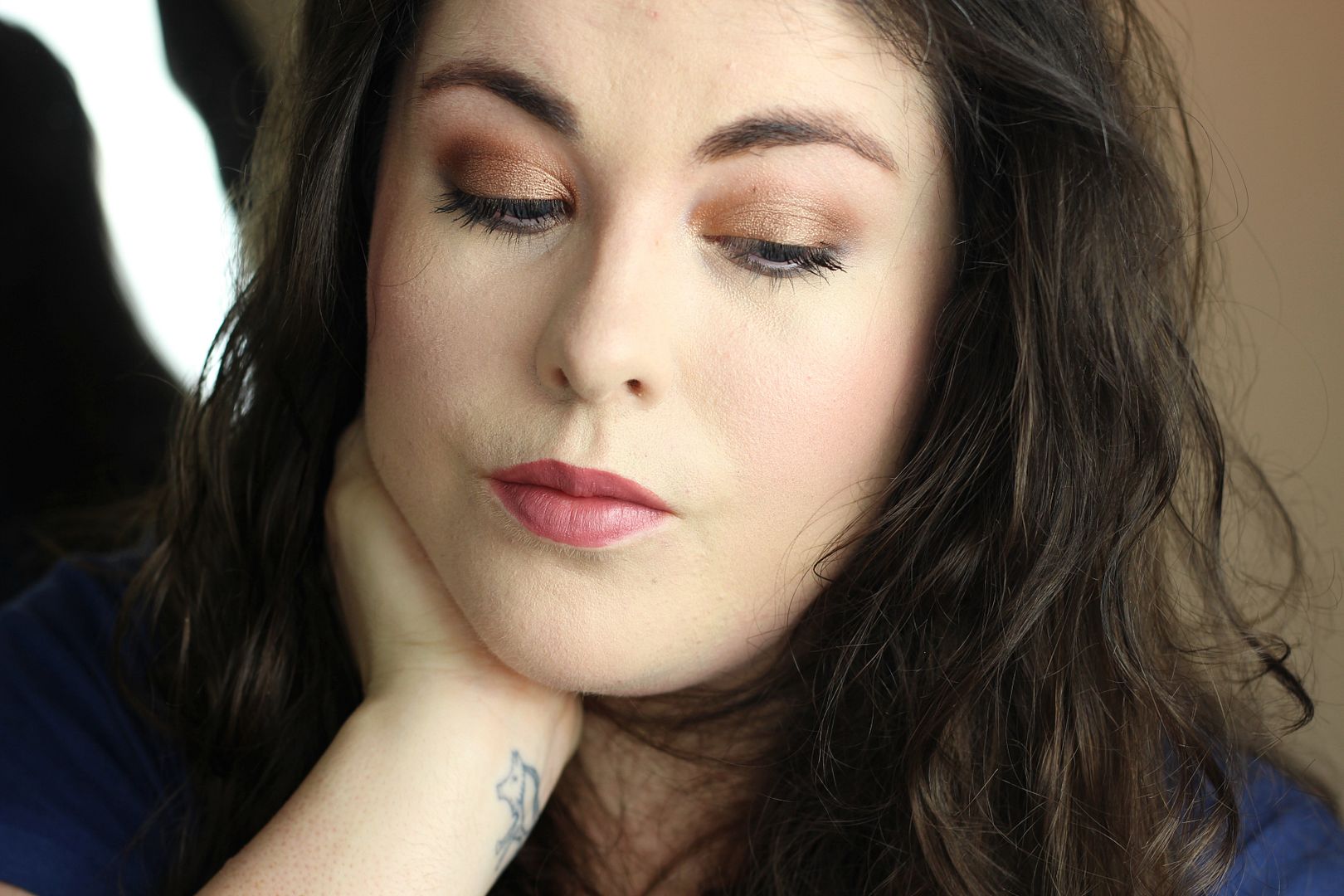 If there's one thing I love as much as makeup, it might just be chocolate. A crunchie or two… So then imagine a palette full of beautiful eyeshadows that smells like chocolate. I think we're onto a winner. I was very kindly gifted this for Christmas –
thanks mum!
– and it has been my most used palette by far since I got it. It has a good mix of neutrals with a few slightly more daring colours that are actually fun to wear, coupled with adorable packaging. Yup, the
Too Faced chocolate bon bons palette
is pretty sweet…
Inside the pastel pink tin, there are sixteen eyeshadows, 14 of which are heart-shaped. C'mon. Overall the shadows are neutral, with there being a pinky theme going on. It's mostly warm toned and has an excellent mixture of both matte and shimmer shades. It does really have every single colour that I would want in it, which is pretty impressive. The formula is consistently a pleasure to use – pigmented, but not powdery.
The shade names are
Almond Truffle – light taupe brown
Satin Sheets – champagne
Sprinkles – baby pink
Molasses Chip – warm bronze
Malted – chocolate brown
Cashew Chew – light peach
Cotton Candy – pastel pink
Café Au Lait – silver
Bordeaux – rich matte brown
Mocha – cool matte brown
Black Currant – shimmery dark plum
Dark Truffle – dark chocolate brown
Pecan Praline – taupe
Totally Fetch – hot pink (love the name!)
Earl Grey – dark teal
Divinity – matte cream
My favourite shades are satin sheets for all over the lid, molasses chip for being bronzed perfection, bordeaux for the crease, divinity to blend, early grey smudged under the lower lashes and almond truffle for everything. In the photo above I'm wearing molasses chip and bordeaux. I use the Too faced primer as well, for reference.
This palette is my top eyeshadow pick from Too Faced – I have tried the original chocolate bar in the past, but the bon bon palette is leagues better – the colours are just so much more complementary and everything fits together more. I don't know, I've just been suckered in by the cute packaging but this palette is such a joy to use (and smell). The fun pinks are so sweet, and the teal has actually been one of my most-used colours – so flattering.
What do you think? I know that Too Faced is bringing out a peanut butter and jelly palette soon…