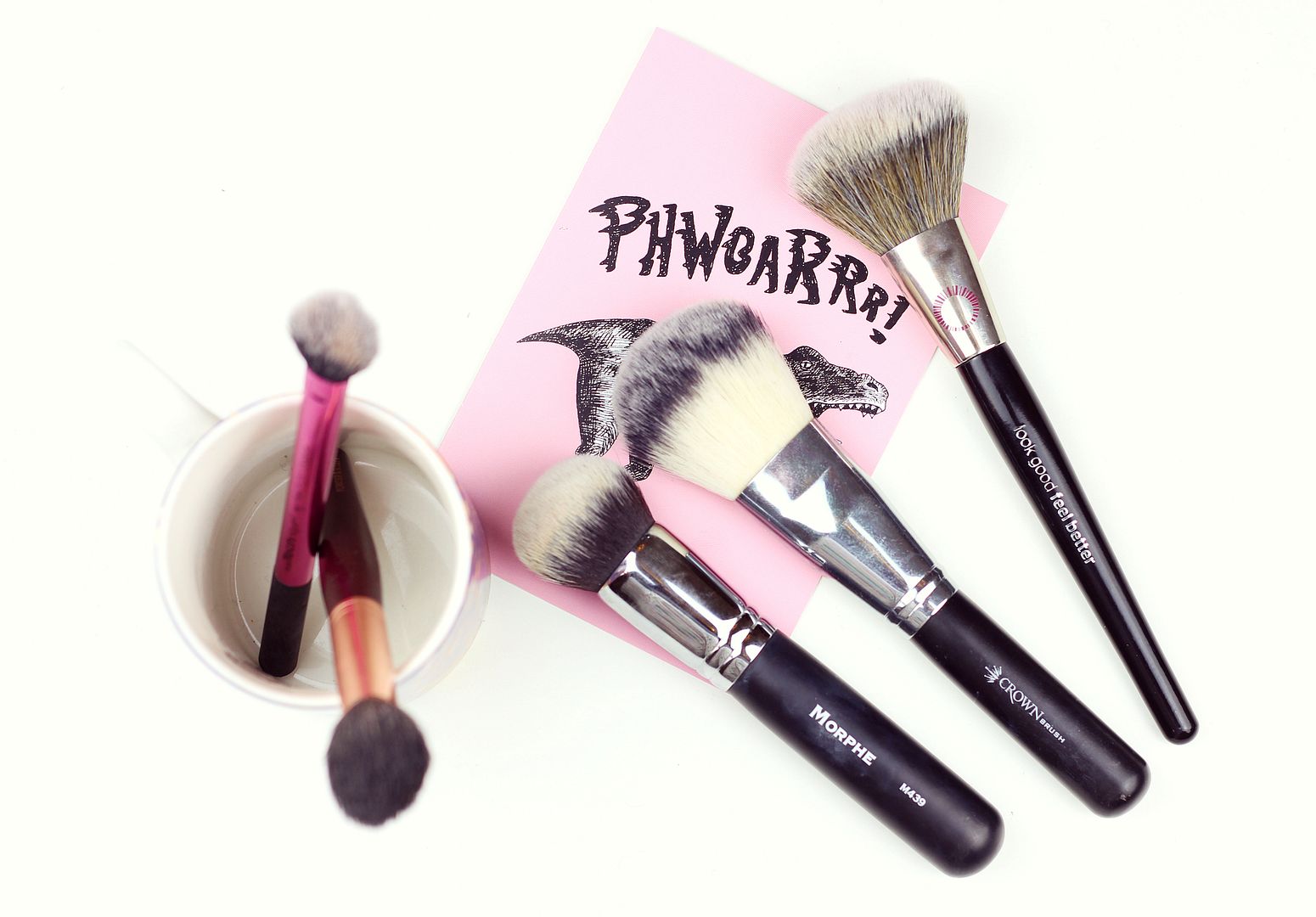 Because the right brushes turn every day into a good makeup day.
It's true.
I have so many brushes (help me, my bedroom looks like a makeup shop), but there are five that I go back to everyday to make my makeup look as good as possible, as quickly as possible. I also use a beauty blender everyday, but I've talked about that so many times before and they do not photograph well…
Let's talk through the brushes in the order I use them… first up is the
Morphe M439 buffing brush
, which is the best for quickly smoothing in any base product (you can see
my full post on that here
). I tend to use it to blend in my concealer before foundation, and the coverage is so good that I end up using less foundation. Win win. It's also the dream for applying base makeup, because the brush doesn't tend to absorb product which means your base looks like a more polished, full coverage option with less effort.
For dusting some powder all over, I love the
Crown Brush deluxe powder dome brush,
which is so big and so fluffy. I only tend to powder my t-zone, so this brush takes care of that in seconds because of its size. I like synthetic brushes because they wash so well and they're the softest.
For faking some cheekbone action, I use the
Charlotte Tilbury powder and sculpt brush
. I've used it every single day since I got it, and find it's the perfect shape to add some subtle definition to my face. It's also so soft that it blends everything out really nicely – it's just a bit of a no brainer brush that makes makeup much easier.
For blush, I find myself reaching for this
Look Good, Feel Better blush brush
over loads of more expensive ones, because it's the softest brush I've ever used – the dream. Like a baby kitten gently stroking your face. I also love the Look Good Feel Better campaign – they provide classes for people undergoing cancer treatment, and help people with tips for dealing with eyebrow loss for example. Each brush sold gives 12% of the sale to the charity. A really good brush, for a really good cause.
When it comes to dusting some highlighter all over my face (I would say just my cheekbones, but who am I kidding?), I love the
Real Techniques setting brush
. It's teeny tiny, and picks up the ideal amount of product – love this. Also works well for setting under eye concealer – I have two. Ssh.
If you liked this post, you might like this post on the real techniques sculpting brush set or this post on four brushes for any eye look.