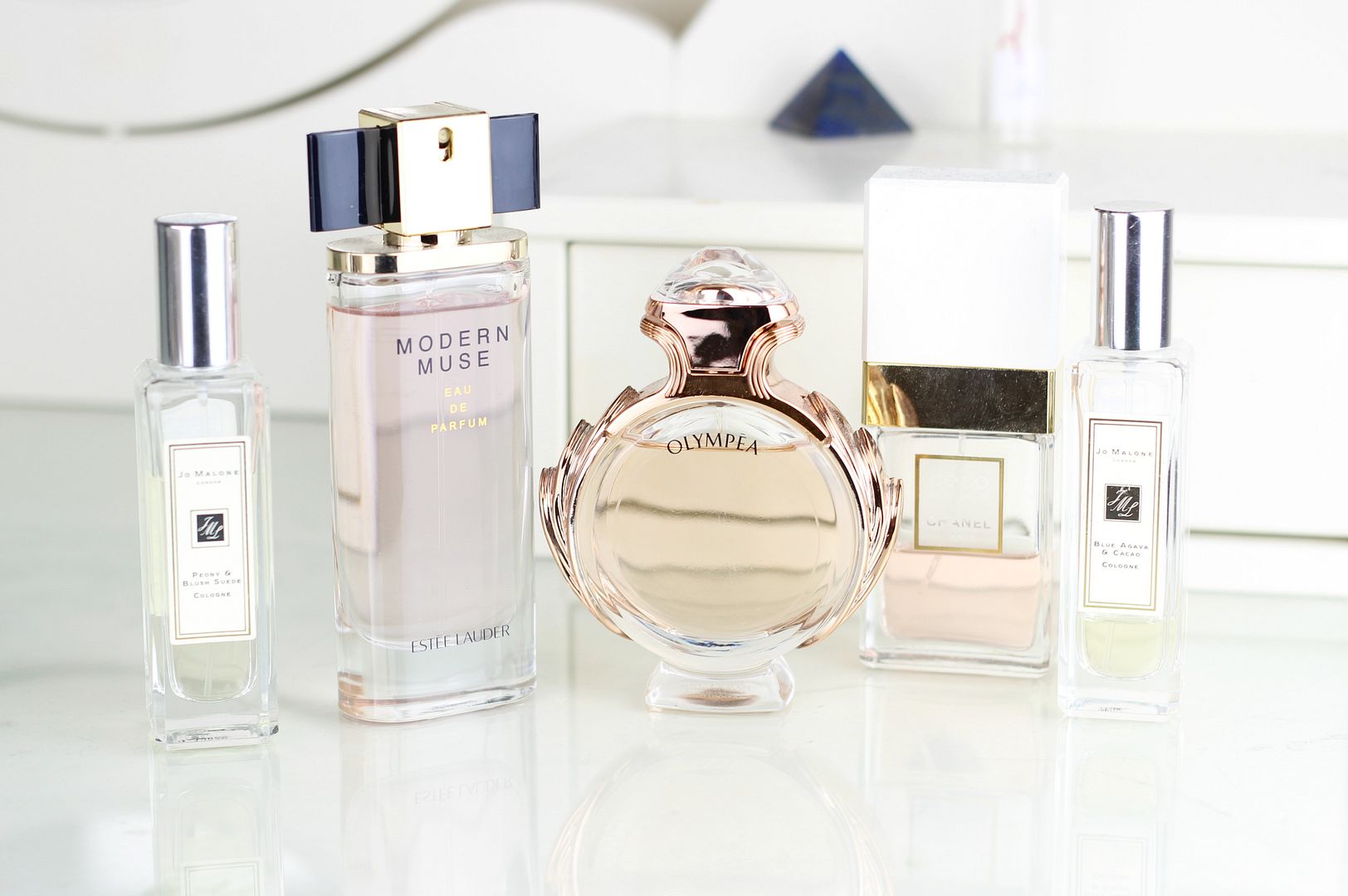 Disclaimer: I am one of those awful people who like to talk about fragrance notes, sillage and composition. I will happily wander around the Harrods fragrance department all afternoon, and I can't leave the house without spritzing some perfume. As it's national fragrance today, I thought the time was right to touch on some of my favourite Spring scents – it's only logical.
Two from Jo Malone – Blue agave & cacao and Peony & Blush suede. My all time favourite perfume is the Blue Agave – it just smells like me, if that makes sense. I wear it a lot, so I suppose it's my signature scent (so grown-up), and I feel happy every time I sniff this. To me, it smells a bit fizzy at first and then really warm and almost a bit chocolately – one to try out. Peony & Blush suede is such a beautifully feminine scent, and is the perfect embodiment of spring – it's floral, light and fresh. The 'suede' gives it a bit of depth to make it more interesting,
One for when I want to feel chic, Estee Lauder Modern Muse. Lauder does fragrances really nicely, but this is by far my favourite. It's dissimilar to other perfumes in my collection – lots of white florals and freshness, but the notes all work together so perfectly to make something really alluring and pretty.
Paco Rabanne Olympea is really warm – it has salt and vanilla notes. On first spritz it smells quite floral, but as it dries down on the skin it definitely warms up and gets a lot nicer. Not even going to lie, the name and the bottle are what sold me. I'm not alone, because I think this was the biggest-selling perfume of 2015… oh well, c'est la vie.
This perfume is special, because my mum always buys it for me… Chanel coco mademoiselle. Chanel has a lot of nice perfumes, and this was my first ever foray. It's sexy, it's classy, it's Chanel. I just really like wearing it – this is my third bottle, so I obviously go through it.
What's your favourite perfume for spring?
If you liked this post you might like this post on five autumnal perfumes you need to spritz or this post on why Chanel no5 is a classic.