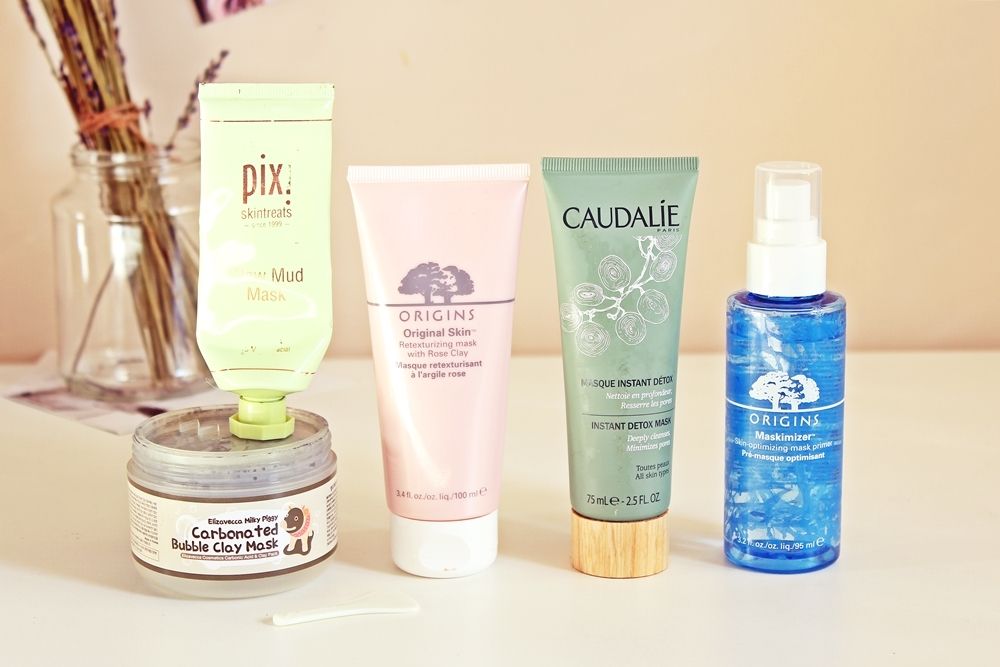 Memo – I'm moving and mega-babe Sarirah from Pretty Not Included has swooped in to save the day (and make me want to buy all the face masks!).
Between the brighter evenings and
the stream of pink blossom photos on Instagram, it's safe to say that Spring is
officially upon us. Whilst we're busy cleaning out our workspaces and finding
those pretty leggings for an evening jog, let's not forget to pay a little
attention to our skin. Our Winter routines may have been rich in moisturising
masks or high coverage foundations but as Summer approaches it's nice to be
able to take it down a notch or two and let our natural skin shine through. In
aid of this, here are five face masks to help give your skin a good Spring
clean.
Caudalie Instant Detox Mask :: This is quite the 2in1. With grape
marc and coffee you get that beautiful radiant complexion and natural evening
glow. This deep cleansing mask has pink clay which gives your skin a deep clean
right down into those pores. Out of all the clays, I think pink is my favourite
because it helps reduce inflammation and pore size. A thin layer onto clean
skin for 5-10 minutes and you're sorted. A great one for the busy bees.
Elizavecca Bubble Clay Mask :: If it's a Sunday and you're in the
mood for a pamper then this is a great choice. It's a power house of deep
cleansing ingredients: clay, charcoal, green tea and pomegranate. You apply the
gelatinous texture in a thick layer onto the skin with the spatula and let it
sit for about 10 minutes. It bubbles up and almost "grows" on your face. It
feels kinda cool and you look like you're wearing the bubbles from your bath.
Once you look like your facial features are lost amongst the mask, massage it
in and wash off. I like to call this one the pore shrinker. Even if it's not
for you, do take a minute to search this in action on YouTube. It's interesting
to watch to say the least.
Pixi Glow Mud Mask :: This mask and I are best buds. It's my go to
and I can easily use this several times a week without it drying out my already
dehydrated skin. The "mud" part is kaolin clay and sea salt so it will give
your skin a good Dyson hoovering and remove excess oils and impurities. Jojoba
seed oil and aloe juice alongside a myriad of botanical extracts ensures that
your skin isn't parched or left lacklustre after that clay mix has done its
job. I love leaving this one on for a half hour. It leaves my skin looking
clean, without redness and shows those breakouts where the door is.
Origins Original Skin :: Like the Caudalie offering, this one uses pink
clay too. It's a perfect pick for some good exfoliation and to boost dull skin
and refine its texture. Canadian willowherb is a key antimicrobial ingredient
which works well with breakouts whether hormonal or from stressed skin. My
favourite part is the subtle manual exfoliation you get from the jojoba beads.
They gently buff which is nice when your skin is sensitive and you don't want
to deal with acid treatments or other potentially scratchy particles. Bonus
feature: it smells very light and subtly fruity.
Sheet Masks :: To finish off let's rehydrate and nourish that skin.
With the trend of sheet masking rising across the Western beauty market, you're
not short of options here. The Skin Lounge and Starskin Beauty are my
favourites with the hydrogel over cotton sheet options being preferred. Sheets
are soaked in a serum or essence that's packed with hydrating, brightening and
other active ingredients and they feel refreshing on the skin. The mask acts as
a barrier to ensure the skin drinks up all the goodness of the serum. Tip: each
sachet always comes with an excess of serum so store this in a little container
so you can pat it onto your skin for days afterwards.
What would be your picks for a
skincare Spring clean?
Don't forget to check out
Sarirah's blog here
🙂