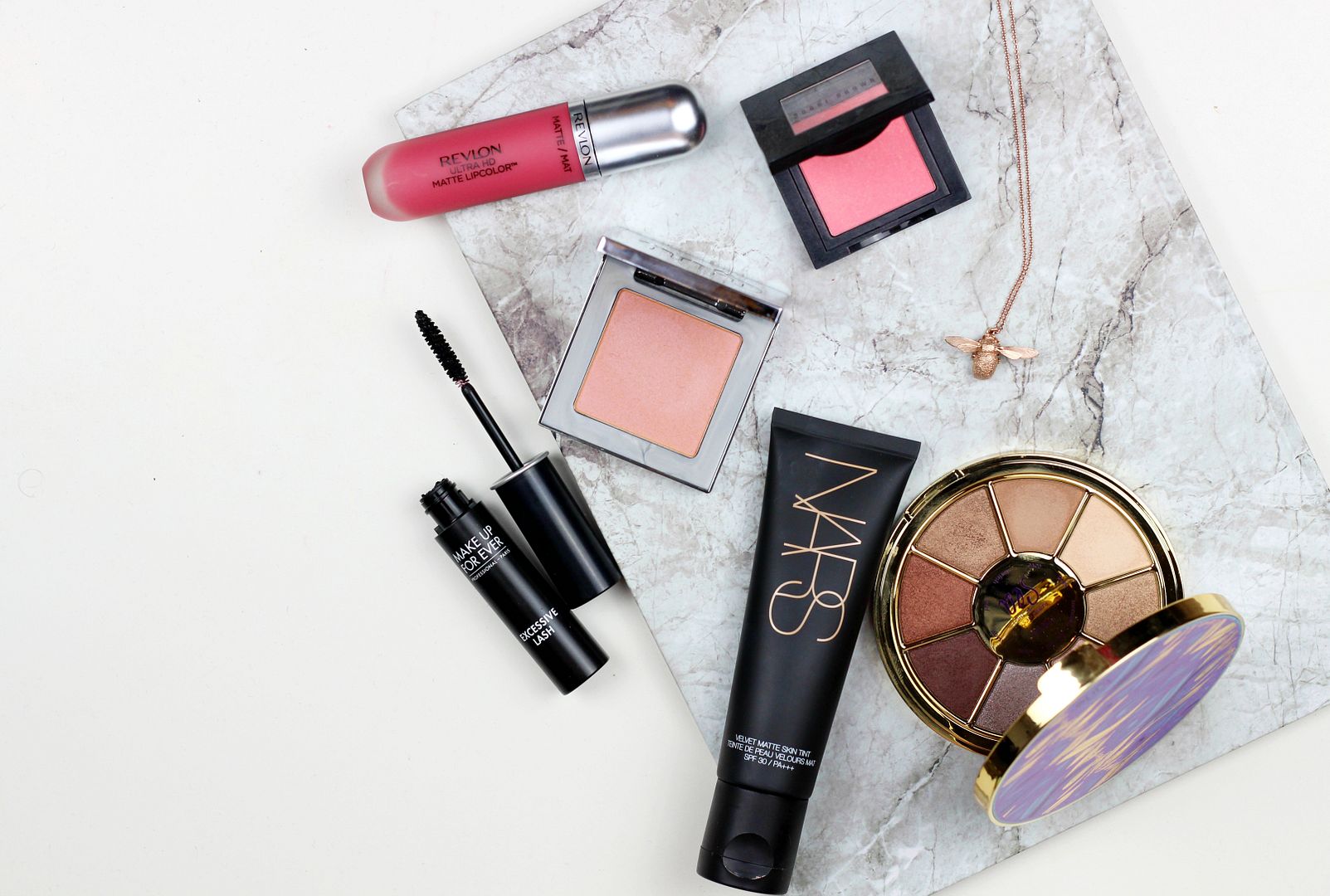 Despite snow yesterday (what?!) at least spring is officially here, and my makeup has been switched up accordingly. As always, I want flawless skin but this month I'm going for more of a pink cheek and lip combination with plenty of sheen on the eyes and fluttery lashes.
Let's start with the base… it's only logical. Oh hi,
NARS velvet matte skin tint
. Aren't you all cute with your promises of effortless gorgeous skin? You cheeky little thing. Yes, I do want a breathable base with nice coverage. This stuff is perfect for everyday, and blended in with a beauty blender isn't drying on my skin (which is something I was scared about). It just looks really natural on the skin, and looks good in daylight – important for a spring base. I'm the palest shade (#ghost), and I really like it. The coverage isn't as good as its big sister, all day luminous, but it does feel lighter and doesn't ever look cakey.
For those who want to dip their toes into liquid lipsticks with having their lips dry up, I would point you in the direction of the
Revlon HD ultra matte lip colour in Devotion
. Gorgeous brightening shade, lovely comfortable formula… it's a bargain. This one looks like it's the best shade by far, and would suit anyone I should think.
Eyes-wise, I have been loving using the
Tarte rainforest of the sea palette
because there is something so good about high-shine shadows… and I need them all on my eyelids now and forever. This palette is gorgeous, although lacking in matte shades so not an
essential
.
My mascara of the moment is the
Makeup Forever Excessive Lash mascara
– the brush is skinny, so it's good for length and volume and it doesn't smudge so it's basically everything I look for in mascara. It's easy to use, and it does its job in that it makes my eye lashes look a lot more exciting… I don't know, I find mascaras hard to write sonnets about. It's good, that's it really.
These two together… Ah! The
Bobbi Brown blush in Nectar
and
Urban Decay highlighter in Fireball
were made for each other. The highlighter is not a highlighter like soft & gentle where you dust it all over the cheekbones (and the rest of your face sometimes), but it's more one of those products that blends in nicely with blushes and adds more dimension – a blush topper almost? It just adds a lovely luminescence to the skin and when blended in with the Bobbi Brown is so perky and fresh.
What's your makeup situation like at the moment?
This post contains PR samples