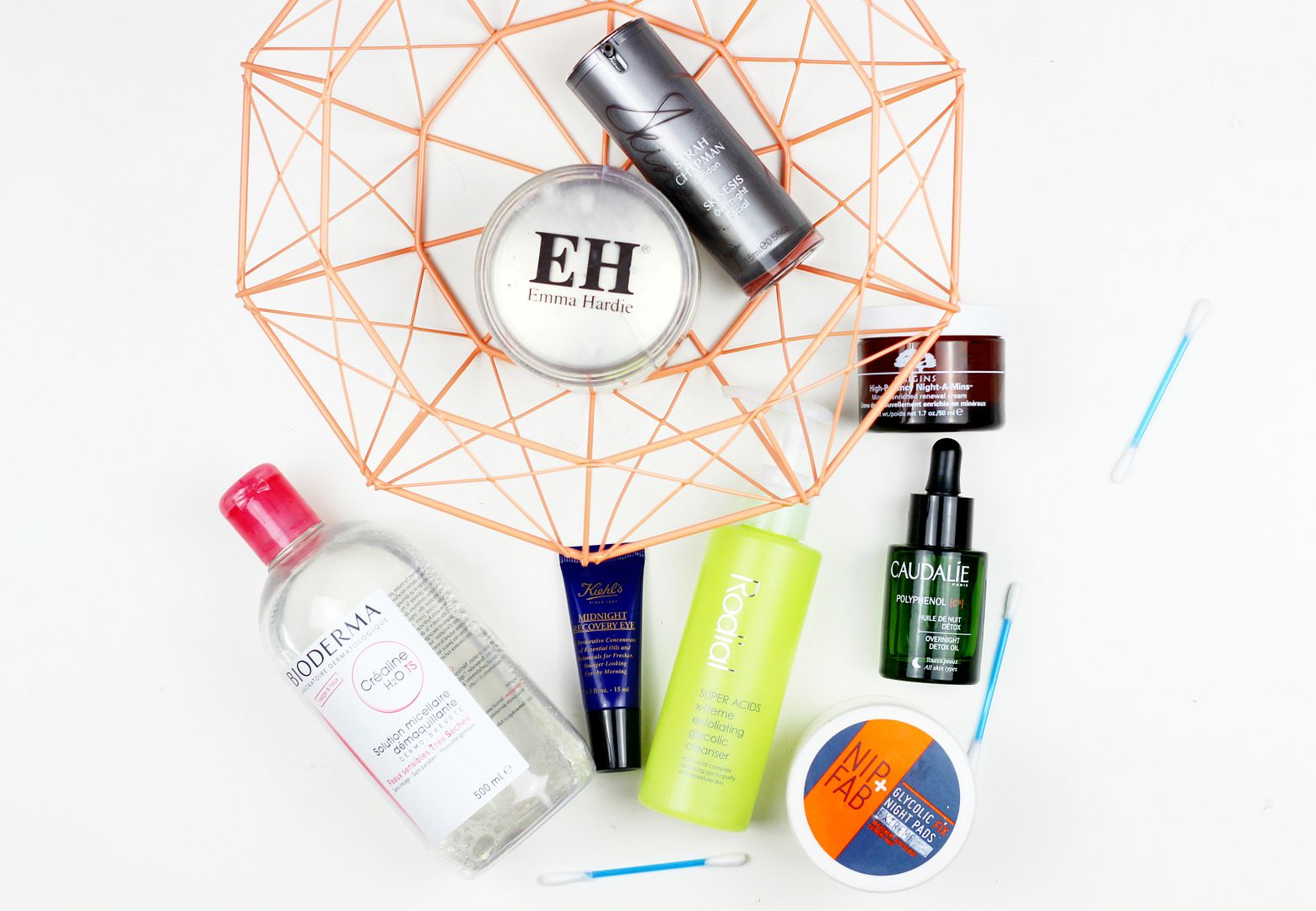 Time for part two in my instalment on spring skin – you can check out
my morning routine here
. Now that we're having more sunshine, and there is daylight when I leave the house and when I get home, I've been shaking up my skincare a little bit. Without further ado, here is my evening routine.
When I get home, I take my lenses out and take off all my makeup with Bioderma on two cotton pads. I love this stuff – it's like water buy melts away makeup and I've been so many bottles of the stuff. I like the one for dry skin as well (with the blue lid), but the pink one comes in the huge bottle. After that I cleanse with the Emma Hardie cleansing balm – it's the nicest cleanser ever and I've gone through so many tubs of the stuff. It's incredible, and I give myself a little facial massage as I use it. I use a hot flannel to take it off and then depending on how my skin is looking I either leave it at that or use the Rodial glycolic cleanser. I use the Rodial when my skin is looking dull or if I have any blemishes. It's a gel cleanser that feels quite simple when you use it, but it works wonders on those pesky under the skin blemishes. Again, I rinse if off with a flannel. Depending on if I've used the Rodial cleanser or not, I use the Nip & Fab glycolic night pads, which are pre-soaked cotton pads that I rub all over my face. I've heard mixed things about glycolic acid, but it seems to work well on my skin.
For treatments I either use the Caudalie detox oil or the Sarah Chapman overnight facial. Caudalie for when my skin is a bit congested or Sarah Chapman when my skin is feeling dry. Both are gorgeous, and I tend to leave them on their own to do their thing until bed time. When I'm feeling particularly energetic, I use my jade roller to massage the oils into my skin.
Most nights I use the Origins night a mins night cream – two/three nights a week, I use the Origins overnight mask. I highly recommend both of these, and have been through multiples of both. I typically apply night cream 5 minutes before bed – I usually keep it on my bedside table. I also am loving the Kiehl's midnight recovery eye cream, which I also apply right before bed.
And that's it! Phew, writing that has made me want to go to bed…