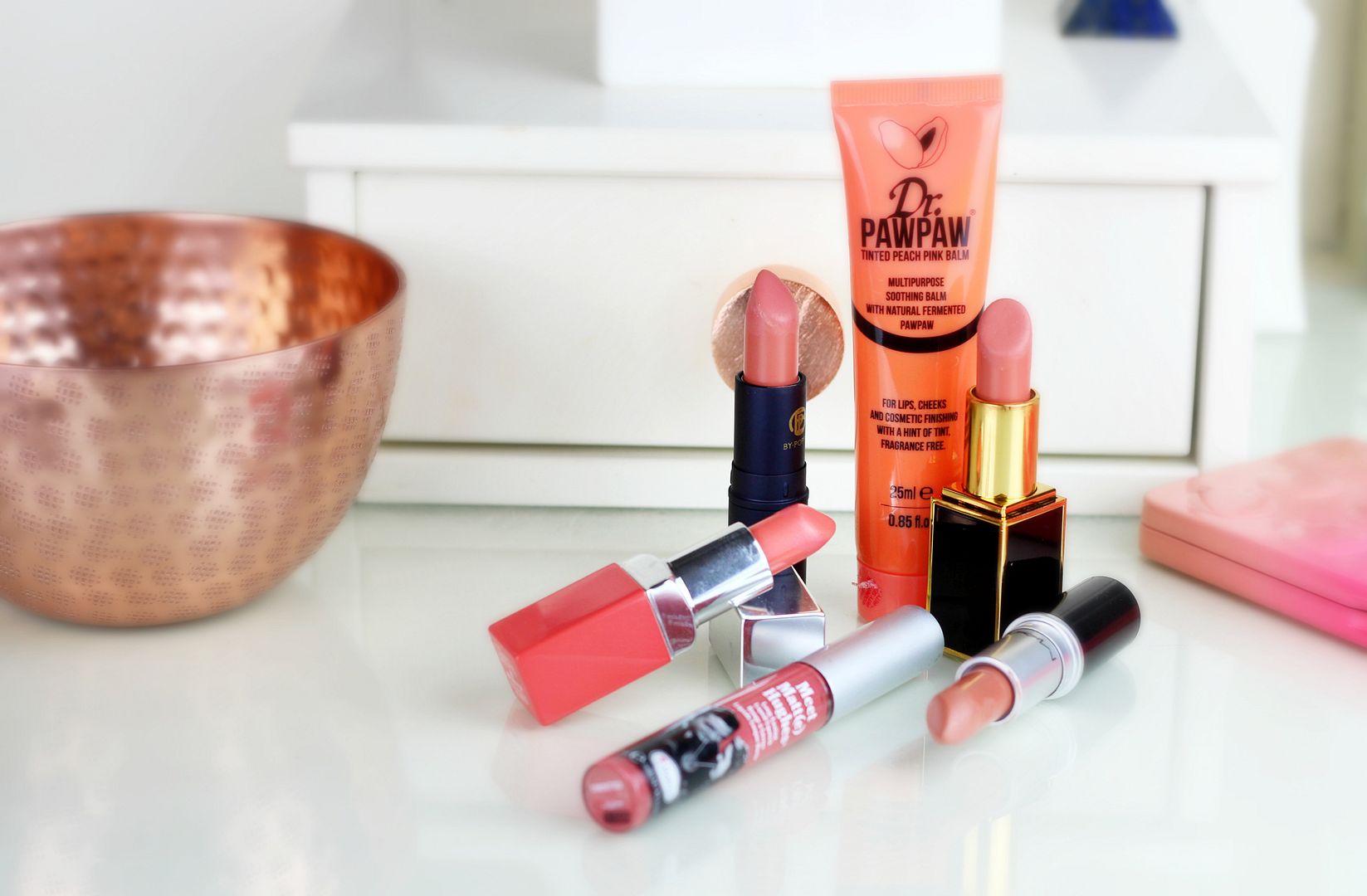 I'm in one of those makeup moods where I want my everyday look to have a very pretty and polished look. The easiest way to look pulled together and brighter? Why, a peachy lip of course!
I'll start with the newest addition – MAC Cherish. I have no idea how this lipstick wasn't in my existing collection, because it's basically perfect. It goes with absolutely everything, and the satin finish is so flattering. Ugh, this is dreamy. If you want high end, then you can't really ever do better than Tom Ford First Time. This is essentially the creme de la creme of peach lips, and a great choice to go with should you want to dip your toes into the Tom Ford pool. This has the magical quality of being peachy, brightening but not too stark – a winner all round. Something slightly pinkier is the Lipstick Queen Pinky Nude Sinner, which is one of my favourite matte lip formulas around. Finally, because we always need more matte lips is the theBalm Committed, which is a gorgeous dirty peach. It has enough brown in it to make this incredibly wearable for all skin tones, and let's just talk about the delicious minty-vanilla scent?
If matte is not you thing (why), then Clinique Melon Pop is one of my favourite shades to slick on sans mirror – it's so flattering, moisturising and pretty on. For something with some sheen to it, it sticks around for a decent amount of time and I guess it's nice to have a lipstick that doesn't leave your lips crying for lipbalm. Speaking of balms though… the Dr Paw Paw peach balm is the perfect peach multi-tasker that can be used in a million ways but I find it works best smoothed onto the lips. So moisturising, and the tint it leaves behind works well on its own to give a flush of colour or as an easy option to use on top of any existing peach lipstick.
What's your favourite shade of lipstick – is a pop of peach your thing?