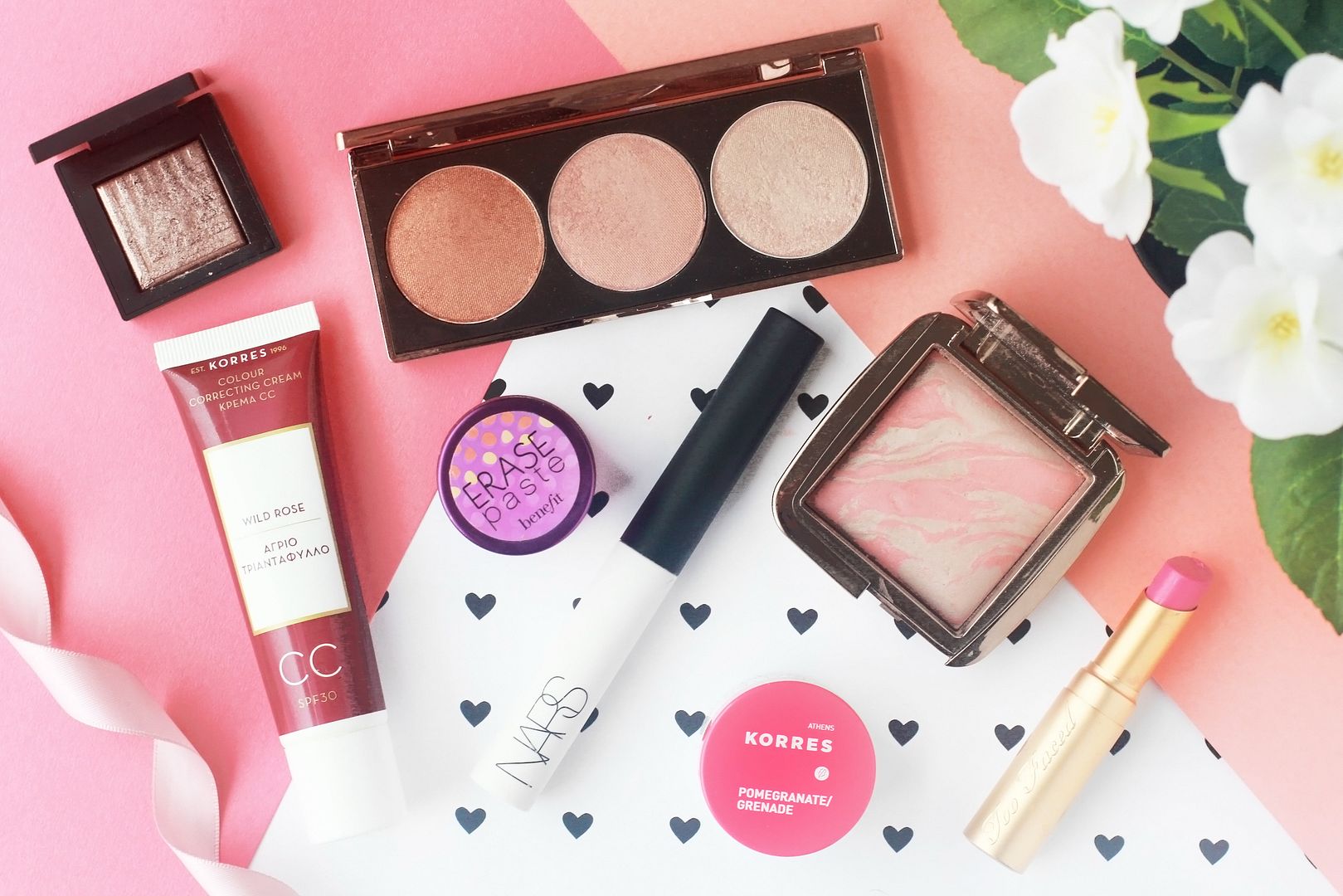 When Laura asked me to guest post
on her blog during her lovely honeymoon I was so pleased, not just because I'm
such a fan of Laura's blog, but also because it gives me an opportunity to talk
to new people about products my own blog readers are probably bored of hearing
about! I'm a loyal makeup user, once I find something I like I'll stick with it
and tell the world about it. Today I thought I'd share some of my holy grail
makeup items and hopefully you'll love them as much as I do! If you want to
check out my blog you can come visit me at
The Makeup Directory
.
NARS are one of my favourite high
end brands, and I'm still yet to try anything from them that I haven't loved.
The Dual Intensity eyeshadows caught my eye as soon as they were released but I
was reluctant to spend so much on a single eyeshadow. But eventually I bit the
bullet and bought one, and I have not regretted it. Himalia is a gorgeous
mushroom-taupe with plenty of shimmer and can be applied dry for a sheer look,
or with a wet brush for more intensity. It's the perfect lazy-day eyeshadow,
one swipe and you're good to go.
The Korres CC Cream has been my
base of choice all summer long as it provides a decent amount of coverage
whilst packing a punch with SPF and Vitamin C. It feels so lovely and light on
the skin, I almost forget that I have a base on at all when wearing it. The
only downside is that it's only available in two shades, but hopefully that'll
change in the future.
I feature Nude by Nature quite a
lot on my blog, and whilst they're pretty unheard of in the UK they're huge in
Australia and have just started to retail over here. Their look is all about
the stereotypical Australian beach babe with a natural sunkissed glow – which
is far from pale old me. However, I still find I can make their products work,
especially this dreamy highlight palette. I tend to use it as a bronzer, blush
and highlight but the shades are really versatile. Oh and did I mention it
comes in rose gold packaging, swoon.
I actually didn't like this at all
when I first got it, I was shocked at how even the lightest shade was so orange. But I decided to give it a go
again a few months back and it's become a staple at hiding those dark undereye
circles. I wouldn't dare use this anywhere else on my face or without a
concealer on top as the pigmentation is crazy, but it does amazing things at
making me look more awake.
This seems like a bit of a boring
product but time and time again I've named this my ultimate beauty
recommendation as it's just so damn good. My eyelids are absolutely terrible at
making any sort of eyeshadow look last, but with a touch of this on each lid
I'm good to go for the rest of the day. I used to restrict myself to only high
end well known eyeshadows like Urban Decay and MAC, whereas now I can use
anything on the high street and make it last just as long using this
underneath. I must be onto my third tube and I will continue to repurchase it
forever!
It's a pretty well known beauty
fact that the Maxfactor Creme Puff blushers are a great dupe of the Hourglass
ones, and they are, I have both and they're basically the same. But Hourglass
are worth investing in for the gorgeous shade selection that they have. Dim
Infusion in particular is so unusual that I just haven't found a colour match
of it anywhere else. It's a beautiful soft coral that just flatters any makeup
look. I'm a huge blush fan, and this is definitely up there as one of my
favourites.
For years I saw these by the
counters at Oliver Bonas and Topshop and I was always drawn to their amazingly
simplistic but effective packaging. I just think they look so cool! And the product
inside is just as amazing. I love a sheer lip and quite often a tinted lip balm
is all I want for the day. I have a few shades of these and they're all so
moisturising and creamy, the formula is amazing, but Pomegranate is just the
perfect everyday subtle pink. There really is a shade for everyone with these
though so definitely pick up what is best for you.
Last but definitely not least I
need to give a shoutout to one of my favourite lipsticks. The fashion in the
last few years has all been about the matte lip, and whilst I'm all over that,
sometimes I want something for a slightly softer look. Razzle Dazzle Rose is a
blue toned pink which is probably the most flattering lip colour I've ever
tried. These lipsticks are your definition of creamy, but they don't feel
sticky or heavy like they often can, they just feel comfortable. I really want
more shades and they have plenty to choose from!
I really hope you enjoyed reading about my holy grail
products, and thank you to Laura for letting me post on her blog!