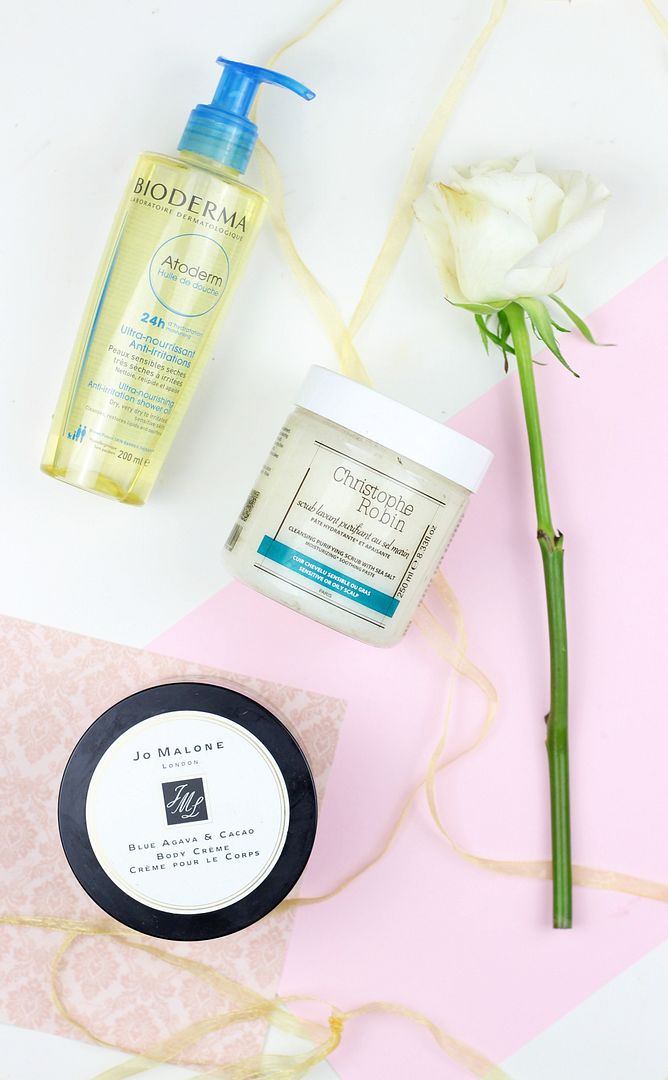 As much as I love going out at the weekend and exploring, I will always love having a quiet one at home. I love cuddling up on the sofa, getting my blog on and taking the time to just stop and enjoy my own company. Having a busy week, every week, usually means that at the weekend I am desperate for a bit of TLC. What better to do on a dreary Sunday than to have a lovely indulgent pamper?
For my weekend shampoo for the last few weeks, I have been loving the
Christophe Robin Cleansing Purifying Scrub
; it's really different to your traditional shampoos and is much more of a treatment to really detox the hair and leave everything soothed. It's a thick paste, but scrubs up surprisingly well – I like to use this, and an intensive mask on the ends of my hair.
I've had a bit of a crush on Bioderma shower gel for a few years now – it seems like the ultimate in Parisian beauty to me, and adds some serious chic to my bathroom. As someone with chronic dry skin I have been enjoying shower oils for an extra burst of hydration – so I was pretty excited to discover this
Atoderm shower oil
. It smells light and fresh, leaves skin soft and also acts as
the
perfect shaving accompaniment.
Lastly, I am using up the last of my
Jo Malone Blue Agave & Cacao body creme
– I still can't believe this is being discontinued because it's my all time favourite perfume. Jo, why? This body cream is deliciously thick and sumptuous, and leaves my skin feeling looked after as well as smelling dreamy.
What are your plans for this Sunday?