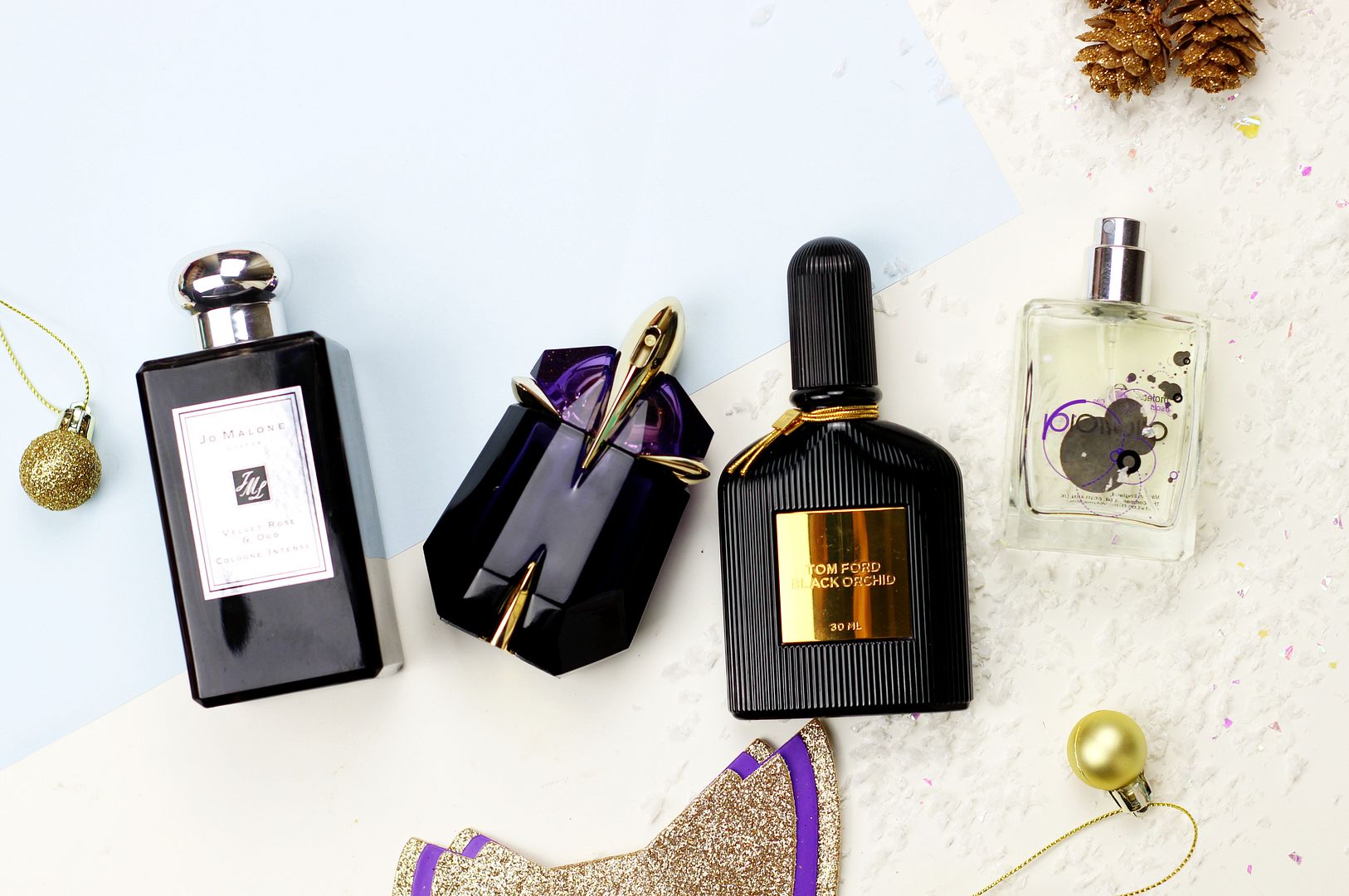 My last step in the morning before rushing out the door? Spritzing my perfume pick of the day – I like to match everything depending on how I'm feeling. Perfume to me is like an accessory, and I've been busy working my way through my winter fragrance wardrobe.
The scent I wore on my wedding day was
Jo malone Velvet Rose & Oud
– smelling it now makes me very, very happy. It's soft, but not too girly or sweet and the velvet rose keeps it well-rounded and just a dream to wear. I'd describe it as rich and warm – the scent wraps around you, and lingers on the skin. If you're out off by the thought of cloying rose scents, be prepared to have your mind changed with this beauty of a fragrance. I've got the matching body cream as well, for an extra shot of velvety indulgence.
A newer one to me, is
Thierry Mugler's Alien.
I'm not sure how I lived so long without it, because it's gorgeous and has quickly become a perfume I reach for on a daily basis. This is exotic and gloriously different to anything else I own. Anything with amber in it pretty much always piques my interest, but the jasmine in this really makes something special.
A bit of a classic –
Tom Ford Black Orchid
. This smell reminds me of winter evenings out – it's the sort of scent that lingers beautifully on a scarf when you're out and about in the cold. Tom Ford fragrances as a whole are pretty dreamy, but there's something special that captures my interest with this one. It's distinctive, and I always recognise it when I happen to catch others wearing it. It's seductively opulent, and needs to be accompanied with a velvet cocktail dress and some red lipstick.
Lastly, one that I stole from my husband – it's simply too nice to resist. The wickedly simplistic
Escentric Molecules Molecule 01,
which is meant to smell different depending on the person wearing it. I think it smells woody and rich, and it also layers beautifully with other scents.
What are your favourite perfumes for the cold weather?