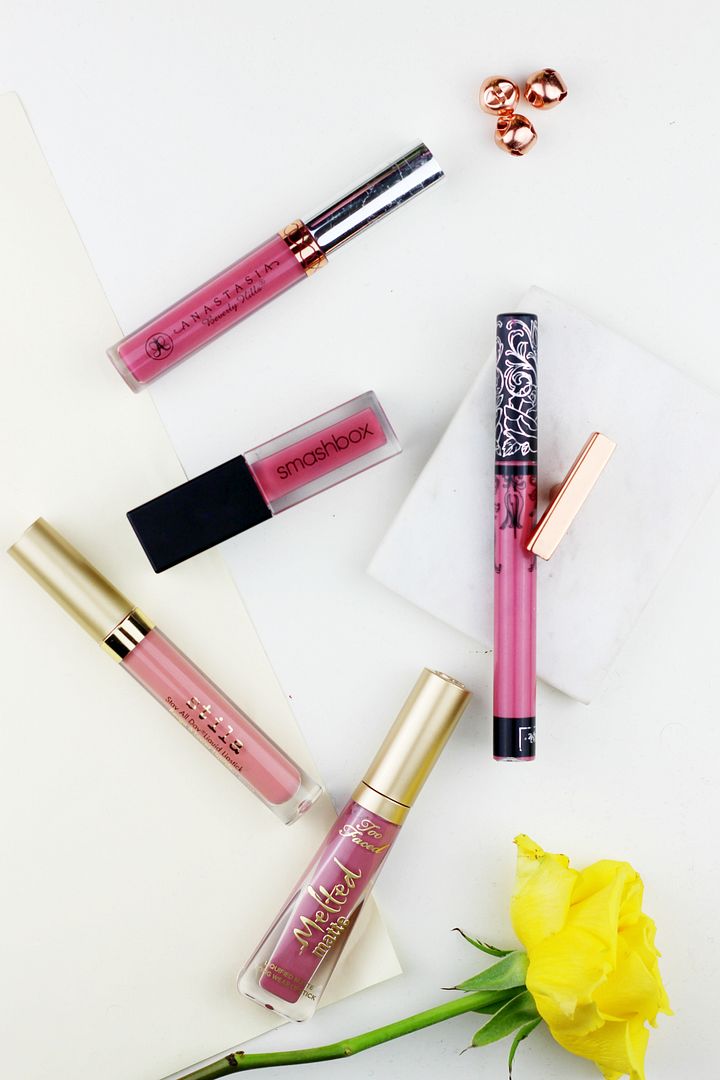 I've made it my mission to try pretty much every liquid lipstick on the market – I've tried some amazing ones and some awful ones and I'm happy to report back on my favourite findings in the land of beautiful matte lipsticks. These are my five favourite liquid lipstick formulas.
Stila Stay All Day Liquid Lipstick
Without a doubt, one of my favourite lip products ever – the Stila liquid lipsticks never fail to impress me with their dreamy formula, wearable shades and pretty packaging. I especially like how pigmented the formula is, without being uncomfortable or flaky on the lips. I have loads of favourites like Patina – the best mauve nude, Caramello – my ultimate nude, Fiery – a statement red and Perla – pale pink (shown above).
Kat Von D Everlasting Liquid Lipstick
Probably the line from which I have the most shades – before KVD landed in the UK I used to import a couple of Sephora stocked-shades every now and then, so I have tried a lot of the line-up and have been consistently impressed. Now it's even easier to get your hands on the line, thanks to Debenhams, so I would highly recommend checking out some of the shades – they're soft (but not smudgy) and mattte (but not drying).
Smashbox Matte Always On Liquid Lipstick
A newer discovery for me, but one that has left me seriously impressed. A teeny tiny little bottle that comes with a big applicator wand, this formula is seriously dreamy. Light weight on the lips and with some serious staying power! I sometimes overlook Smashbox, but I need to stop that an investigate the brand further because I have been so impressed with this liquid lipstick pick. Shown here in the shade Dream Huge.
ABH Liquid Lipstick
Another shade that was once hard to get hold of in the UK – now they have a British site so it's dangerously easy to add another shade to my collection. I bought a couple in New York and really like the formula – it's the driest out of all the products mentioned here, and can go a little patchy after 6 hours or so, but the gorgeous powdery finish makes these absolutely one of my favourites. I really like the shades Dusty Rose, Crush and Catnip.
Too Faced Melted Matte
Last but not least is the Too Faced offering – much better than the regular melted lipsticks, these are your standard liquid lipsticks in a nice smooth and creamy formula. It claims to leave your lips looking fuller and plumper without being dry, and I do agree because these look really flattering on the lips. I like the shades Child Star & Queen B.
Do you have any liquid lip favourites?