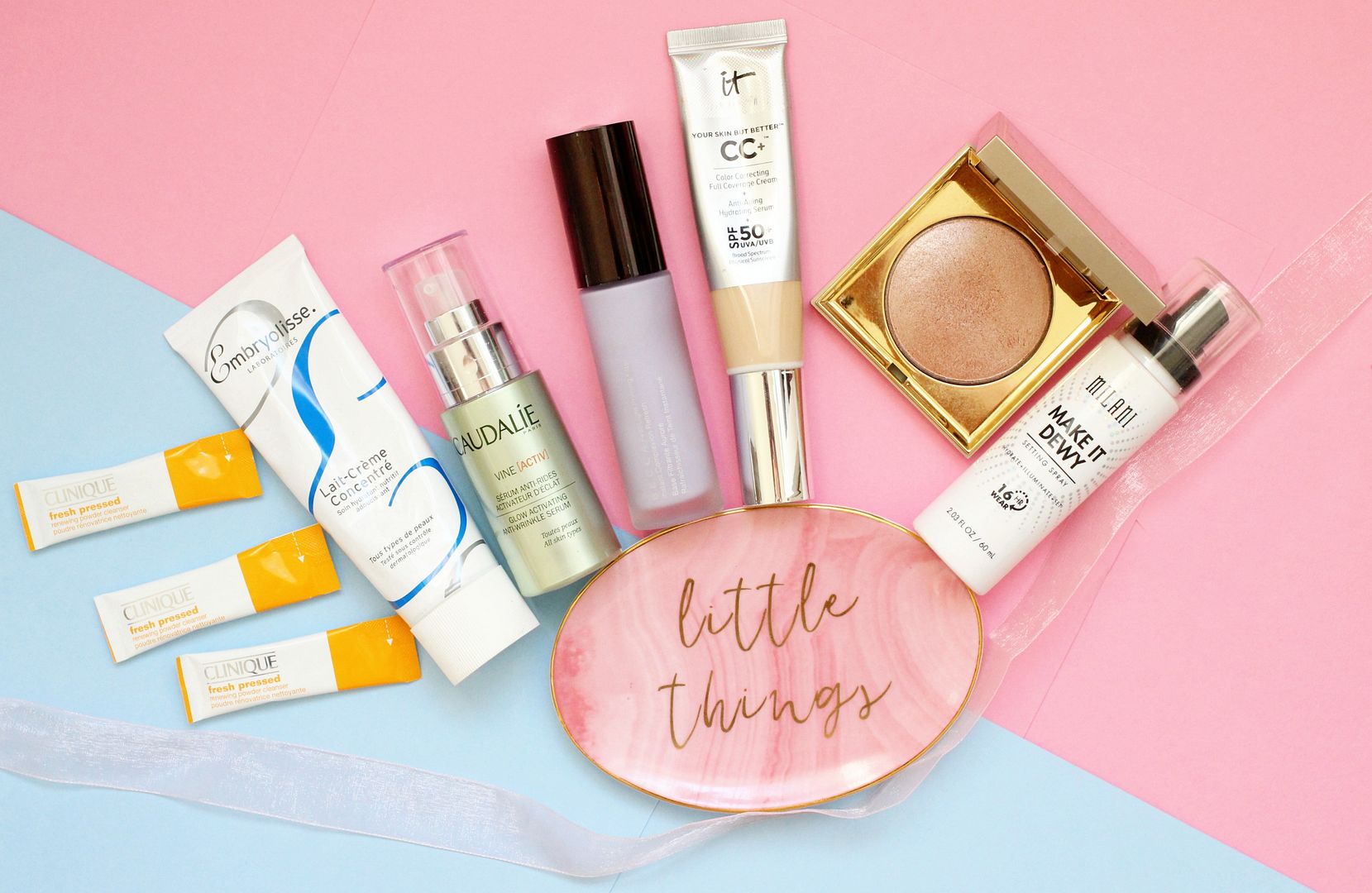 I seem to be on eternal quest to get that perfect glowing skin – the kind that looks like you've made no effort and just woke up with a naturally radiant complexion. Not one to give up on a beauty mission easily, I've got a five-step routine in place to give my skin some serious glow.
Step one – sparkly skincare
A good glowing base starts with a good skincare routine – the best way to look naturally flawless is to enhance your natural skin. For me, my skin looks the most radiant when it has had regular exfoliation – for an easy fix, I love the Clinique fresh pressed renewing powder cleanser which is packaged like a little sugar-sachet. Adding a splash of water to the powder transforms it into a gentle skin polish, which is perfect for waking skin up in the morning. For good glow, a serum is the way to go – I am loving the new Caudalie Vine[Activ] serum which adds just the right amount of hydration for the skin. I change my moisturiser depending on how my skin feels, but the embryolisse lait-crème concentré makes a gorgeous satin base for any foundation (and also works brilliantly mixed in with a heavy foundation). It's one of those cult French products that everyone needs to have in their stash.
Step two – a perfect primer
I've waxed lyrical about the benefits of an illuminating primer, but it's really such a good step for adding radiance to the face for when you want to take your glow to the next level. A good primer adds hydration to the skin, smoothes everything out for subsequent foundation and bathes skin in light. I like the Laura Mercier radiance, the Becca ones, MAC, Dior… I like a lot!
Step three – a hydrating base
For dewy skin, it makes sense to ignore the bases that promise a matte or satin finish and head straight to the products that deliver luminosity to the skin. I adore the It Cosmetics CC cream for making skin look simultaneously natural and flawless, but my top tip would be to mix a drop of oil or serum into any base to give it a little bit more slip and sheen.
Step four – highlight, highlight, highlight
I mean, yeah. Highlight is basically a non-negotiable. Dusting a little (or a lot) over the top of the cheeks, under the brow bone and pretty much everywhere is one of my favourite makeup steps and I just love to see the glow! My favourites are from Stila, Becca, MAC and Urban Decay.
Step five – seal it all with a setting spray
I can't even remember the last time I did my makeup and didn't use a setting spray – I told you I was high maintenance. I just think a setting spray finished off the makeup nicely and makes sure all your hard work is locked in – my absolute favourite is the Milani make it dewy setting spray. It adds even more dew to the skin so your skin looks seriously glowy and it helps prolong makeup. I also like Fix + for using throughout the day to keep makeup looking fresh.