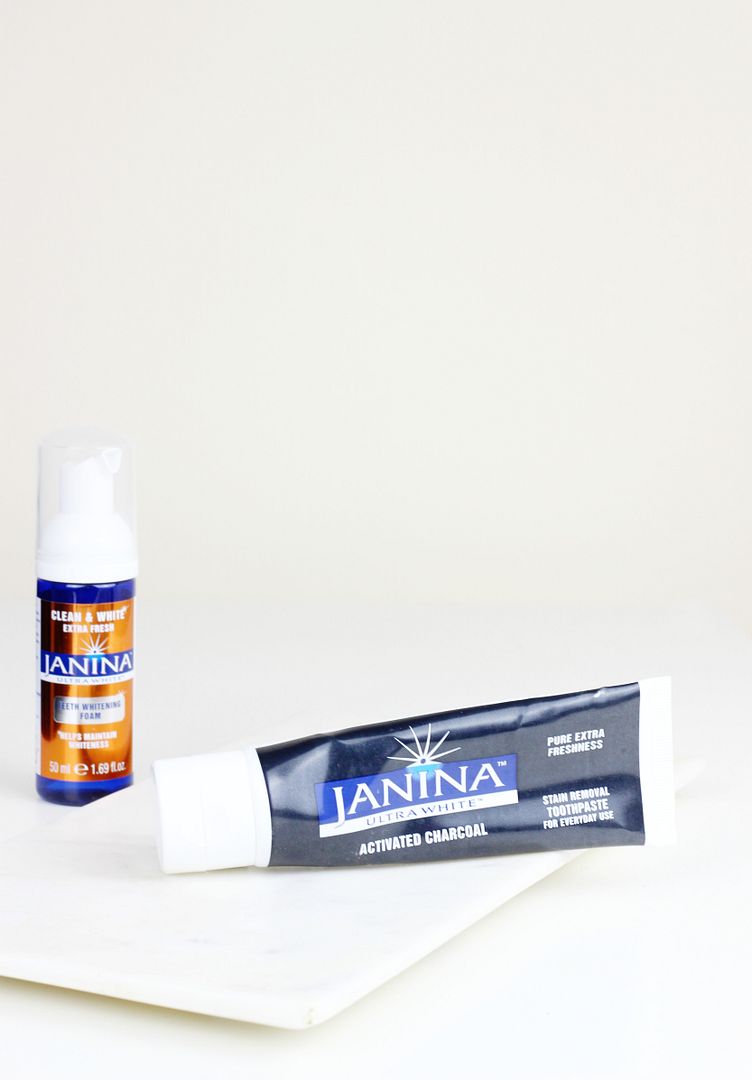 *Sponsored post in collaboration with Janina
There's only so many lipsticks I can buy in my quest for the perfect smile before teeth whitening plays a part in the whole look – which is where National Smile Month comes in, along with Janina Ultra White's collection based on making the most of your smile without damaging your teeth. I've been trialling three products from the Ultra White range to work on my smile.
My favourite pick? The
Activated Charcoal toothpaste
, which is grey(!) and has a base of real charcoal – I'd been wanting to try something like this for the longest time, as the concept of it seems so clever (so clever that when this arrived I didn't actually get to try it first as Chris stole it and tried it right away) when it comes to removing stains on the teeth. It straight away makes my teeth look whiter, and it's one of the mintiest toothpastes that I've tried. I've been using this morning and night (as has Chris, so we need to repurchase) and my smile is definitely looking brighter.
Two other items that I would class as add-ons – there's the
Teeth Whitening Foam
, which is a really easy way to whiten your teeth without any effort – it's super portable as well so it's a perfect one to keep in your desk and use post-work to freshen up your smile. It foams up when it comes into contact with water and then when left without drinking/eating for fifteen minutes afterwards it makes your smile shinier. For an even more portable option, there's also the
Whitening & Cleaning On-The-Go
spray which is about as easy as you can get when it comes to enhancing your smile. I keep this one in my handbag for on the go – I hate chewing gum so a spray like this is far nicer to use and it has the added bonus of making my teeth brighter.
How do you look after and whiten your teeth?