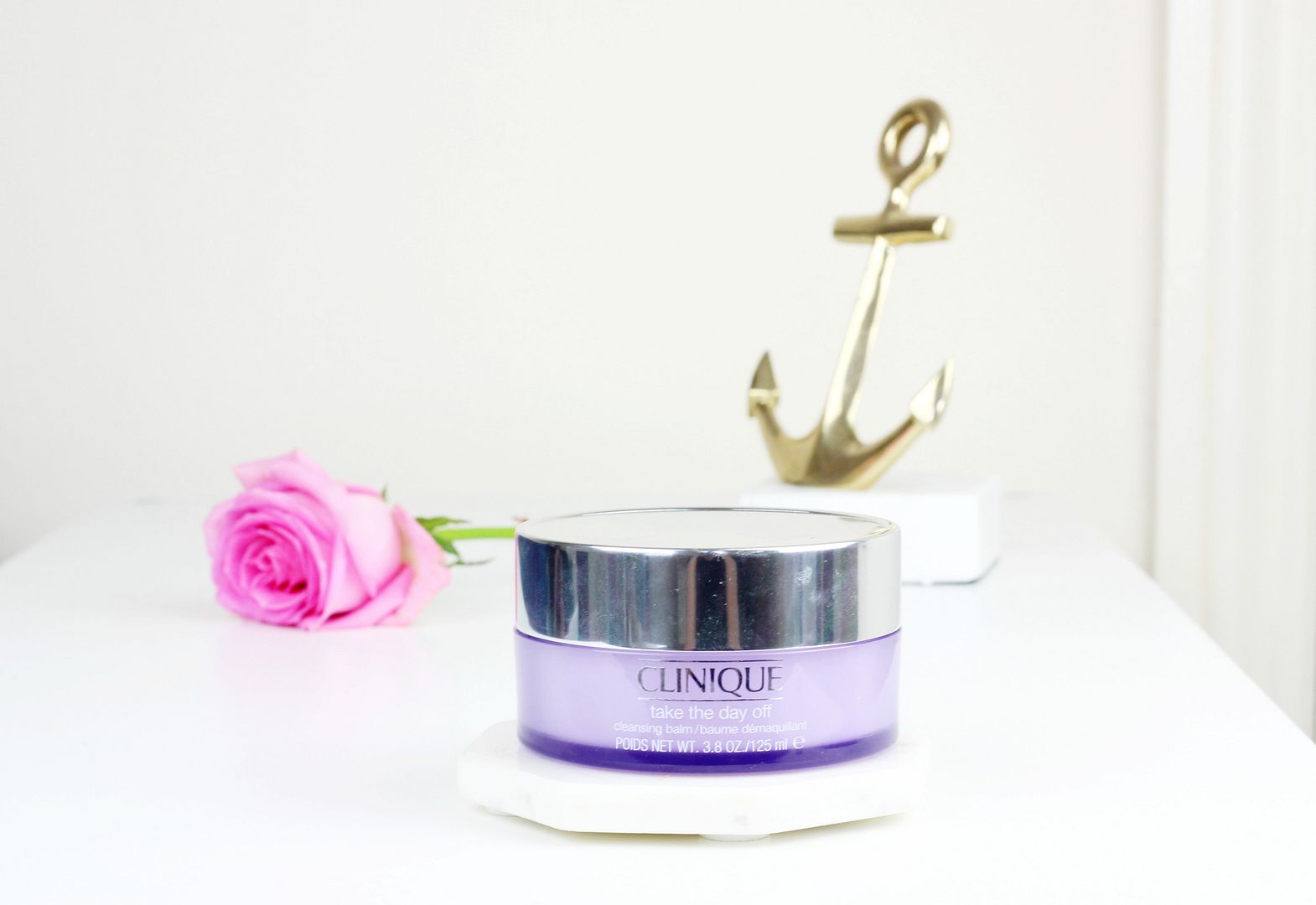 Welcome to my evening skincare routine, also known as the steps I follow to take my makeup off as fast as possible and to make sure my skin is looked after after a day of wearing makeup and being in the city. Anything that takes the grime off quickly without stripping the skin is a winner in my book – also not a fan of makeup remover stinging my eyes so I look for gentle products.
Starting off, I apply a generous amount of the
Clinique take the day off cleansing balm
all over dry skin and really massage it in – taking it gently over the eyes and melting any makeup off and then using it to give my face a bit more of a massage. My taps are really old fashioned and take a while to heat up, so it takes about three minutes for them to be hot which is how long I massage the product in. It does a really effective job of quickly dissolving makeup off the skin – it's not scented so it's as much of an experience as just something quick and easy. After that, I apply a pea-sized amount of the
Omorovicza thermal cleansing balm
over damp skin and massage this gently into the skin before rinsing this off with a flannel as well. This stuff is more of a treat for the skin, and it's the perfect balance of being creamy and clarifying as well as smelling divine.
After cleansing I've become quite attached to my
Pixi glow tonic,
which is a gentle glycolic toner perfect for buffing the top layer of the skin off without rubbing the skin too much. It's definitely a bit of a blogger favourite, and rightly so! If I don't use that then I'm in love with the
Caudalie beauty elixir
because the smell is just so fantastic (and it refreshes the skin nicely). For serum I'm currently working through
The Ordinary hyaluronic acid
– it's a thin gel texture and my skin absolutely drinks it up. It's gone within a few seconds, leaves the skin hydrated and makes a good base for the
La Roche Posay Toleraine ultra overnight
– it's really gentle and nourishing for the skin and just finished off a skincare routine nicely.
What's your evening skincare routine like?
[shop my routine]