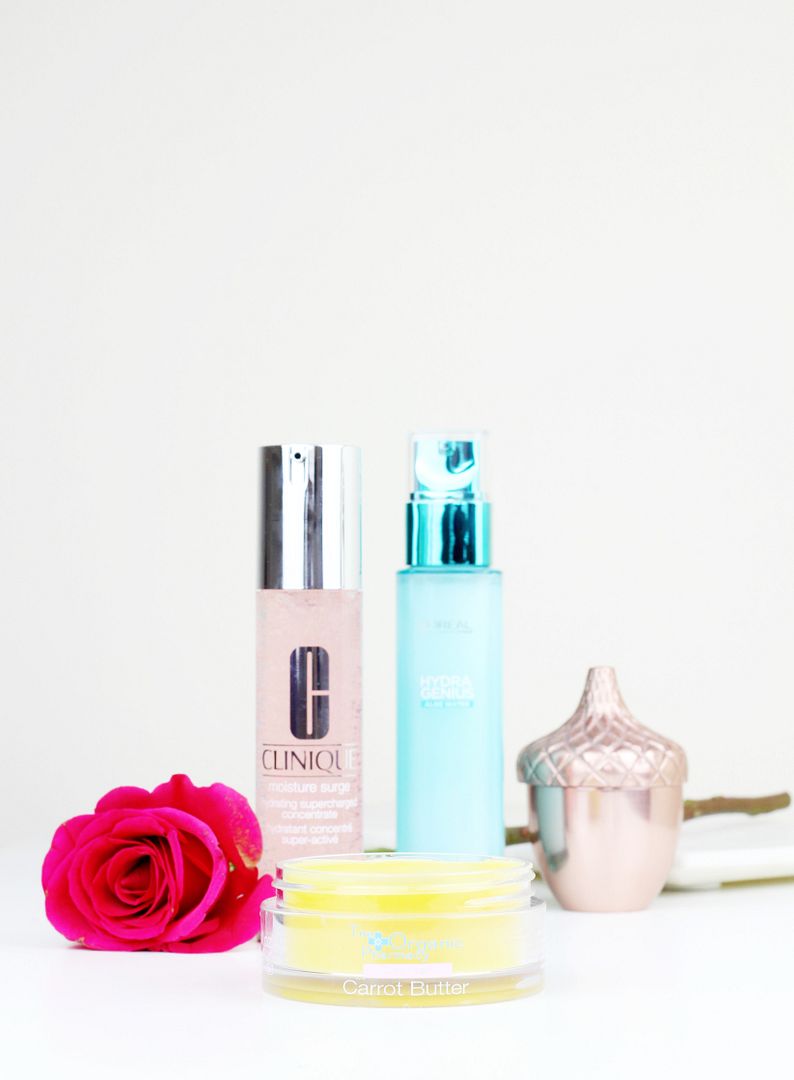 The older I get, the more obsessive I get about skincare- it used to be 90% makeup and 10% skincare interest wise, but I'd say it's a pretty even split now. I'm just really into washing my face, what can I say. I've added three new products into the skincare lineup so this isn't an in depth review of them (skincare takes the longest time to make a noticeable difference) but more of a show and tell of the newest additions.
I've added a new cleanser into the mix – it's my first taste of The Organic Pharmacy, in the form of the
Carrot Butter Cleanser
. I'd heard so much about this product as it seems to be a bit of a cult favourite amongst skincare aficionados. It's a very aromatic, very solid balm that melts into an oil once it is massaged into the skin and wipes away all makeup and dirt on the face. I am a huge fan of rich balm cleansers on my dry skin as they make such a difference and they're quite a treat on the skin at the end of the day. This one is particularly luxurious on the skin, and boasts an impressive ingredients list including carrot, sunflower oil, shea butter, cocoa butter, coconut oil and lavender. Definitely not one for oilier skin types as it is so very rich but definitely a lovely addition to my evening skincare lineup.
I'm also trying out two fairly similar products in that they're both lightweight hydrating gels. The first, Clinique moisture surge hydrating supercharged concentrate, is a water-gel hybrid designed for dehydrated skins (hello!) with claims that it can boost the skin's moisture for 24 hours after application. The directions say to use it twice a day (I'm using in the morning currently) and I'm treating it as a serum as it's not heavy at all so my skin craves that extra cushion of moisturiser on top. It's definitely one for dehydrated skin that leans towards oily because it should restore balance to the skin easily. The other addition is the L'oreal Hydra Genius aloe water, which is designed as more of a moisturiser (instead or in addition to a serum). Inspired by Asian skincare, it's formulated as a cream but in a far more fluid texture – it does feel lovely and cooling on the skin so it's an absolute dream for warmer weather. It's definitely lightweight, and it disappears on my skin very quickly but I am experimenting with layering it on top of the Clinique for hydrated skin.
Are you trying any new skincare at the moment?