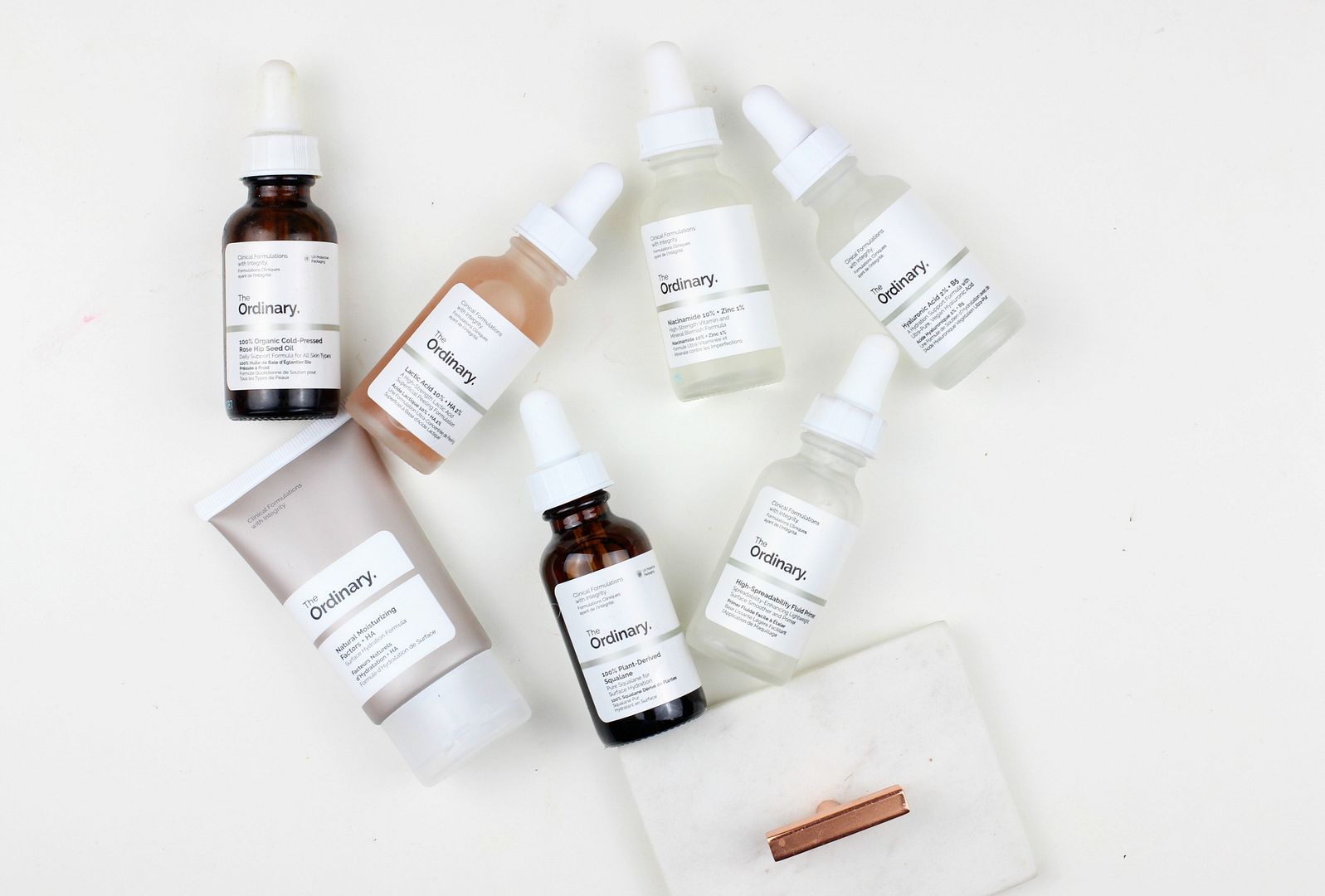 I'm one to always fall for the hype, and this time I feel hard for The Ordinary; a skincare brand promising extraordinary results with unbelievable prices. It's the newest brand from powerhouse Deciem, with the entire concept of the brand being no-thrills but highly effective. Instead of focusing on gimmicks, packaging, advertising and unnecessary add-ons, The Ordinary instead comprises of hard-working products that essentially do what they say on the tin. Instead of a magic potion promising to do everything for your skin the brand has the products labelled as Advanced Retinoid 2% or Lactic Acid 5%. I've mentioned products individually on the blog a few times but as I've been using the products for a good six months or so now I wanted to check in and explore the brand in depth. I would say that the products appear very scientific from their minimalistic bottles to the requires a chemistry degree to understand names which I do really enjoy and the aesthetic is overall very modern. The downside is that the names are a little hard to translate into what they actually do for your face – it's not labelled 'hydrating serum' but is ingredient-based. I've tried to break the products I've tried down into categories that are a little easier to digest.
The hydrators
I've waxed lyrical about the benefits of a good facial oil, and this one in particular before, but the 100% Organic Cold-Pressed Rose Hip Seed Oil [£9] is an excellent oil to add to your skincare routine. It's good used morning or evening and it richly hydrates the skin – rosehip oil is meant to be excellent at reducing scars. I've used a whole bottle and have repurchased, and I think you can't find a better oil around at this price point (and, at three times really). They also do an Argan Oil, but I've found argan oils in the past to not suit my skin as well so I can't comment on that. As a cross texture wise between an oil and a serum, I love the 100% Plant-Derived Squalane [£5.50] for acting as an extra cushion of hydration underneath moisturiser. It's light enough in texture to be used by all skin types – it's really liquid and sinks right into the skin after application. Used long-term it's designed to help keep the skin hydrated. Another lightweight hydrator, with a slightly stickier texture is the Hyaluronic Acid 2% + B5 [£6], which again does an excellent job at keeping the skin soft and supple. Hyaluronic acid is one of those infamous ingredients that really brings a buzz to any product – it's a naturally occurring substance in the body and is best known for its ability to hold up to 1000 times its weight in water which makes it a key product to look out for if you're battling dehydration. This one is light, easily absorbed and slightly tacky – it also contains B5 as well to further protect the skin. Lastly for hydrators, the Natural Moisturizing Factors + HA [£5] is a light and creamy moisturiser comprised of hyaluronic acid (again) and amino acids to repair the skin. This product is designed to mimic skin's natural hydration so dehydration is soothed gently.
The blemish-buster
The product I'd recommend as a preventative treatment on congested areas of the skin is the Niacinamide 10% + Zinc 1% [£5] – 10% is a very decent strength, and the vitamin/zinc combo works together to balance any oiliness in the skin as well as ensuring pores remain clear. Since using this on a daily basis in my evening skincare routine, I have noticed such a reduction in those pesky under the skin hormonal spots that I tend to get once a month on my chin. For £5, I'm more than happy to keep using this! Worth noting is that the ingredients don't mix with vitamin C.
The treatments
Treatments are one of my favourite elements of skincare – those additions that you don't typically use every day but you pick targeted products to treat existing skincare additions. I look for hydrating products in most skincare items as dehydration is something I am always looking to treat but The Ordinary has products to target dullness (always look for vitamin C for brightness), dryness (look for hyaluroinc acid), wrinkles (look for retinols)… pretty much anything. One of the most impressive is the Advanced Retinoid 2% [£8] – 2% is pretty concentrated for a retinoid, which is arguably the best anti-ageing product in terms of results. This formula is also delivered within a buffer which counteracts any potential irritation, so it's a potent product without any negatives for the skin, essentially. I don't particularly think I need a retinoid (yet), but have tried this a few times and can report no irritation. Worth noting that sunscreen the morning after is absolutely essential. I haven't tried the Buffet [£12.70] or the Matrixyl 10% + HA [£9.60], but they seem to contain a lot of peptides which is a star ingredient for treating wrinkles so I wanted to flag them.
The acids
I like skincare acids because they sounds awfully intimidating but they deliver such good results for the skin. AHAs and BHAs are pretty interesting to me, so finding good quality ones for under a fiver is incredible. I like the Salicylic Acid 2% Solution [£3.90], which is designed to exfoliate the skin from the pores outwards so blemishes are reduced – it can be applied just to the exact area to ensure the rest of your skin doesn't get irritated. Also worth noting is the Lactic Acid 5% + HA 2% [£5.50], which exfoliates the skin and encourages peeling – it's strong stuff so it's recommended to mix in a drop with existing skincare so your skin can get used to it. They also have a Glycolic Acid 7% Toning Solution [£6.80], which I have yet to try but is worth mentioning as it's a liquid exfoliant akin to Pixi Glow Tonic or Clarins Gentle Exfoliator.
The makeup
Newer to the line-up is The Ordinary's answer to base products, comprised of two primers and two foundations. Both the Serum Foundation [£5.70] and the Coverage Foundation [£5.90] have yet to officially launch and I haven't tried but they are on my list! I have tried the High-Spreadability Fluid Primer [£5.50], which is a light hydrating primer which helps subsequent foundation to glide across the skin. The High-Adherence Silicone Primer [£3.90] blurs the pores and helps to mattify.
Have you tried anything from The Ordinary?